It's that time of the year again! Time for the biggest giveaways of the year, and this year's 12 Days of Giftmas are better than ever. Be sure that you have subscribed to the mailing list. This ensures you find out how to enter early each day before it is announced on social media.
Day 1: Just Relax
Give yourself the gift of relaxation with an on-demand massage from Soothe. Before the therapist shows up, level up your massage environment with a Sweet Aroma Diffuser. Fill it with Surrender Essential Oil blend from Young Living and a Rose Quartz Point. During the massage, use Relaxation Massage Oil to seal in the bliss.
Why massage?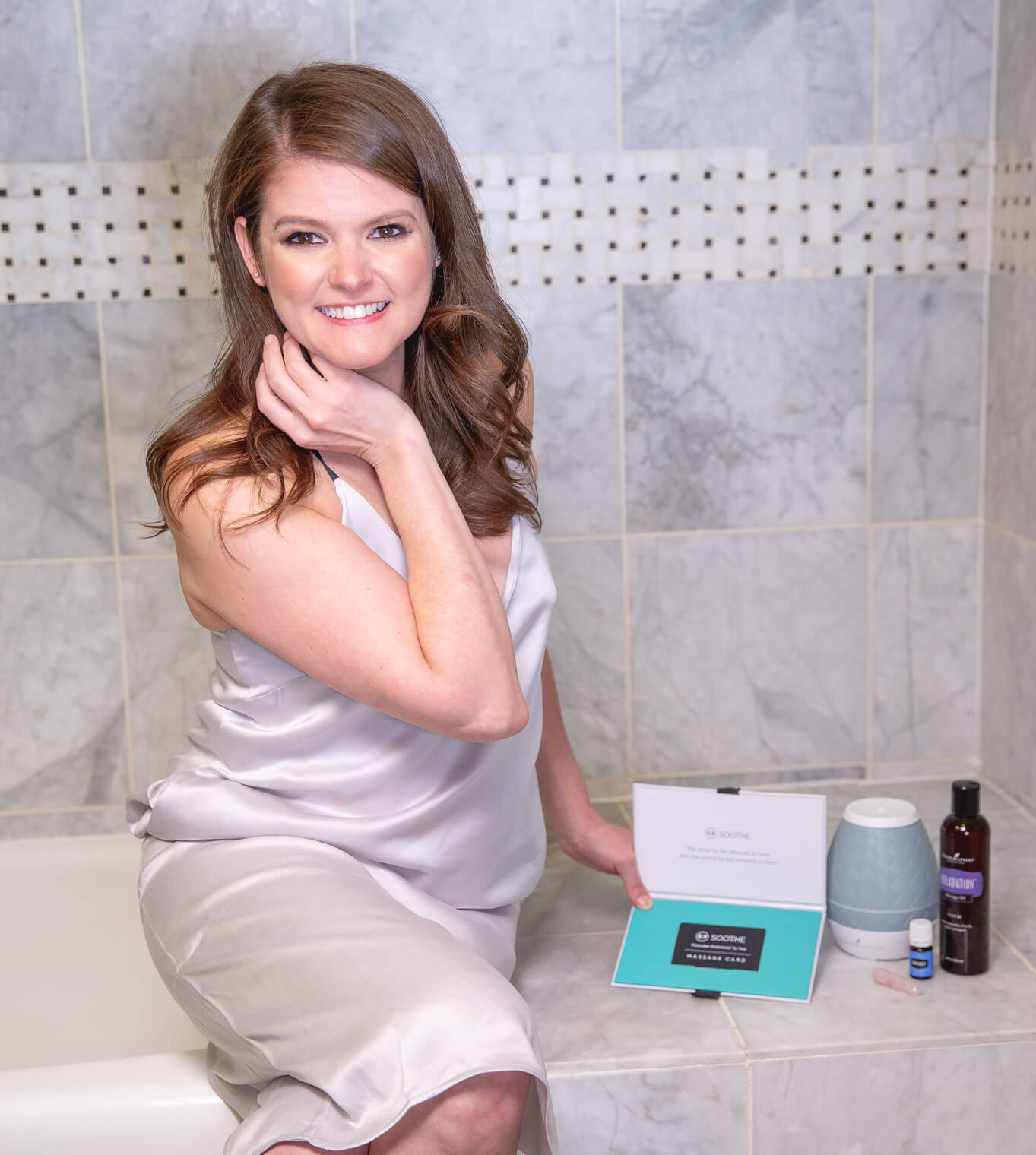 Massages have been shown to promote relaxation, improve circulation, reduce pain, eliminate toxins, and improve sleep. Soothe makes it easy to get the benefits of massage at your home, hotel room or office. A licensed, insured, and background checked massage therapist shows up. He or she provides a 60 minute massage of your choice: Swedish, Deep Tissue, Prenatal or Sports.
Essential oils like lavender and Roman chamomile have been shown to increase relaxation. Both are found in Surrender essential oil blend. Lavender is also in Relaxation Massage Oil, along with coriander and ylang ylang, which helps relax the mind during times of stress.
Bonus! Soothe offers $20 off for all first time customers. Use the code ELMORE before 12/31/2020 to save on your first purchase.
Two winners will be selected for this prize. ARV: $335
Day 2: Hit the Road
Traveling has never been more fun than it is today. It has never been easier to hop on a plane and fly around the world. Car seats almost feel like recliners. Even suitcases breeze by with four easy-to-turn wheels.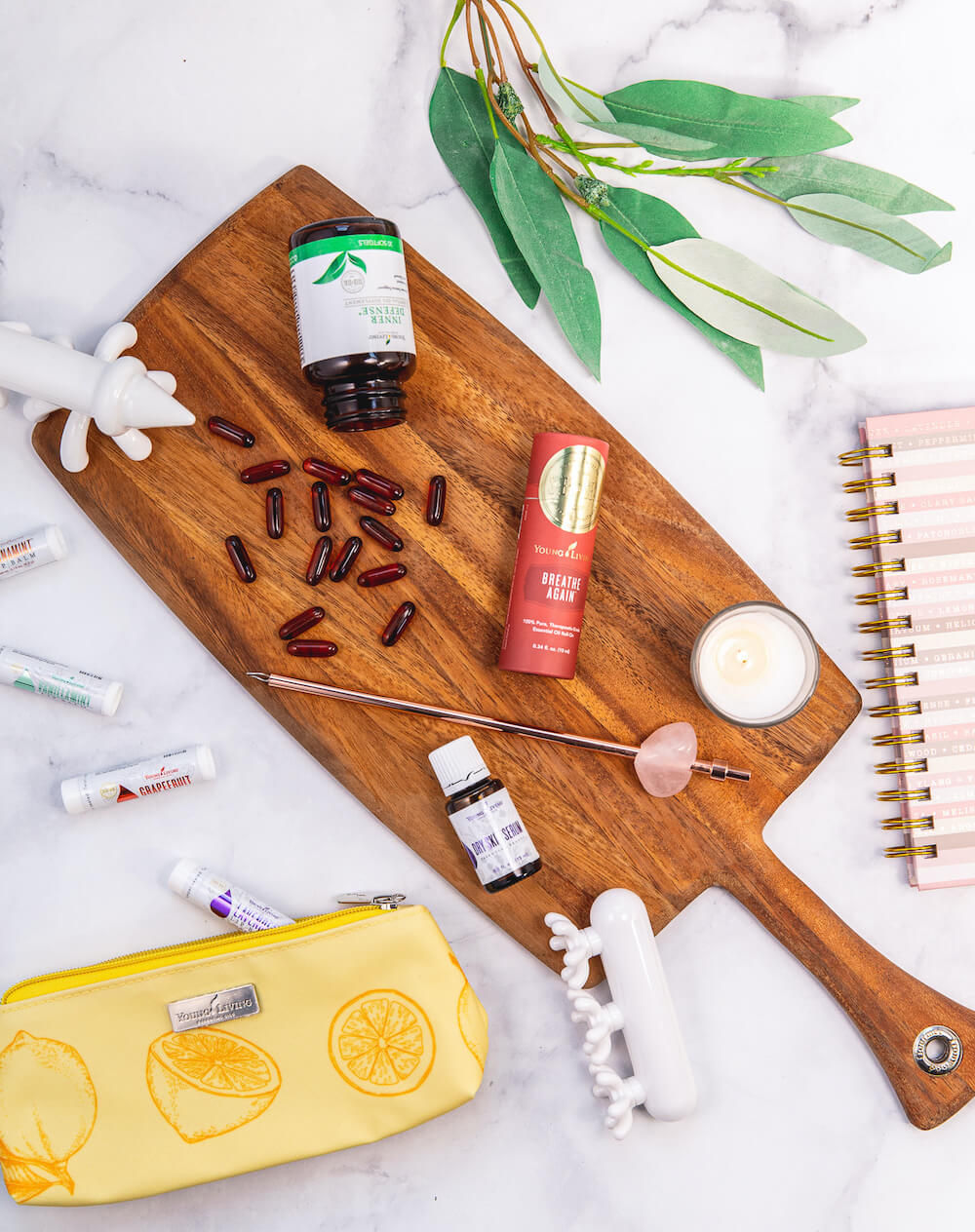 But what should you put in your travel bag? When you travel, you are exposed to tons of germs that you may not be used to. For this, you need Inner Defense, which is a supplement from Young Living that creates an unfriendly terrain for bacteria and viruses. You can create another layer of defense by rolling on some Breathe Again essential oil blend. This is one of my favorite smelling oils because it contains three different eucalyptus species.
There is more than just the immune system to consider.
Next, you have to stay hydrated and moisturized when traveling. Did you know that more than 500 million straws are used every single day in America alone?! And almost all of those end up in the ocean.
Do your part to reduce waste and stop polluting the ocean and harming wildlife with one simple switch. Go to a metal straw that infuses your water or beverage with crystal energy from Gem Water. These reusable crystal straws are food-safe, highly-polished stainless steel that are available in three colors: rose gold, yellow gold, or silver with either amethyst, rose quartz, or clear quartz.
Don't Let your Skin Get Dry
Keep your skin moisturized with the Dry Skin Serum from Young Living, and keep your Lavender, CinnaMint, VanillaMint, and Grapefruit Lip Balms handy on plane rides in a cute lemon carrying bag. The lip balms really are the greatest lip balms I have ever used, and I never travel without them.
When you get dehydrated while traveling, it can make you look older than you actually are. Combine your Dry Skin Serum and Lip Balm routine with a FaceBlaster. Bring fresh blood to your skin to flush toxins and provide nutrients for the skin. To prevent getting sore while on the road, grab The Mini 2 FasciaBlaster to work out the kinks, tiredness, and fatigue.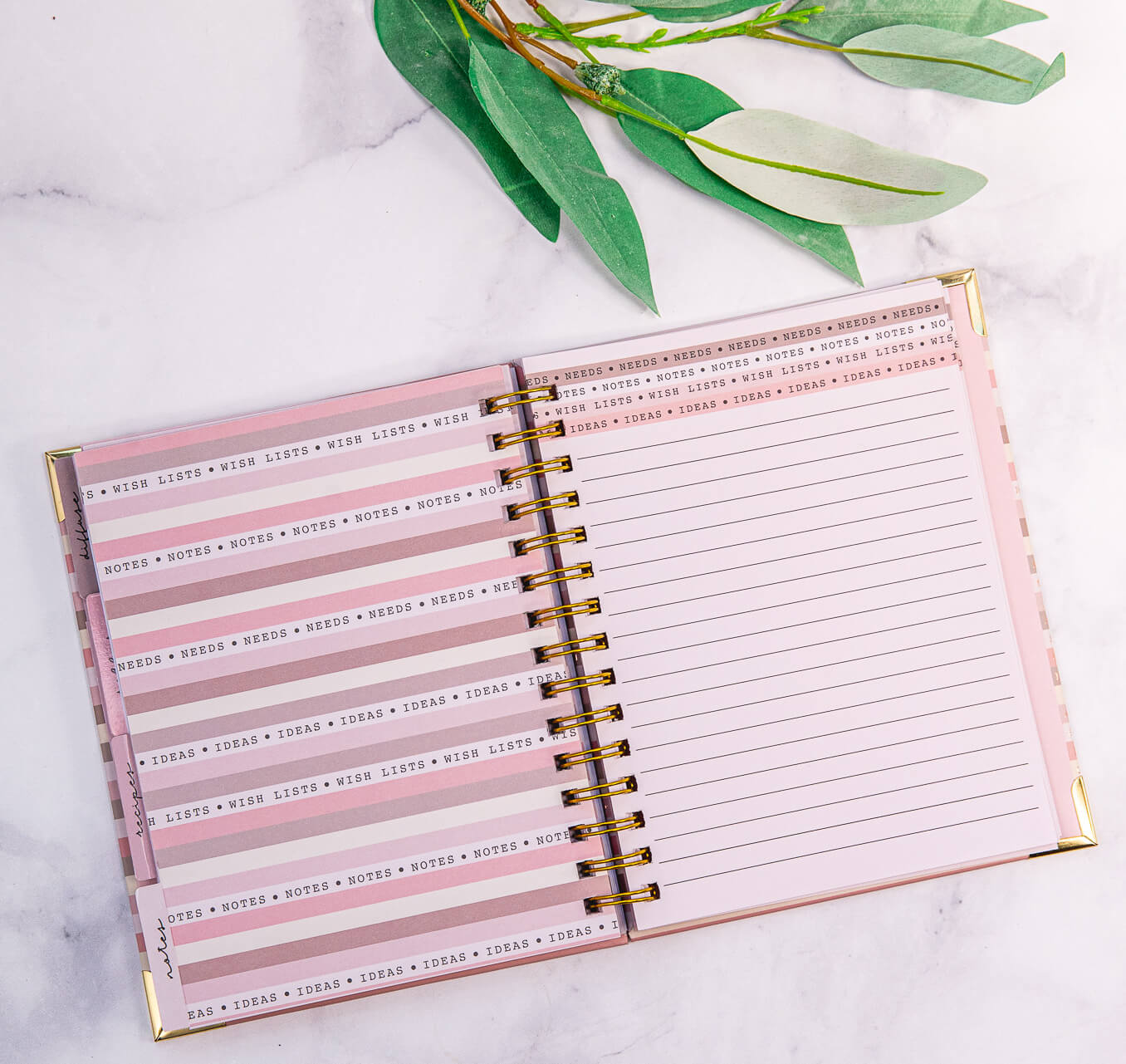 One of the best things about traveling is that we learn new things from new people. Keep track of all your oily knowledge, from recipes to DIYs to class notes, in this gorgeous journal from Modern Makerie. You'll never be short on ideas again because all of your best ideas will be in one convenient spot.
As one final bonus, you'll receive a hematite egg to protect you while you travel.
One winner will be chosen. ARV $340
Day 3: Stretch and Release
Yoga is one of the easiest ways to calm the mind, strengthen the body, and care for an overworked body. Up your routine with a FasciaYoga Ball that has a unique shape that allows you to stretch in ways that a round ball does not allow.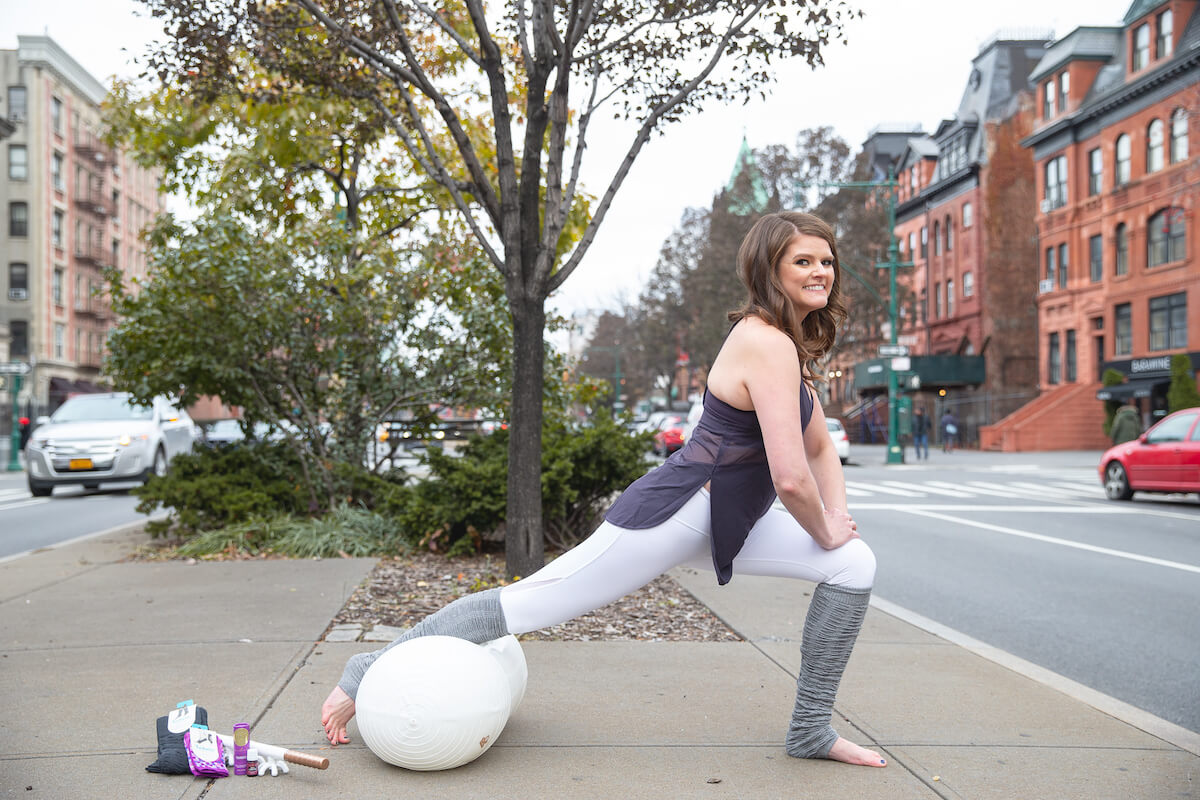 During your workout, keep muscles warm with leg warmers from Tucketts. One of the most annoying things during yoga is sliding on your mat. Tucketts grip socks really stick – even after multiple uses and washes – to maintain connection to mat, machine or floor. They are machine washable, eco-friendly and anti-sweat. Toes are free to move and stretch wide to increase grip even more.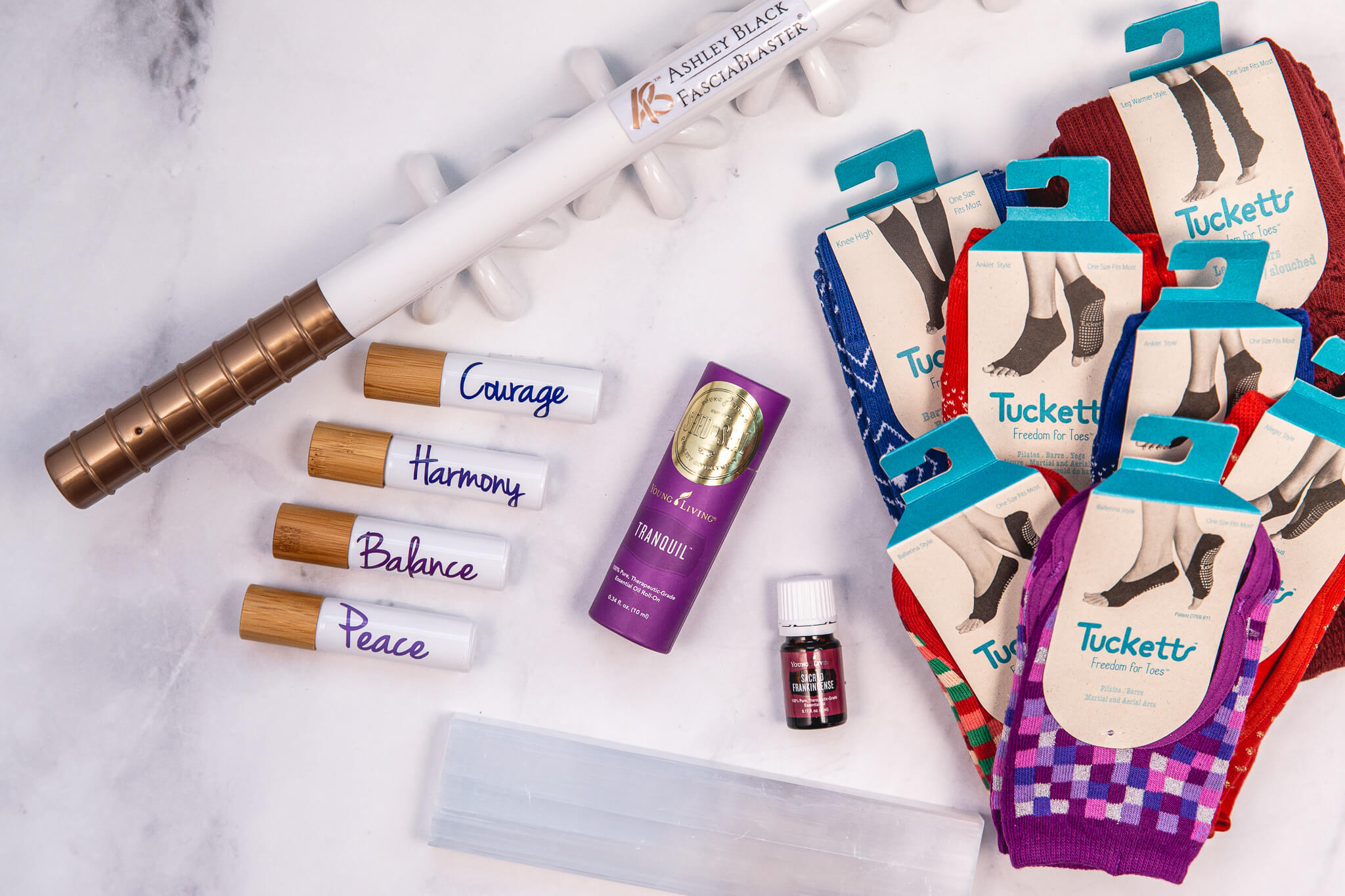 After your workout, grab the #1 selling self-massage tool, The FasciaBlaster. The large claws allow you to work deep into muscles, which can increase blood flow and reduce the appearance of cellulite.
You'll also get a bottle of Tranquil Essential Oil Blend and Sacred Frankincense, both from Young Living. Plus a set of Courage, Harmony, Balance, and Peace roll on bottles from Silver Orange Boutique (psst. . .use the code LINDSEY to save 10% at checkout when you shop her boutique). Repel all that negative shiz with a selenite charging slab.
One winner will be chosen. ARV $400
Day 4: Winter Slumber
Winter is a time when we sleep a lot longer than we do in the summer. The nights are longer and the exposure to sunlight is not as intense, and this signals to our brain that we need more sleep.
During the winter, we also are exposed to illnesses that we do not typically experience in the summer. To make your winter slumber the best it can be, you'll need: RutaVaLa Essential Oil Blend from Young Living (literally the aroma of sleep in my house), ImmuPro from Young Living (a melatonin supplement that also supports the immune system), a soothing fluorite slab, three empty roller bottles and a silk eye mask.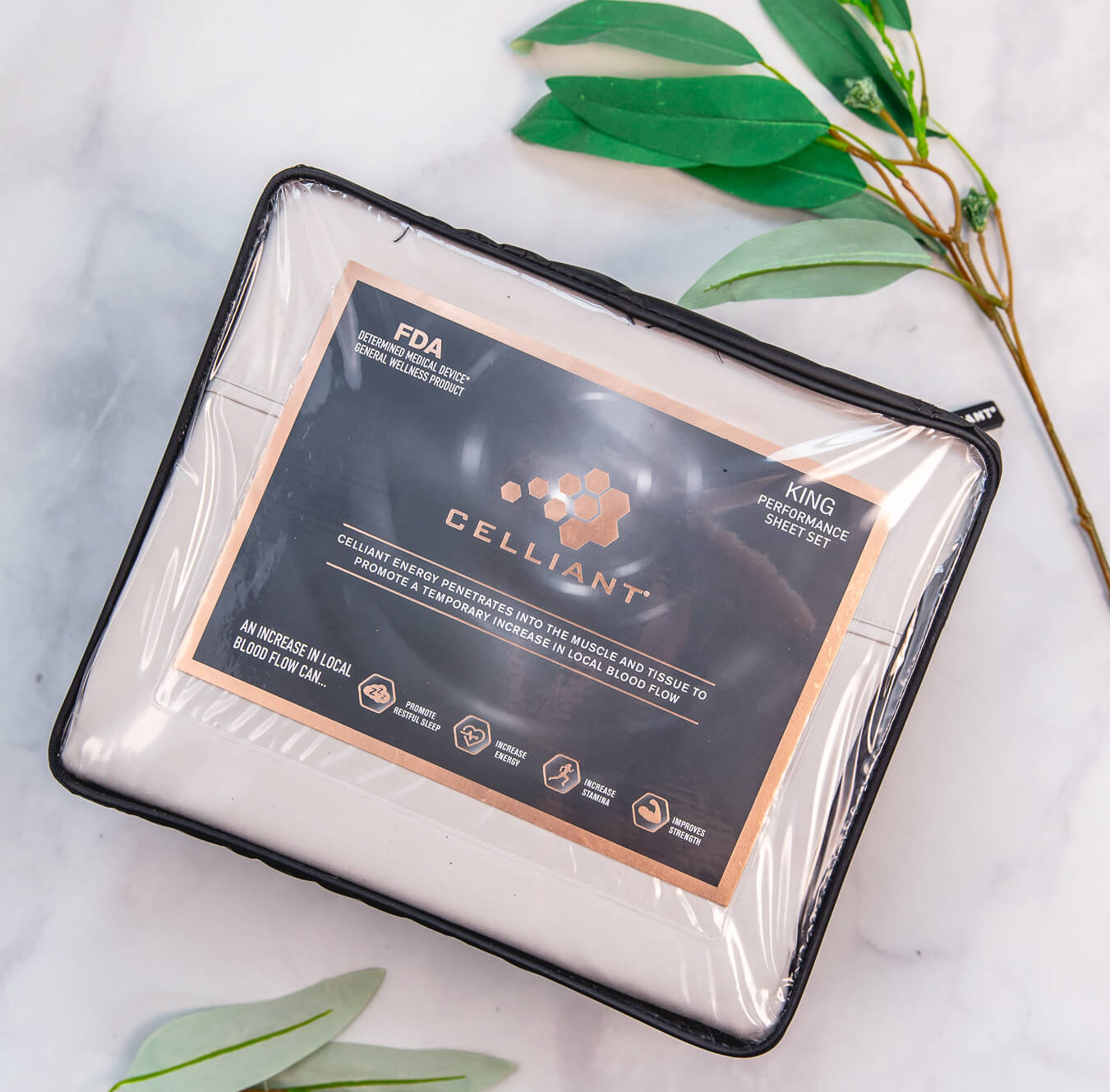 One of the best ways to get a good night's rest is to have excellent bedding. Sleepletics Sheets are FDA-determined medical devices that promote general wellness, restful sleep, increase energy, and temporarily increase blood flow. Patented polyester yarn in a sateen weave with premium long-staple cotton creates a soft, smooth and wrinkle-free fabric. You get to pick the size sheets that you need.
As a final bonus, you will get a relaxing fluorite slab. We are sold out of slabs on our website, but you can still get a gorgeous fluorite point.
One winner will be selected. ARV $300
Day 5: Step Out in Style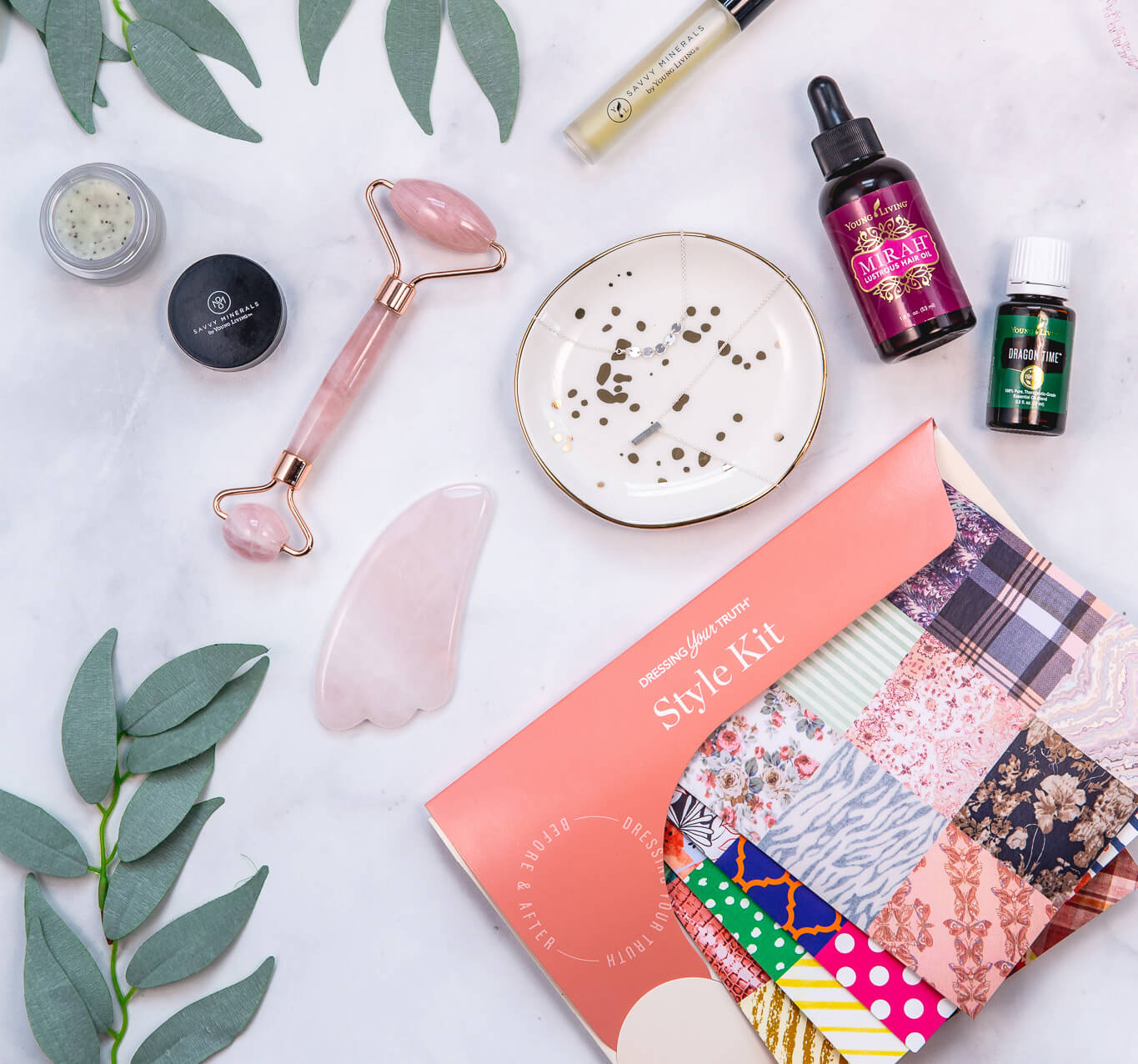 The way that you dress, style your hair, and do your makeup has so much influence on how you feel and present yourself. I am so excited to have partnered up with Dressing Your Truth to bring to you a course that will change the way you dress. By the time you finish this course and interact with the Facebook group, you will dress in a way that reflects your core personality. People will know exactly what to expect when they see how you are dressed.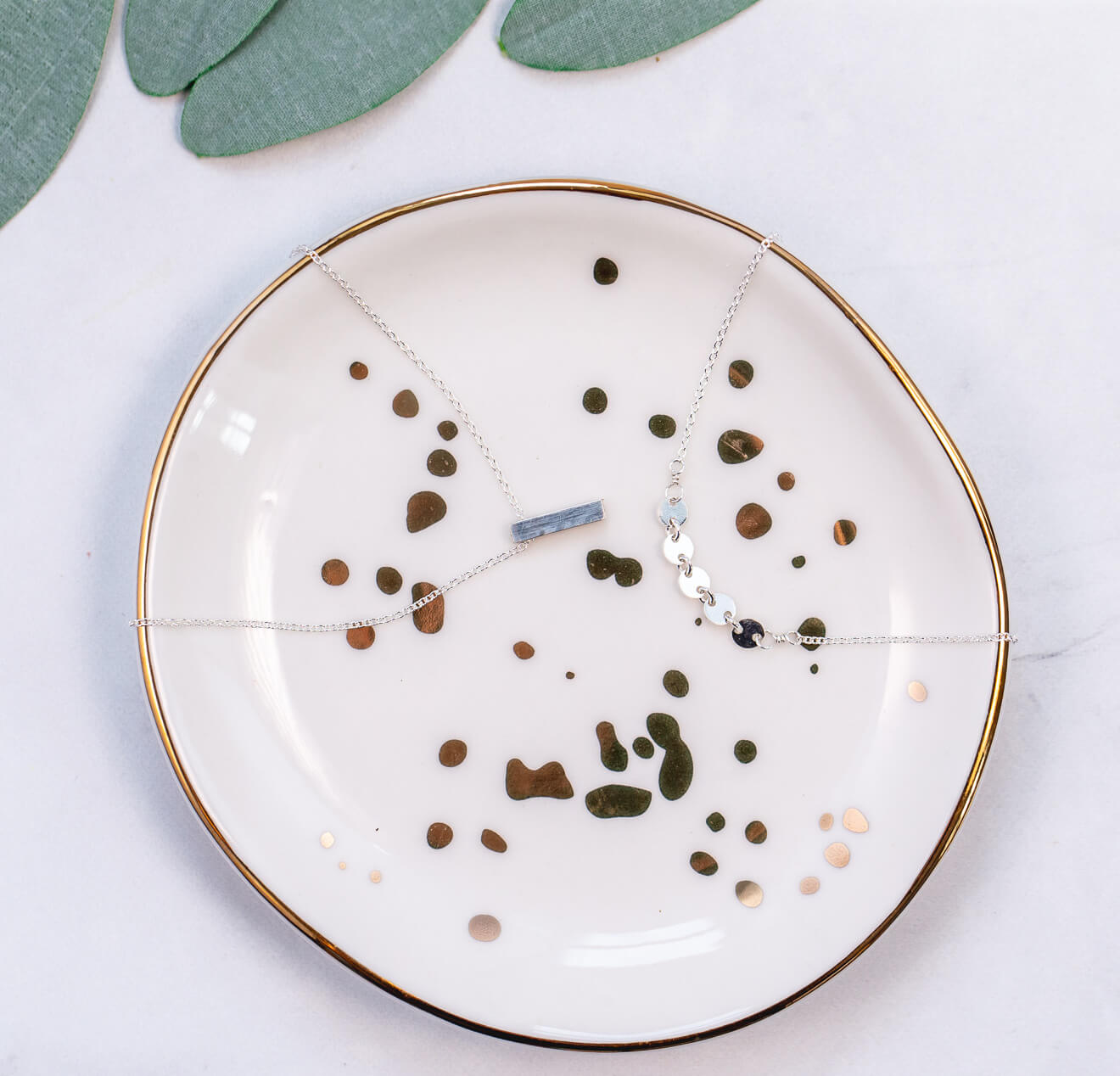 Polish off your look with a necklace from Becoming Jewelry. Made in Kennebunk, Maine by Tracey Graves, Becoming is about small things with big meaning. It's about celebrating both the everyday moments and the milestones; a gift to give yourself or someone you love. Bonus! When you shop Becoming Jewelry today you can save 20% off when you use the code MEMENTO at check out.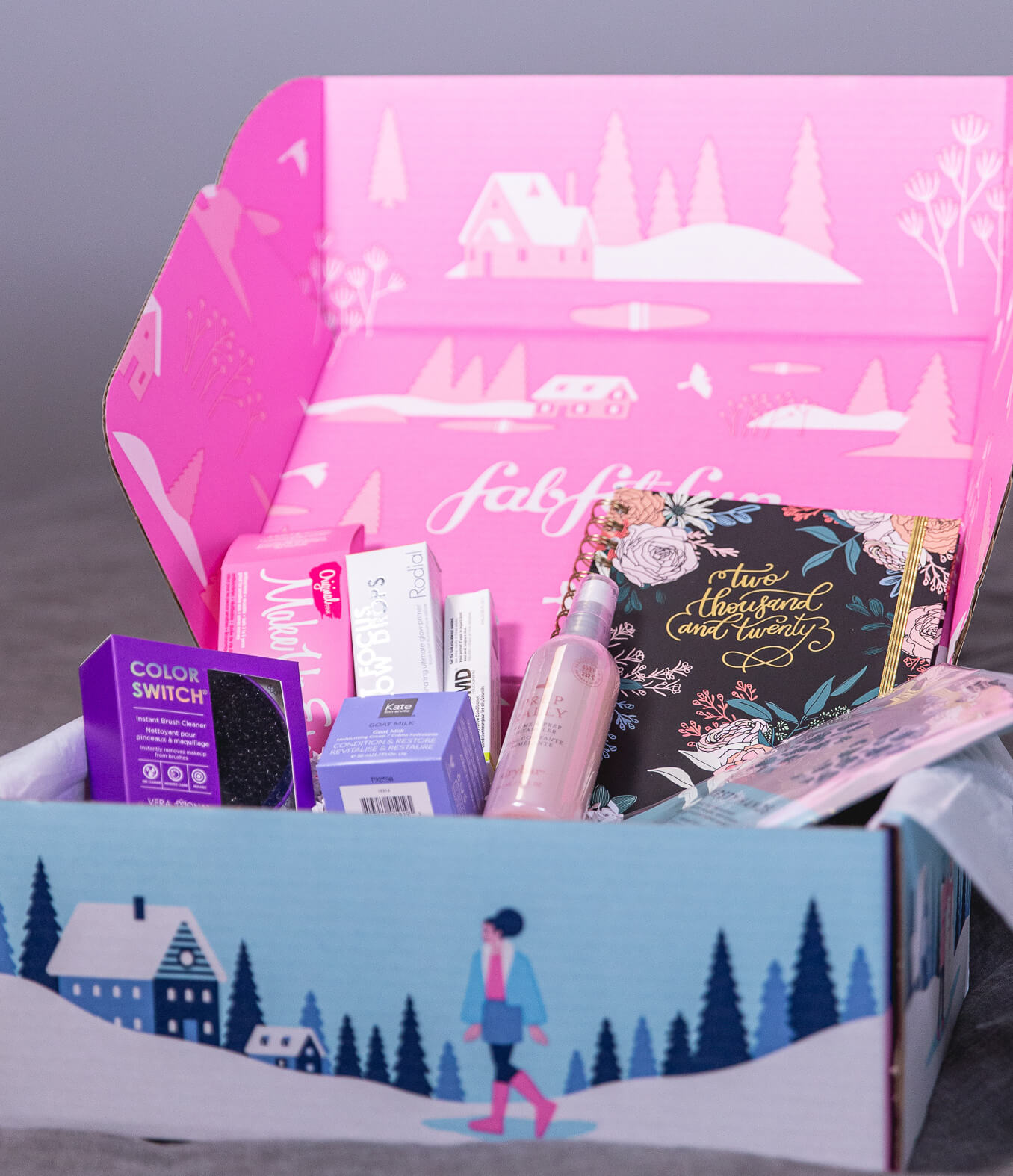 Before you step out, moisturize and exfoliate your lips with Poppy Seed Lip Scrub and apply Lip Luxe or Lip Gloss from Young Living to keep lips moisturized. Sculpt and contour your face with a rose quartz face roller and gua sha plate. Smooth the hair with Mirah Hair Oil and swipe on some Dragon Time as perfume before you head out.
Last but not least, is a box from FabFitFun that contains all kinds of goodies from their winter wellness box, including a 2020 day planner, detangler, coffee body scrub, makeup removing wipes and more.
Two winners will be selected. ARV: $550
Worried you won't win 12 Days of Giftmas? Come check out this 2019 Holiday Shopping List.
Day 6: Kids and Family
Children are often the highlight of the holiday season. They get so excited and happy, and there is something about the glimmer of the holiday in a child's eyes that is unlike anything else.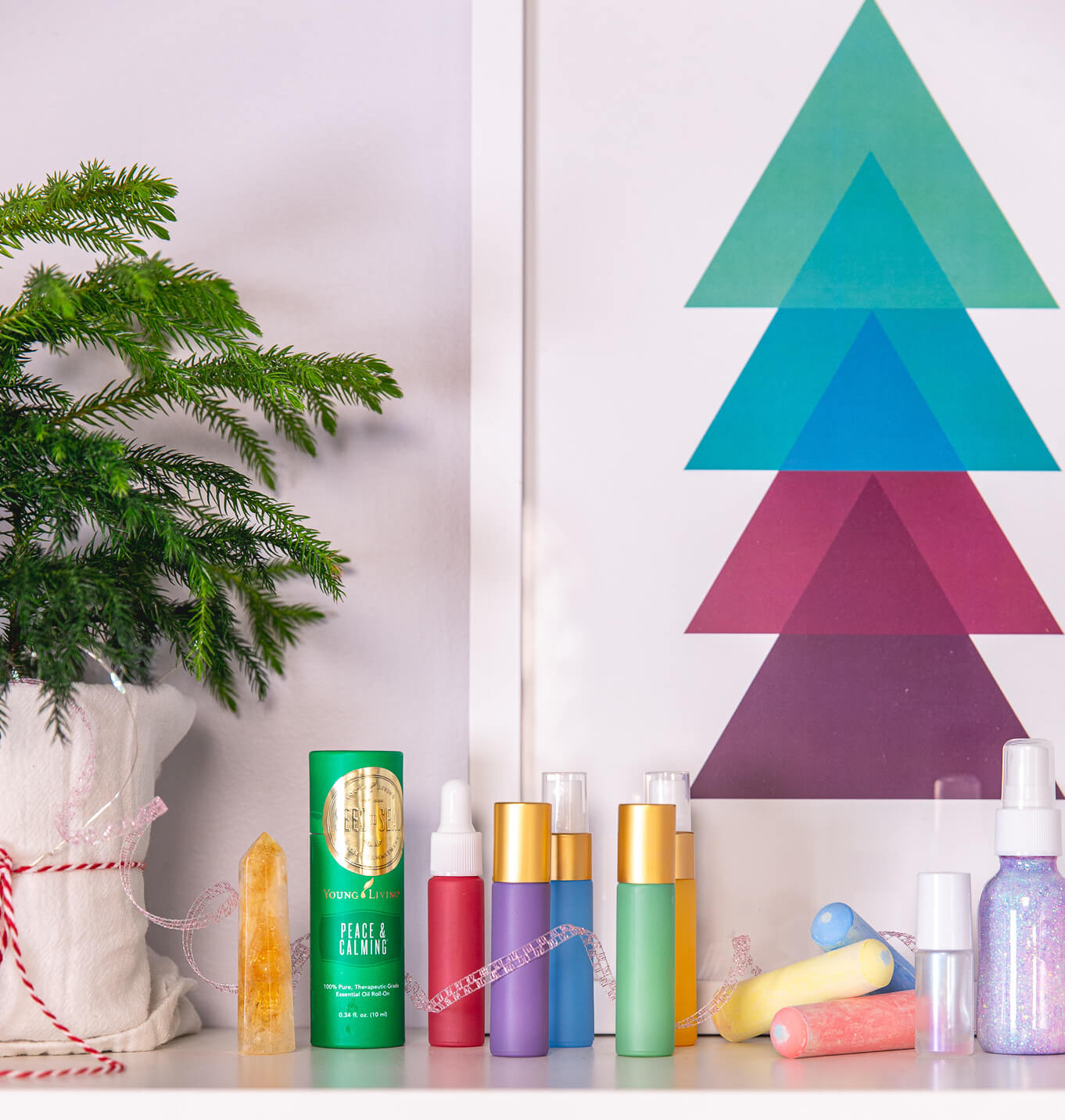 To celebrate the little ones in your life, for today's Giftmas we offer a 10 mL Peace and Calming Roll On from Young Living and a set of Confetti Roll Ons from Whimsy and Wellness.
The winner will also receive a custom print from Still Novel (like Baby Josie pictured below!). These 16×20 custom prints tell the story of a couple's wedding, or a child's birthdate, combining photo, graphic design and technology in a way that is highly personal. You will receive a gift card to input your information and create your own personal print.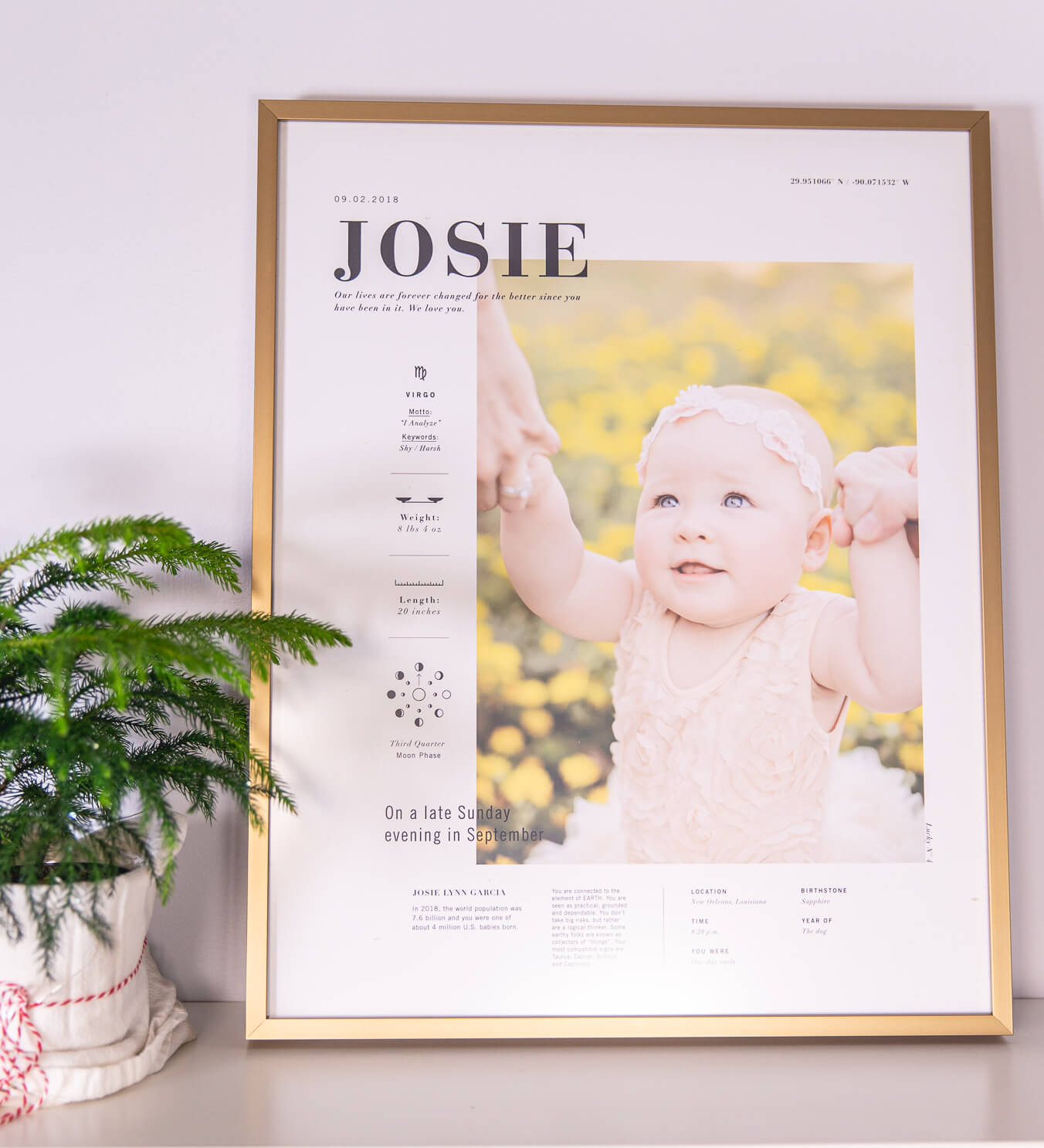 For some, the holidays are a painful reminder of loss. For these moments, Whimsy and Wellness has also donated a Rainbow Babies roll on and 10 mL spray bottle.
Layer up with your most comforting essential oils, and perhaps commemorate your lost little with the Still Novel art print. For each of the Whimsy and Wellness Rainbow Babies Collection sold, they donate $1 to Share Pregnancy & Infant Loss Support, a nonprofit which supports families that have lost a little one.
One winner will be selected. ARV $160
And now we are halfway through the 12 Days of Giftmas!
Day 7: Goal Digger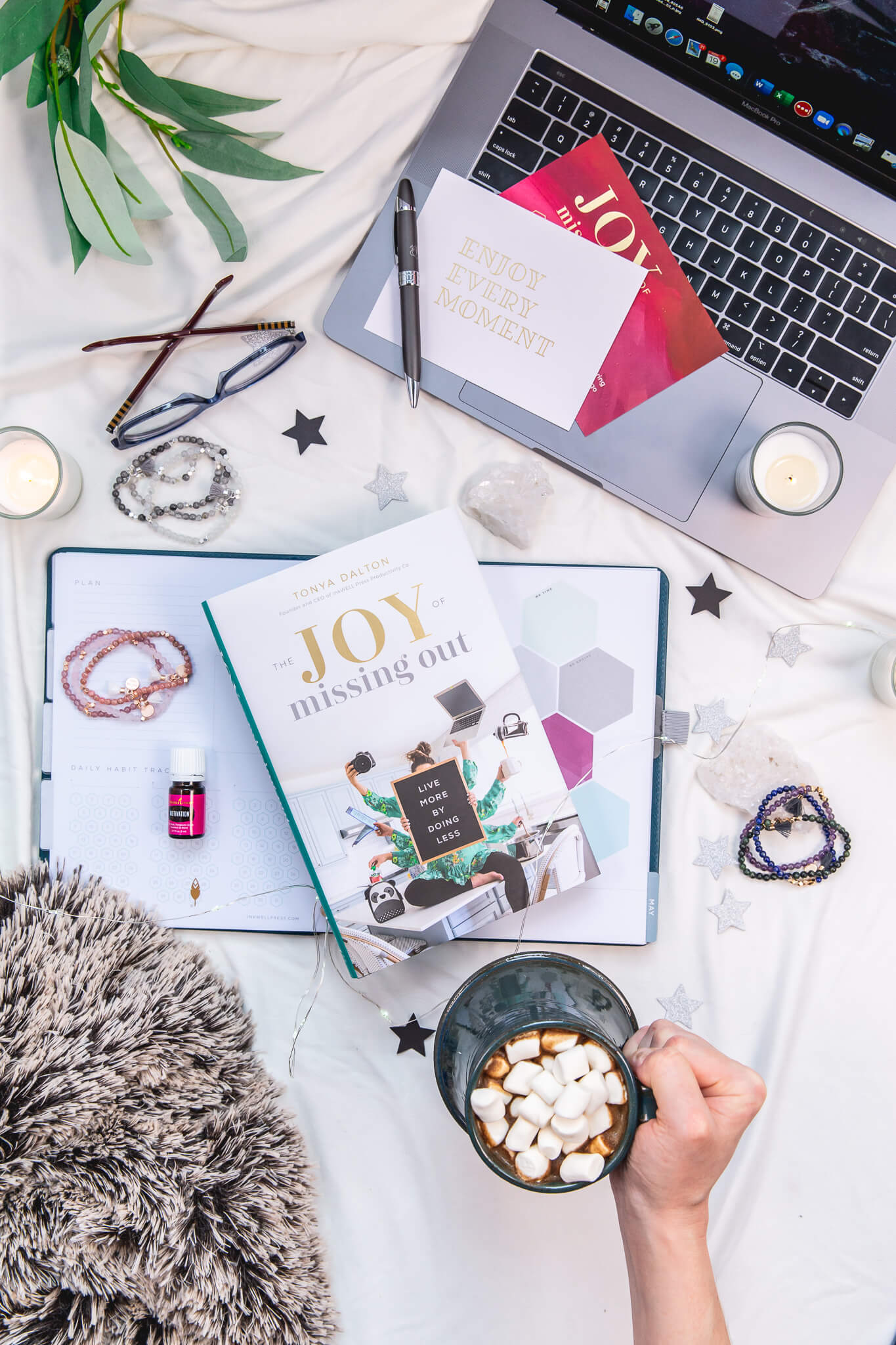 Every woman with a big dream needs a big plan to help get her on the right path to success.
One of the toughest lessons on the way to success is how to say no.
The Joy of Missing Out by Tonya Dalton teaches you how to not just say no, but how to take joy and peace in the act of saying no.
You'll also get a $100 gift card to spend on a gorgeous faux leather 360 degrees goal planner from Inkwell Press to set your 2020 up for success. To ensure that you are surrounding yourself with likeminded women who are crushing goals one by one, you can access a private Facebook that equips you with the knowledge you need to most effectively use the Goal Planner and make the most of your business for years to come.
Before you get started working, grab your Motivation Essential Oil Blend from Young Living, and your Put On Love affirmation beads!
One winner will be selected. ARV $230
Day 8: Pets and Oils
Goodness knows it is one of the most controversial topics within essential oils: Can they be used with pets? Of course they can! People have been using essential oils around pets for thousands of years.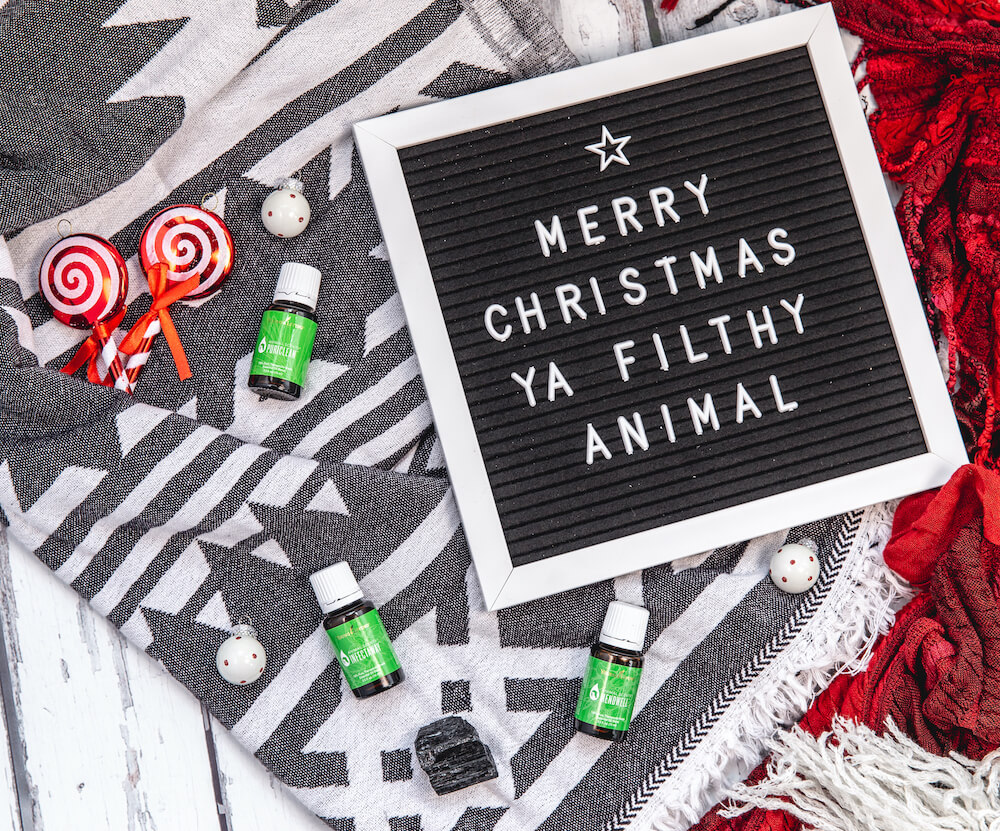 Using essential oils around animals is so simple when you have the Animal Scents Essential Oil Blends from Young Living including MendWell, InfectAway, and PuriClean. These blends come pre-diluted in fractionated coconut oil to support the appearance of pet's skin, cleanse minor scrapes and scratches, and moisturize sensitive, distressed skin.
Use your essential oils alongside black tourmaline, which will cleanse, purify, and transform dense energy into a lighter vibration, purrrrfect for calming down those furry friends.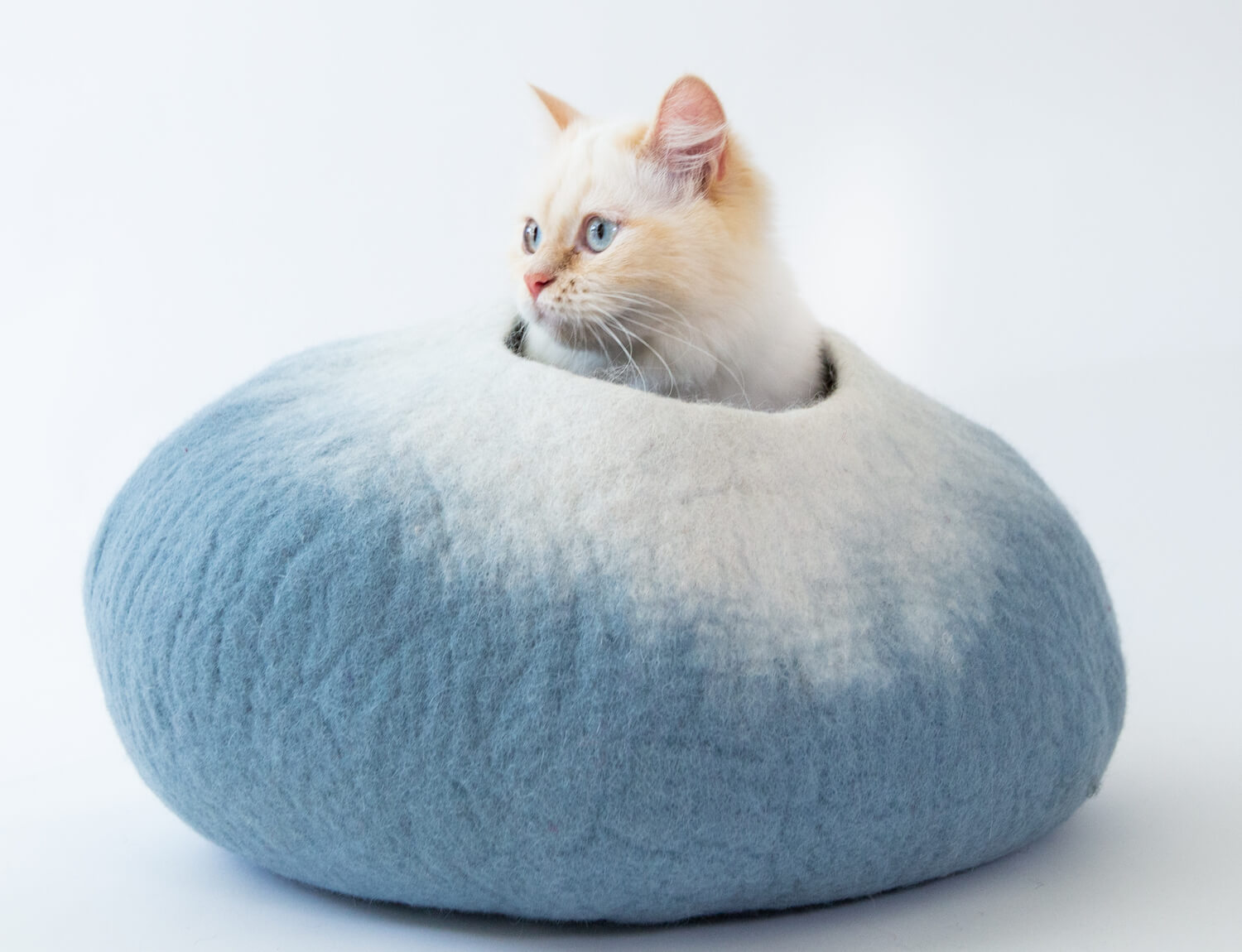 Don't leave your kitty out in the cold. Make sure she is cozy snuggled in a cat cave from Cat Cave Co. Each Cat Cave fits pets up to about 23 lbs.
Easy to clean, Merino wool is soft and flexible, and offers natural properties to keep your pets cleaner and smelling better. The natural odor of wool naturally attracts cats.
One winner will be selected. ARV $190
Day 9: Sleigh My Name
Every boss babe needs a an epic desk to work at.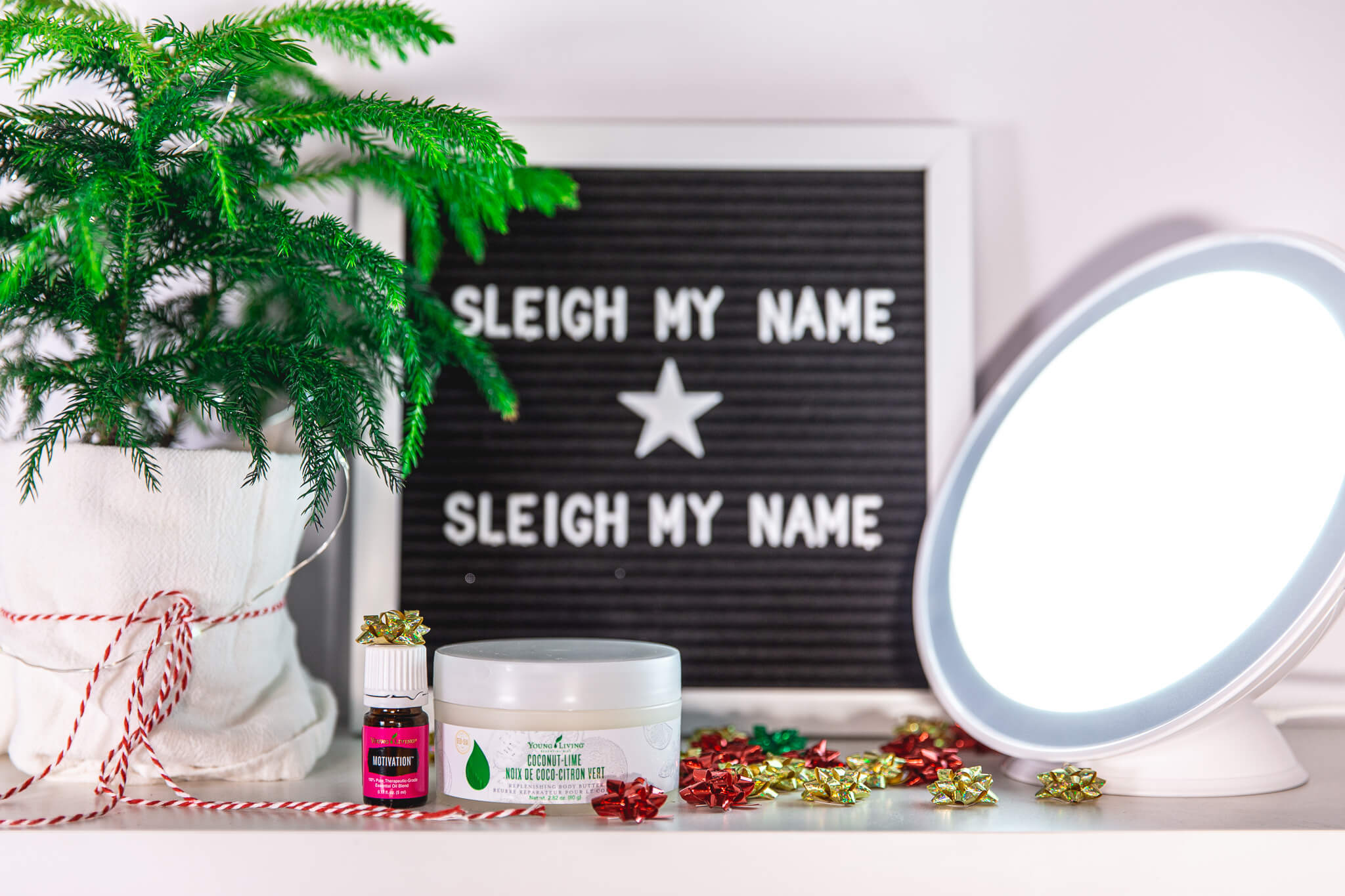 The winner of this bangin' boss babe giveaway will receive two Circadian Light, allowing you to get the right light at the right time. Getting light at the right time improves mood, boosts energy and regulates sleep.
Circadian Rhythm is the body's natural way of tell you to sleep and rise, triggering important biological processes that help you function best. As neuroscientists have discovered, harnessing the power of bright light could provide benefits to the mind and body.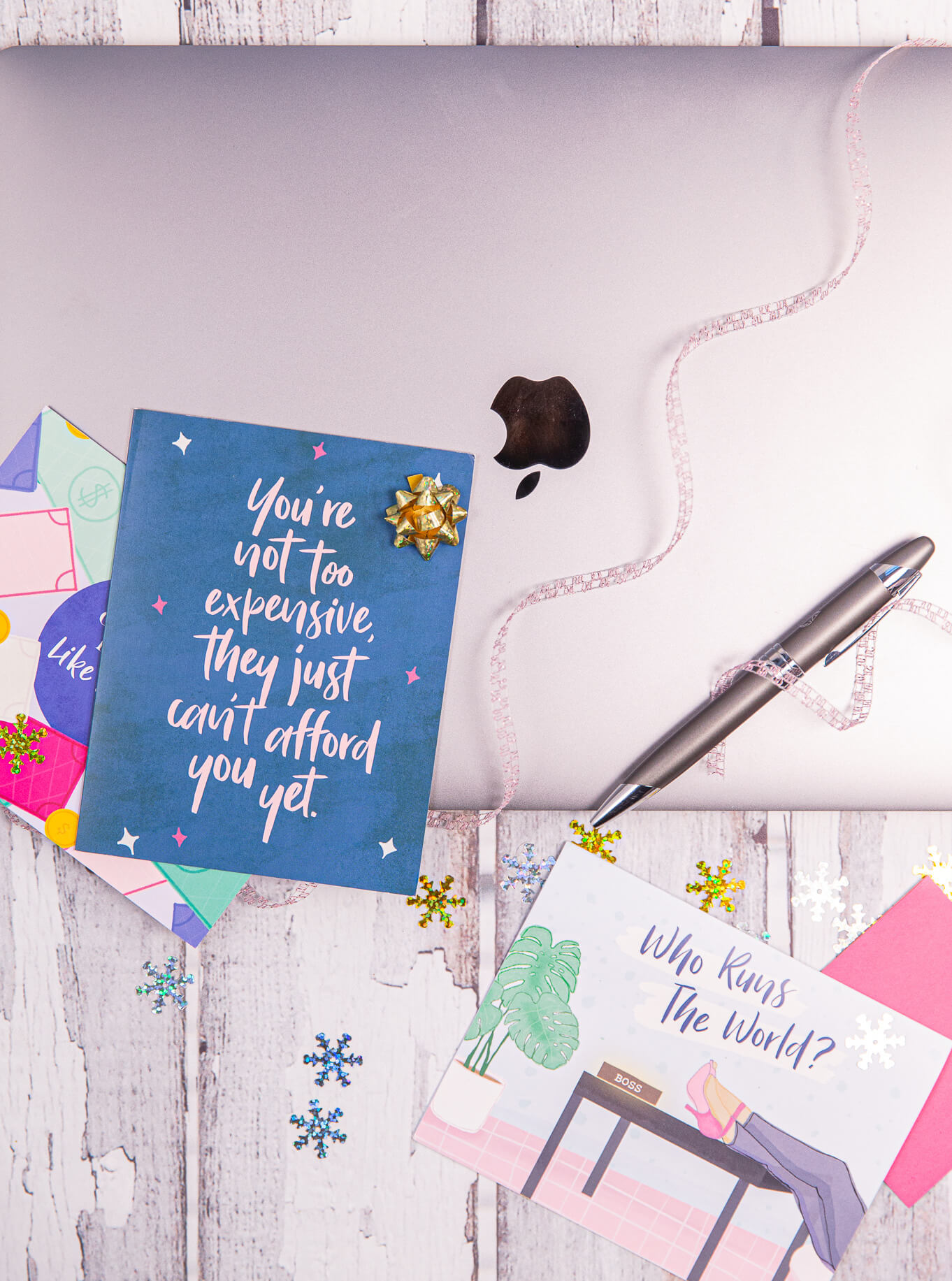 Turn on your diffuser with Motivation Essential Oil Blend from Young Living, and keep the skin moisturized with Coconut Lime Body Butter.
Is there anything better than Happy Mail from your favorite Boss Babe? Be that chick who sends handwritten letters to the Boss Babes who aspire to be just like you. These Statement Cards are the perfect way to reach out and let someone know that you care about them, their success, and simply make someone feel special.
One winner will be selected. ARV $190
Day 10: Christmas Past, Present, and Future
This bundle gives you a glimpse of Christmas past, present and yet to come. Take a step into the past with the 10 Oils of Ancient Scripture from Young Living.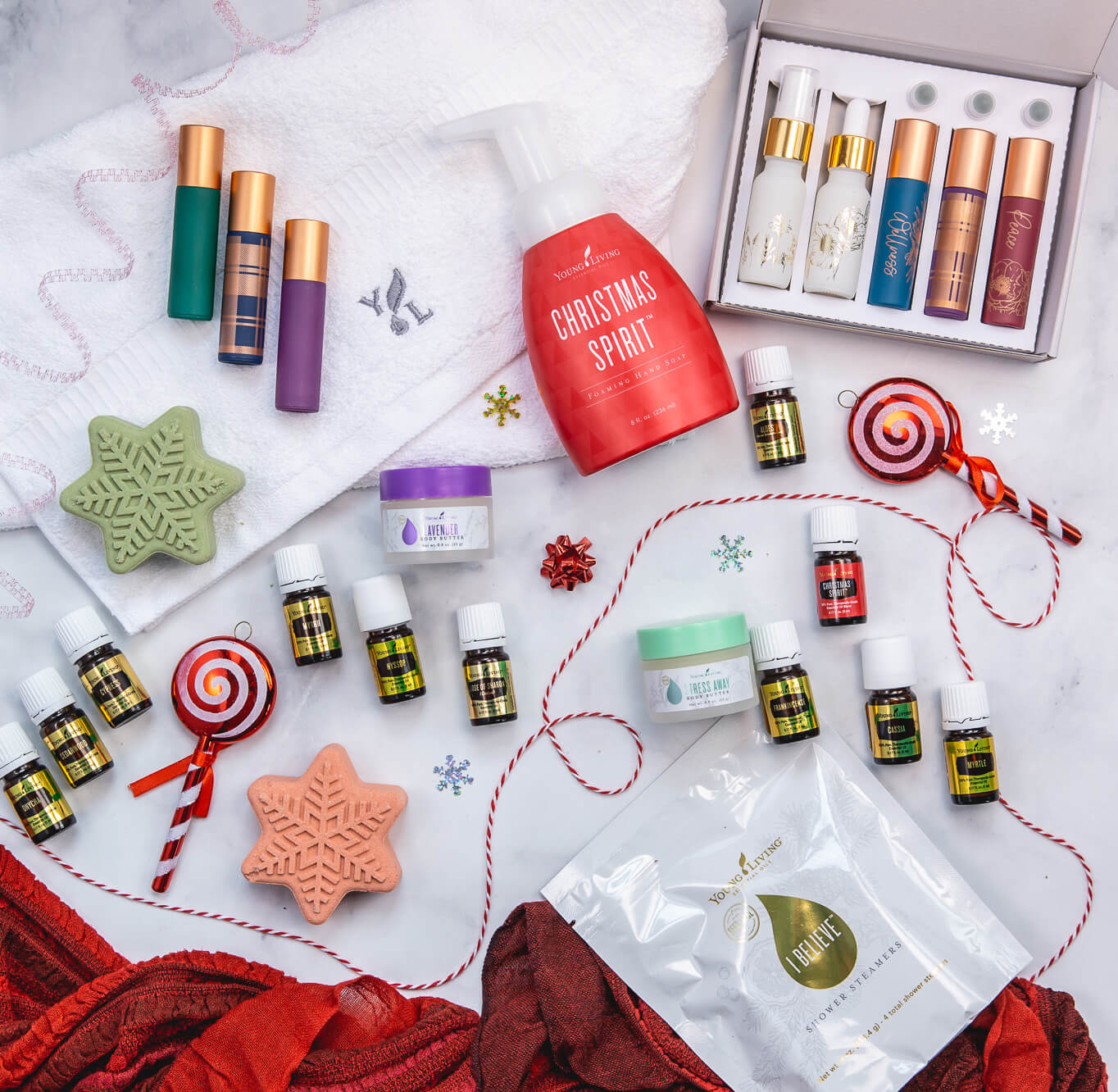 Take a moment to be fully present in a bath or shower with Joy to the World and O' Christmas Tree Bath Bombs. After you're all clean from Christmas Spirit Hand Soap, moisturize the skin with Stress Away or Lavender Body Butter.
Then sit down with a bottle of Christmas Sprit Essential Oil Blend and create your own DIY blends in the Whimsy and Wellness Plaid and the Modern Poppy Collection.
One winner will be selected. ARV $540
Day 11: Good Eats
We all eat more during the winter than we usually do in the summer, and staying in shape can be tough. Plus long nights mean you might not want to cook as often.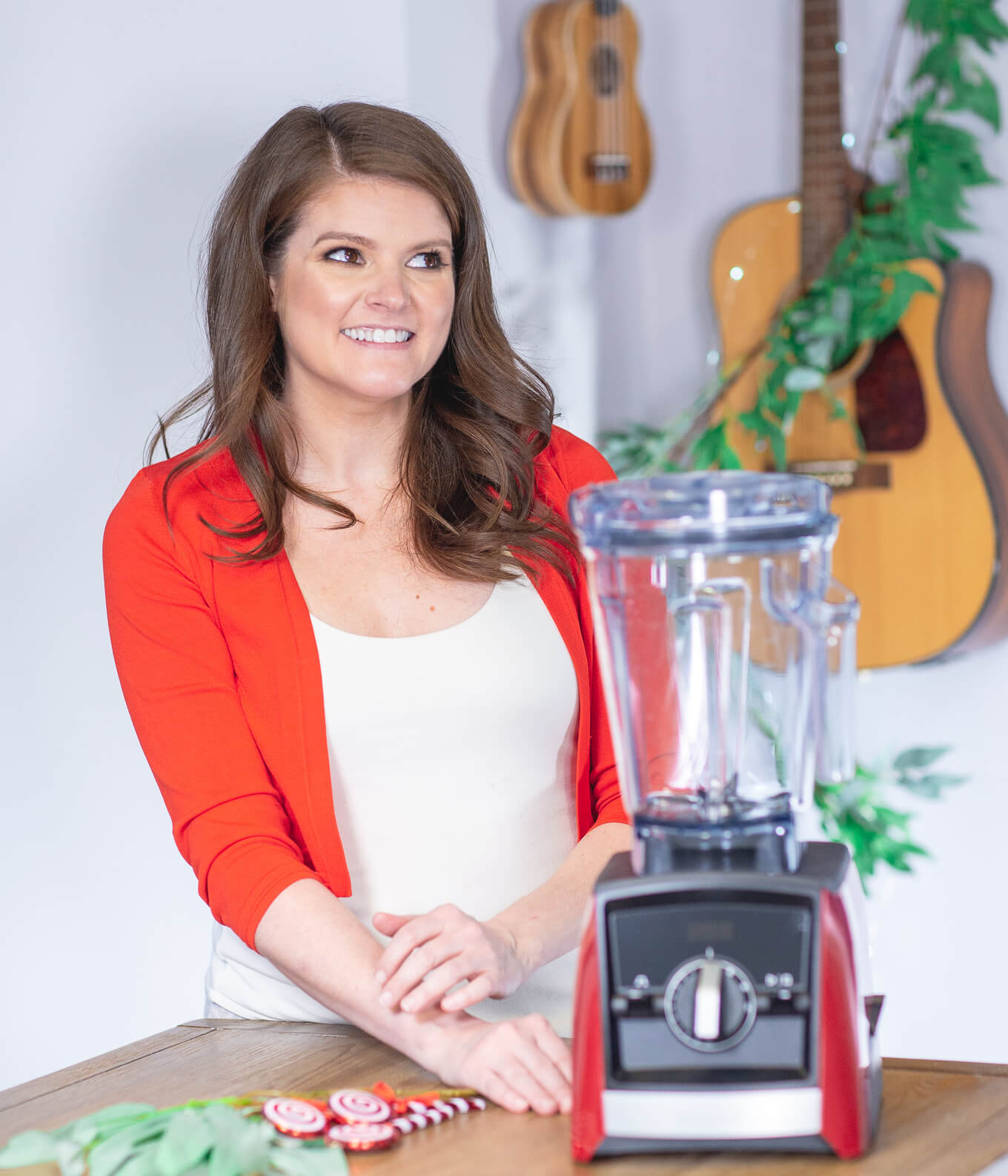 Today's Giftmas gets dinner on the table with ease! First make your own meals with a VitaMix A2500 blender with three program settings for Smoothies, Hot Soups, and Frozen Desserts. It also is a smart appliance that syncs to WiFi, meaning this innovation will last you for years to come.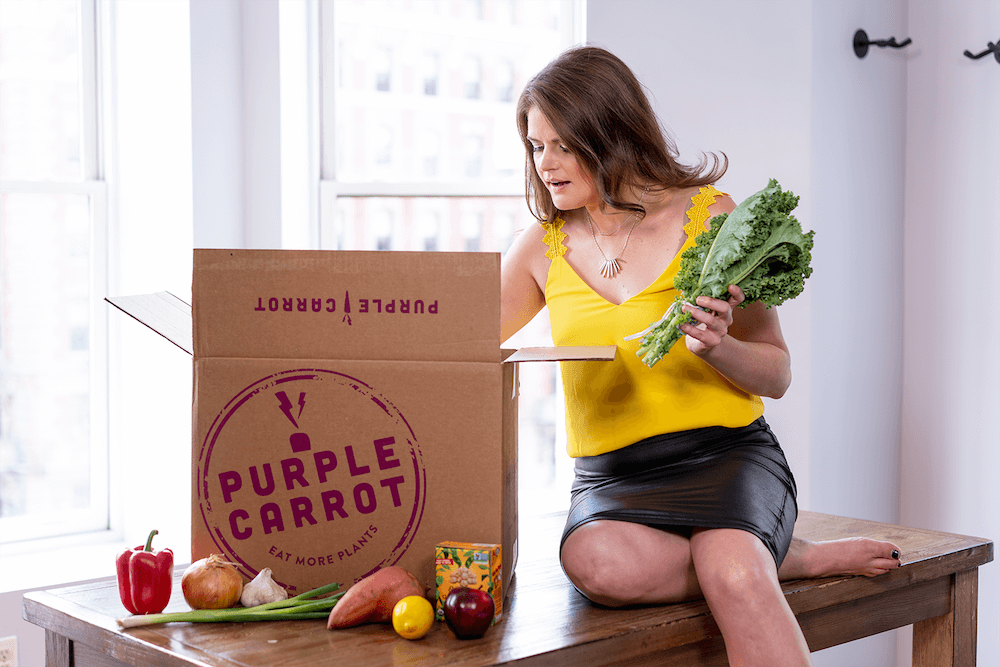 Don't feel like cooking from scratch? Let Purple Carrot help you get dinner on the table fast! Each box comes packed with quick and easy-to-cook vegan meals the whole family will love.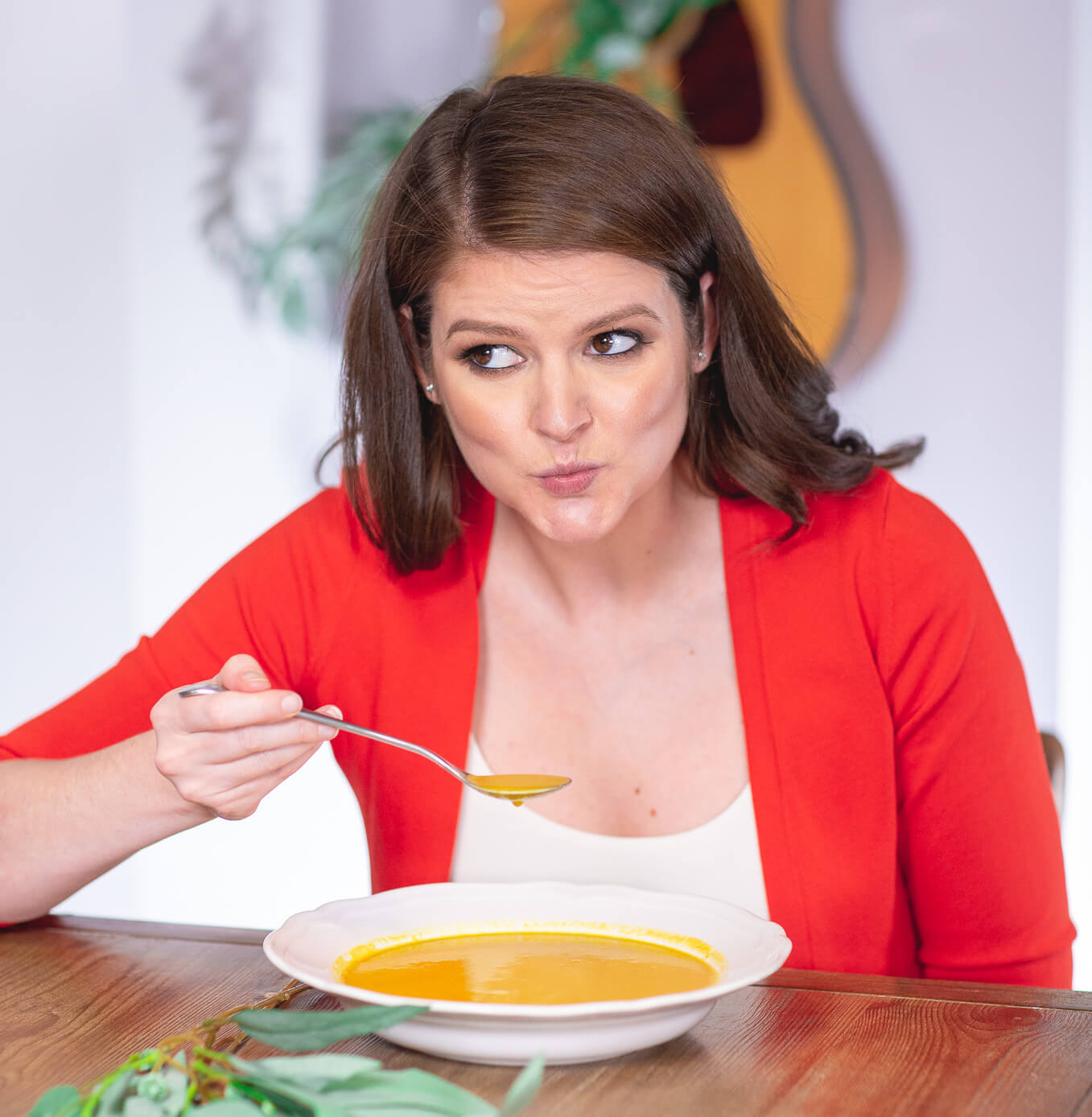 Have no desire to cook? Yep, I get it. Getting home after dark can be a pain. No worries. For even more delectable dining options, you will also win a set of six Good Stock Soups. Simply select the soups you want, pull them from the freezer before you head to work. When you get home, gently heat on the stove. Dinner is on the table in minutes.
Did you know that I plan to create more VitaMix recipes for the Clean Slate Cleanse in next year? Get a free recipe booklet here for 5 Cleanse Recipes.
One winner will be selected. ARV $580
Day 12: Essential Oils and Crystals for Days
Is there anything better than essential oils? Maybe essential oils with crystals, diffuser jewelry, and an amazing diffuser!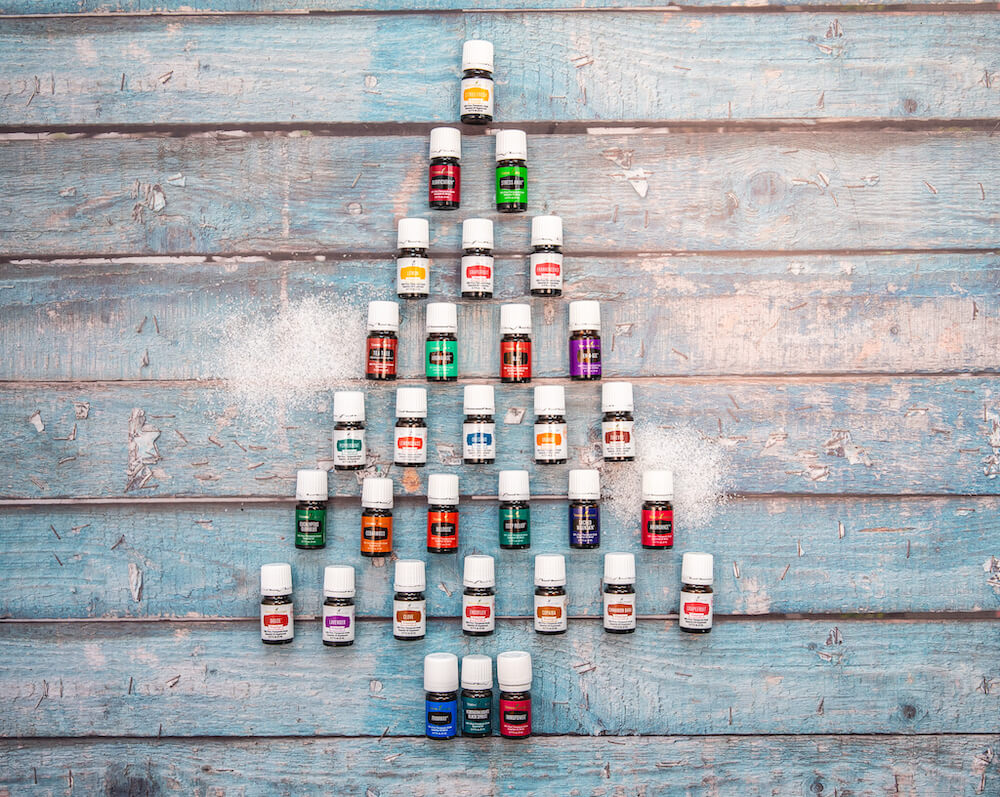 For our last and final #12DaysofGiftmas giveaway, we've selected some of our favorites. Today's theme is MORE HOLIDAYS and that's what we're giving you: MORE!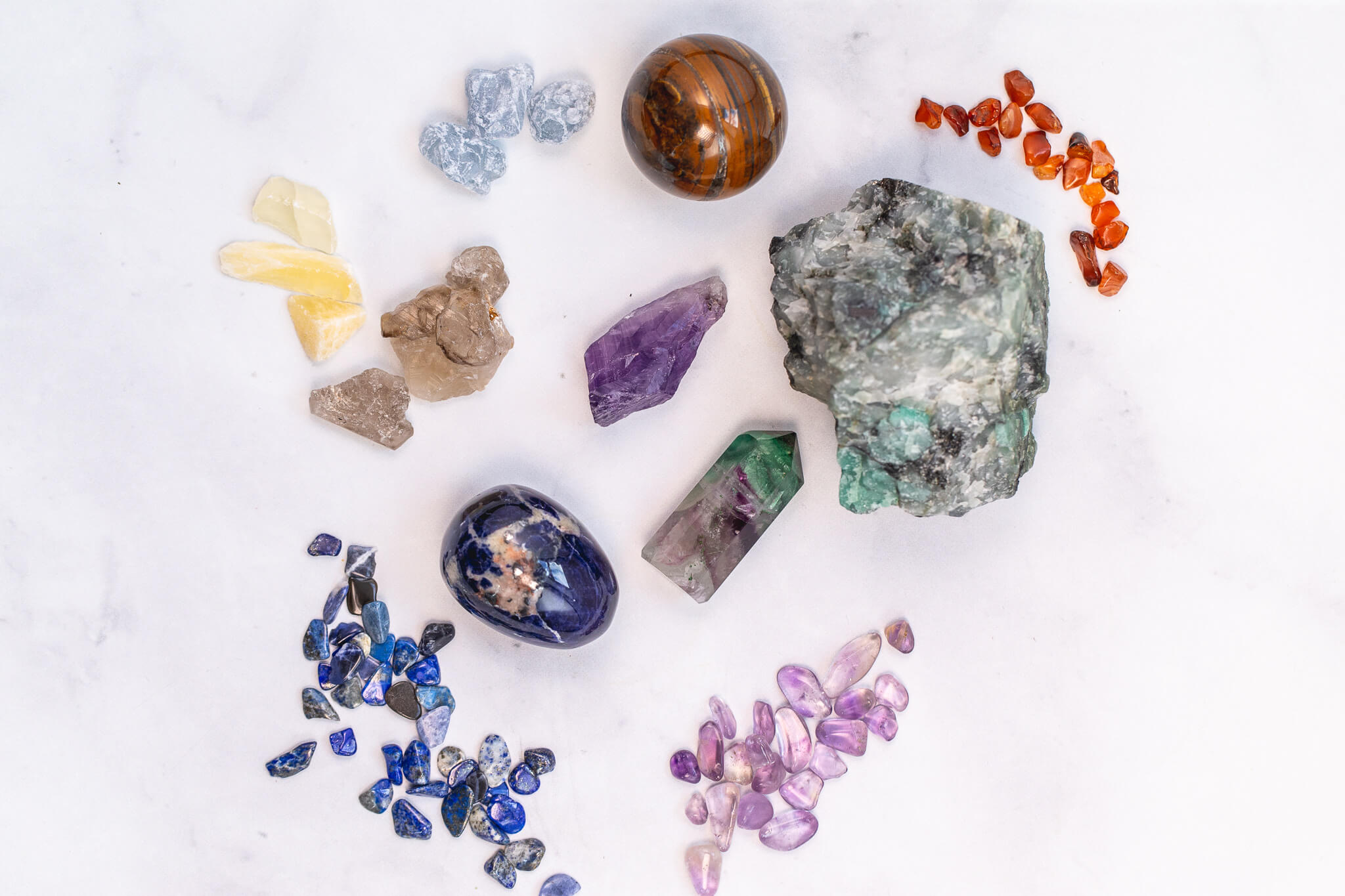 The winner will receive the complete crystal course and bundle (our top seller from Black Friday sales). In this bundle, you will discover which crystals help emotionally and spiritually life. Get a wide variety of crystals to create roller balls, and individual pieces to have in your home.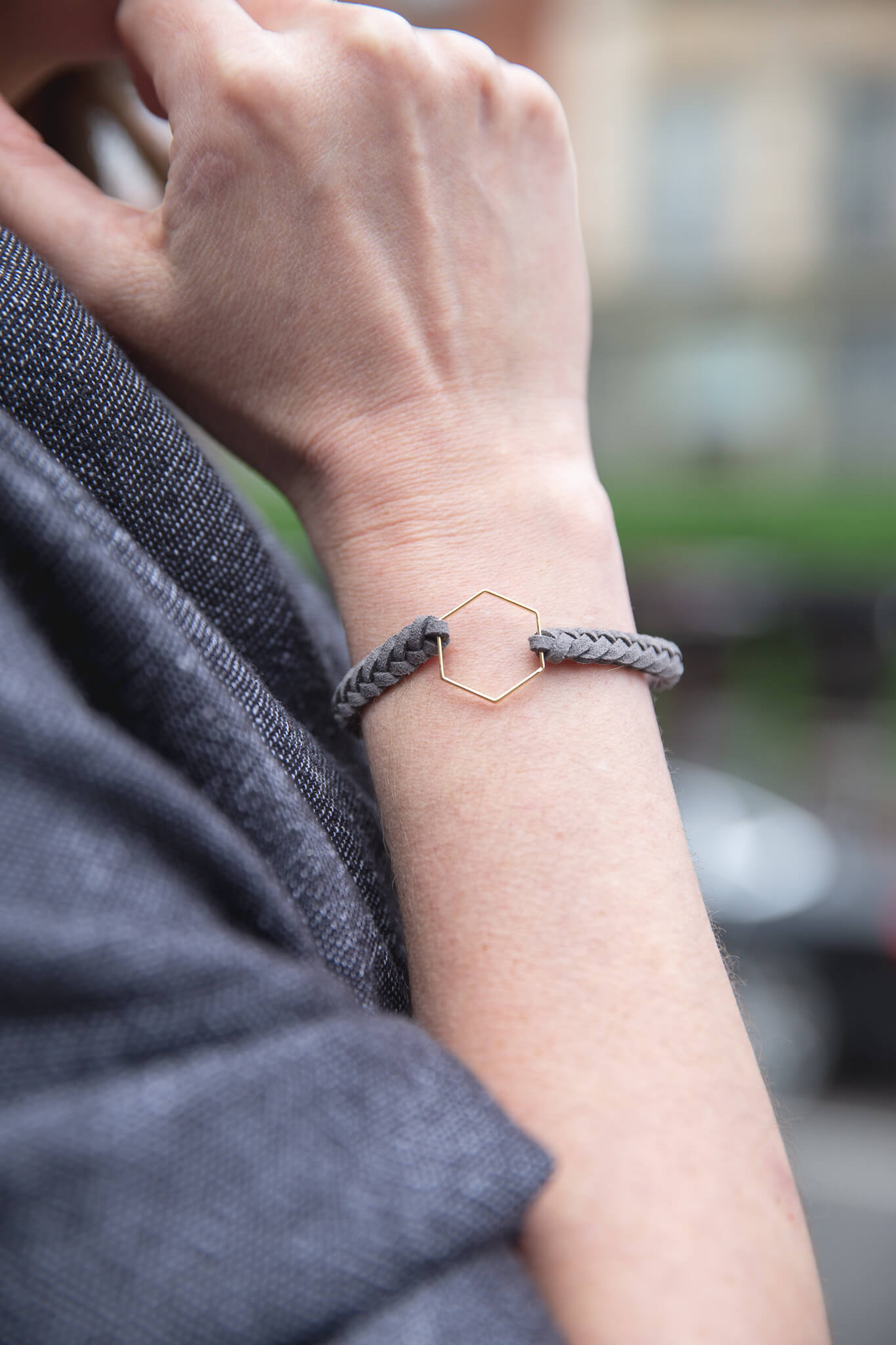 You will also receive a hexagon diffuser bracelet from Put on Love Designs, a Sweet Aroma diffuser from Young Living, and a collection of 30! essential oils.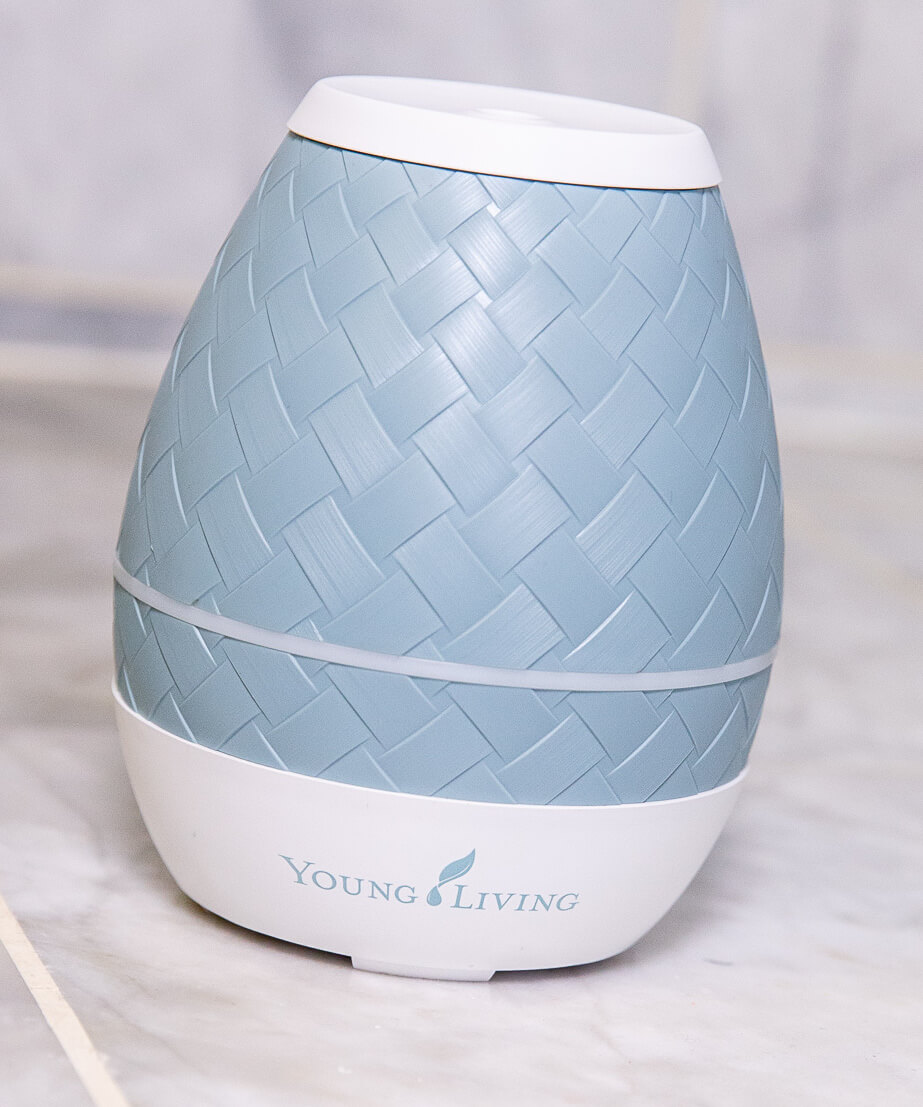 One winner will be selected. ARV $820
How can you win the 12 Days of Giftmas?
You Can't Win 12 Days of Giftmas if you don't play!
To track entries and randomly select giftmas recipients for the 12 Days of Giftmas we will use a software called Gleam. For a quick primer on how Gleam works, head to this blog post.
Be sure to CLICK HERE each day, starting December 4, for your chance to win!
Fine Print
No purchase necessary to win. Winners outside of the continental United States must agree to pay shipping and customs outside the continental United States before prizes will be shipped. All prizes will be announced before December 20, 2019