The snow is falling, the tree is trimmed, and the halls are decked. Now it's time to freshen your home with the aroma of Christmas. Here are three of my favorite Christmas diffuser blends that will have even the biggest grinch singing Christmas carols in no time.
Just Say No to Candles
Especially during the holidays, scented candles are a popular way to create a pleasant ambiance at home. But unfortunately, burning candles releases dangerous volatile organic compounds (VOCs) into the air. Many of these chemicals are known to cause allergies, asthma and skin sensitivities.
Diffusing is such a great way to freshen a room and liven the atmosphere. It is so fun to try new blends, and with so many essential oils available, the possibilities are endless. Try these three Christmas diffuser blends this month as you prepare for the holiday.
Christmas Diffuser Blends
Christmas Tree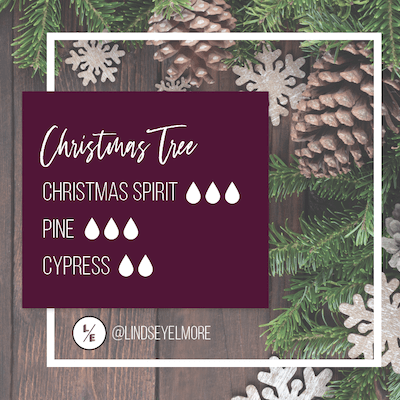 There's nothing better than the crisp scent of fresh pine. It's one of my favorite things about having a Christmas tree in my home. This blend combines that fresh aroma with a bit of spice for the perfect uplifting Christmasy blend.
3 drops Christmas Spirit
3 drops pine
2 drops cypress
Christmas Cookie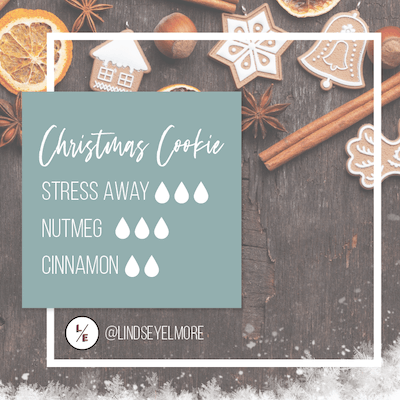 Fresh baked Christmas cookies anyone? Or how about just that sweet aroma filling your home, without the calories? Yes, please!
3 drops Stress Away
3 drops nutmeg
2 drops cinnamon bark
Candy Cane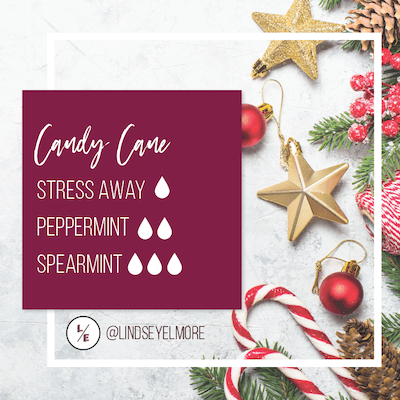 This blend combines fresh peppermint and spearmint with a touch of warm vanilla from the Stress Away for a sweet, refreshing fragrance.
1 drop Stress Away
2 drops peppermint
3 drops spearmint
Do you have a favorite Christmas diffuser blend?
Comment below with your recipe!
---
New to diffusing? Check out this post to learn how to care for your diffuser.