It's hibernation season, and these gummy bears will help you get the sleep you need! These adorable tasty treats contain just the right amount of CBD oil to help you doze off for a peaceful night's rest. They are also perfect to help you wind down and settle your nerves. Give these CBD NingXia Red Gummies to everyone on your list who could use a little extra help winding down.
Yield: about 25 1″ (7 mL) gummies
CBD NingXia Red Gummies Recipe
Ingredients
1/2 cup NingXia Red or other fruit juice
1/2 tablespoon agar powder
2 tablespoons agave syrup
6 mL ingestible CBD oil (see below for dosage information)
Silicone gummy bear mold (This mold makes large 1″ bears. If you use a smaller mold, dosage will be different.)
Instructions
Pour NingXia Red into a small saucepan. Add agar powder and whisk until completely dissolved. Turn heat to medium-low and bring to a simmer, whisking and scraping sides and bottom of pot frequently.
Allow to simmer for about 5 minutes or until the mixture begins to thicken and coat the spoon.
Turn off heat and add agave and CBD oil.
Keep saucepan on the stove (with heat off) so that it doesn't cool too quickly. Using a plastic syringe or dropper (mine came with the molds), fill gummy molds.
As they begin to cool and contract, you can add a bit more of the mixture to top them off. Gently tap the mold on the counter to expel any air bubbles.
Carefully place mold in the refrigerator to set.
Store in a closed jar in the fridge for up to 3 months.
Download your free CBD NingXia Red Gummies labels here!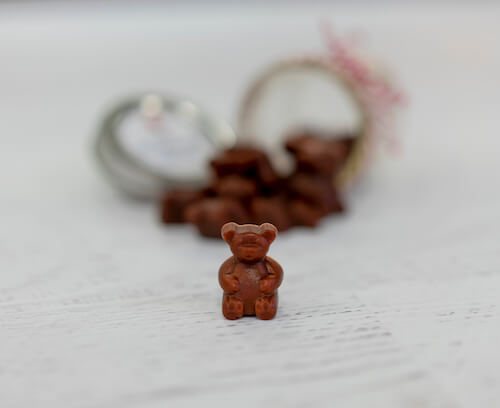 Dosage information
I used 6 dropperfuls of 1000 mg CBD oil in this recipe. This yields about 240 mg of CBD per gummy. Some people may choose to take 2-3 gummies for desired results. As with all medications, start low and go slow. For more information about CBD dosages, see this post.