I love french fries. There's nothing quite like biting into the perfectly seasoned french fry with just the right amount of crisp on the outside. The technique in this recipe results in fries that are crisp on the outside but not overdone to the point of being dried out. Although the technique has a few extra steps involved, the end result of the perfect, crispiest fries is worth the effort.
The sauce in this recipe adds yet another special layer to the deliciousness! With a big kick of garlic, the combination of hummus and tahini create a unique flavor. This sauce could be adapted to use as a dipping sauce or dressing for other foods as well.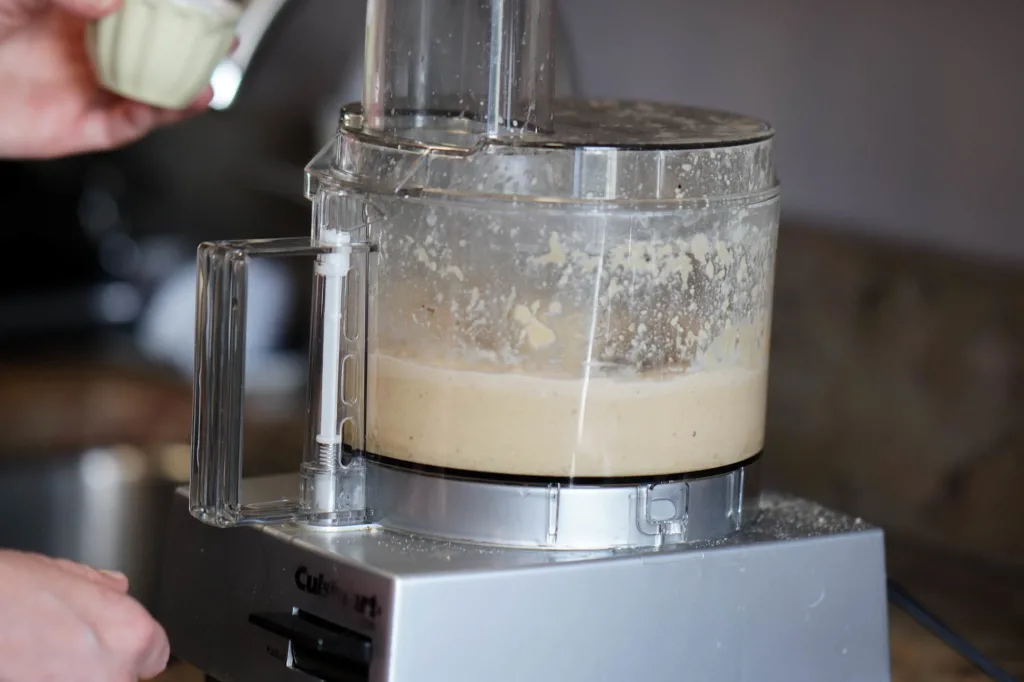 The controversy of frying.
When done right frying=crunchy, crispy, golden brown deliciousness that is rich and not excessively greasy. When done wrong frying=greasy, nasty, soggy, and laden with calories. There are some tricks to help you fry food more effectively and get the crispiest fries possible.
Here are some tips on how to fry effectively for tasty food that doesn't pack on the pounds.
Keep the oil clean. It takes a lot of oil to deep fry, but seriously, use fresh oil.
Choose your oil carefully. Use a heart-healthy oil with a high smoke point.
Season the batter and breading with plenty of salt and pepper and spice. Go easy on the sugar as it can cause the batter to burn. Gluten-free ingredients like cornmeal and rice flour absorb less oil, so bonus for no gluten. Carbonated liquids and baking soda can help the batter to puff up.
Use a thermometer to check the temperature of the oil and check that it is optimally hot for the food. This ensures that you reduce the amount of oil that the foods absorb.
Turn on the vent fan and use a fry screen to avoid mess.
Drain foods on a wire cooling rack. I greatly prefer this method to paper towels which can get soggy.
And fry in moderation. No one is arguing that fried food daily is healthy.
The Benefits of Oven Frying
While many people think that the benefits of oven frying are only reduced exposure to fats and oils, there is actually a lot more.
Oven-fried foods are less likely to cause heartburn in people with acid reflux. They are also less likely to cause gastrointestinal upset in people with irritable bowel syndrome.
In people with heart disease, deep fried foods bring not only extra calories, but also additional artery-clogging fats.
But the Crunch!
The enticement of fried foods is the distinct crunch that is undeniably delicious. To get the crunch that everyone loves, this recipe uses arrowroot powder to coat the outside of the potatoes.
Arrowroot powder is not only gluten-free, but grain-free and paleo friendly. It is a starchy substance extracted from the root of a tropical plan, the Maranta arundinacea. This root roughly resembles cassava, yucca, or kudzu when harvested.
The best part about arrowroot powder is that it has no flavor so you can season it with any dried spices that you want.
The only downside with coating with arrowroot powder in these crispiest fries is that the potatoes do not get as golden brown as they do uncoated or deep fried.
Make it A Meal
Serve the Crispiest Fries with Garlic Tahini Sauce alongside the Vegan Mushroom Lentil Burgers for a summer grill out, tailgate, or quick, make ahead meal.