The holiday season is here, and that means it's time for the annual 12 Days of Giftmas! I gotta tell you, the giveaway is better than ever this year! My team has worked hard to bring you a truly unique selection of products to pamper, restore, rejuvenate, and invigorate every member of your family. The grand total for this years' 12 Days of Giftmas is a whopping $12,000! Check out the offerings for each day because you may just get some great gift-giving ideas!
You can enter each daily giveaway in a few ways:
Day 1: Keep Calm and Reset
Fascia Blaster Kit
This ultimate bundle has all you need to get started fascia blasting!
The Cellulite Myth book
The Cellulite Myth Workbook
Mini 1: for those hard-to-reach areas and trigger point therapy
Mini 2: the most versatile single-handed blaster
Faceblaster: for your face and other small places and delicate areas
MasterBlaster: great for refining work on larger areas with its 9 small claws
Big Daddy Blaster: features 6 claws for larger coverage
Extenders: fit on any Blaster to make blasting those hard-to-reach areas a breeze
Fascia Blaster Oils: face oil, pre blast, after blast, blaster oil, after blast cream, and post blast
Ashley Black Fascia Blaster backpack
---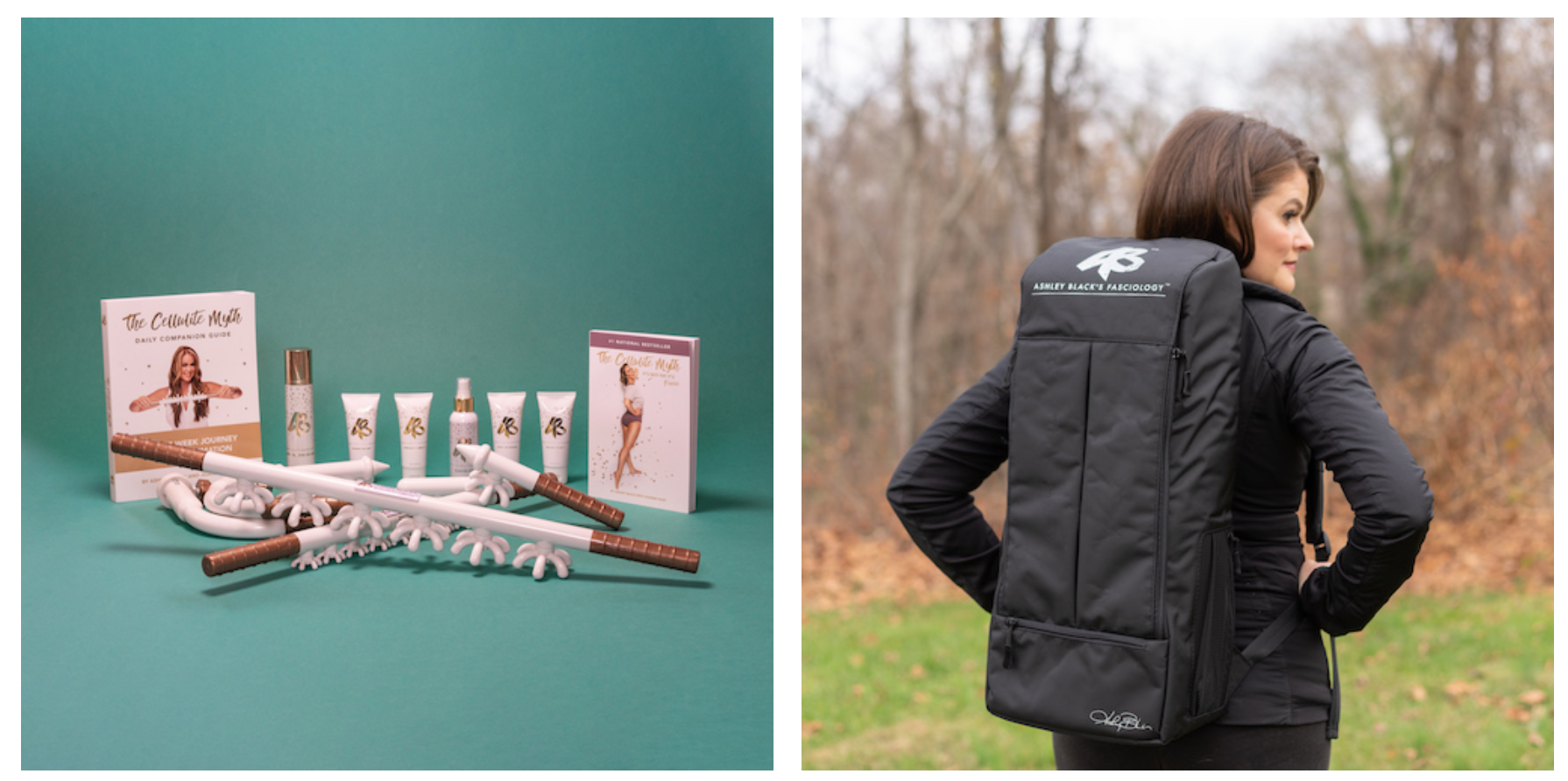 Clean Slate Cleanse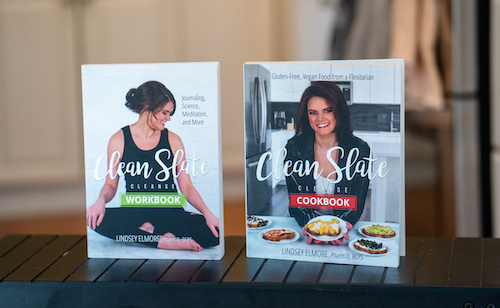 Ready to reset your relationship with food and get started on a path to better wellness? The Clean Slate Cleanse provides all you need to embark on a 21-day cleanse to kick-start your wellness journey. Lindsey Elmore and her team come alongside a group of people to support, encourage, and provide the accountability you need to succeed. This also comes with signed copies of the Clean Slate Cleanse Cookbook and Workbook to guide you through the 21-day cleanse. This is the Giftmas gift that will keep on giving throughout the new year!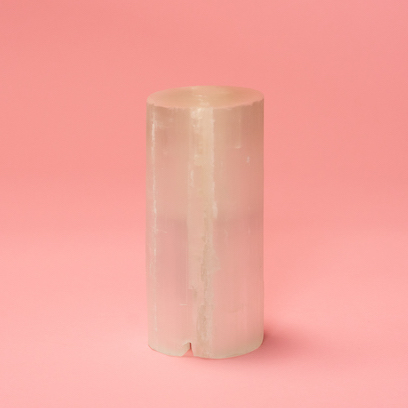 Wild | Alabaster Selenite Lamp
The pure, high vibrational energy of selenite has the ability to cleanse and purify. Additionally, selenite is great for absorbing and transmuting negative energy. In this way, selenite helps dispel negative energy from an environment. It also encourages peace and mental clarity. This sleek 8″ selenite lamp from Wild | Alabaster will uplift the energy in any room.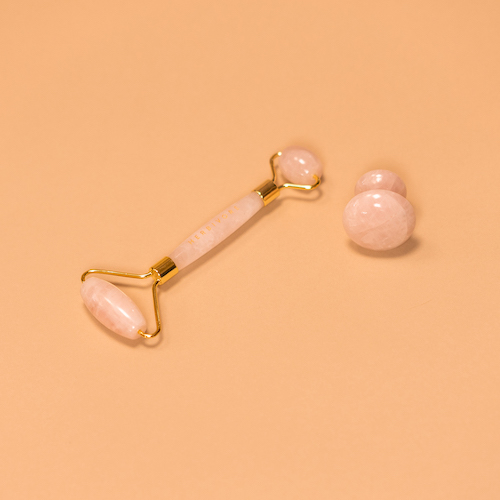 Rose Quartz Face Roller & De-Puffing Eye Treatment Tool
The Herbivore Rose Quartz Facial Roller is an incredible tool for inner and outer beauty. Facial rolling helps to firm the look of skin through gentle massage. It also supports the lymphatic system, to enhance proper detoxification. The Mount Lai De-Puffing Eye Treatment Tool helps cool and soothe the fragile eye area to reduce redness and puffiness. Both of these tools are made of genuine rose quartz.
Young Living Relax Bundle
Bring some peace and serenity to your day with the Young Living Serenity Now Collection. It contains lavender, Peace and Calming, and Stress Away essential oils, as well as the Aroma Ring impregnated with lavender essential oil. Top it off with the grounding aroma of Gratitude essential oil blend. Finally pamper yourself with hydrating, nourishing Coconut Lime Body Butter, and make give your lips some TLC with Poppyseed Lip Scrub!
Day 2: Go Outside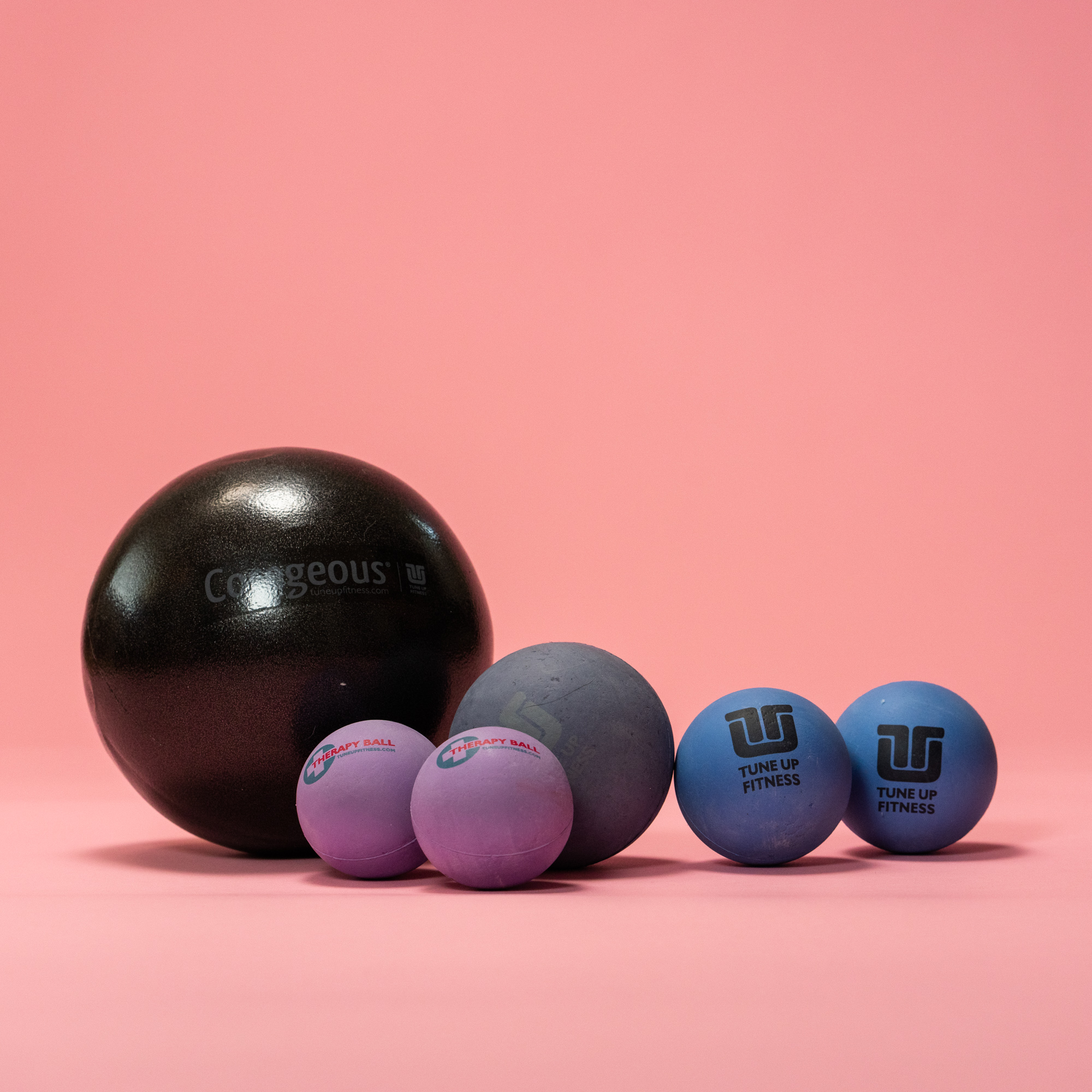 Walking Well Video Course + Therapy Ball Kit
Walking Well: A Stepwise Approach to an Everyday Movement is an online course created and taught by biomechanist and Nutritious Movement founder Katy Bowman and fascia expert/Tune Up Fitness creator Jill Miller. The course helps you troubleshoot your body for more effective walking. With over 6 hours of gait-improving exercises and self-massage movements, work on your walk at your own pace in the comfort of your own home.
This kit comes with the 16-segment Walking Well Video Course and a bundle of therapy balls to augment your practice.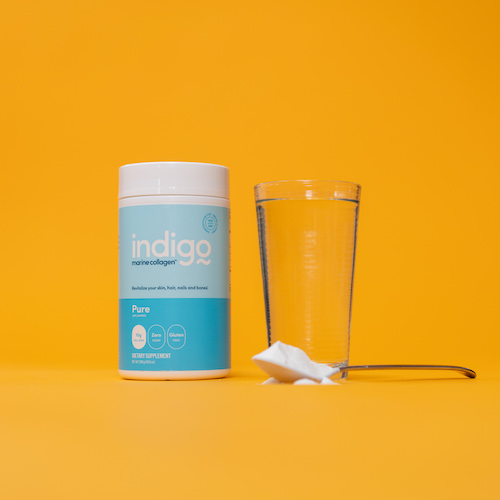 Pure Marine Collagen from Indigo (30 servings)
Indigo Marine Collagen revitalizes hair, skin and nails, while packing a powerful protein punch that easily mixes with water, milk, juice—even eggnog! With a commitment to sustainability, simple ingredients from non-GMO wild-caught fish, faster absorption and a transparent supply chain, Indigo is the both perfect stocking stuffer and travel companion this holiday season.
Autographed copy of The Unlikely Thru Hiker: An Appalachian Trail Journey + Essential Oils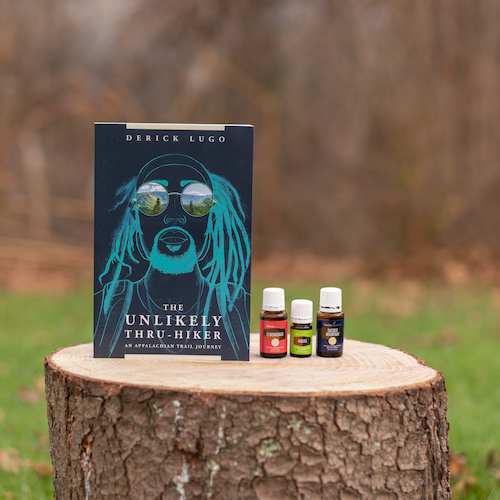 The Unlikely Thru-Hiker is the story of how a young black man from NY City, unfamiliar with both the outdoors and thru-hiking culture, sets off with an extremely overweight pack and a willfully can-do attitude to conquer the infamous Appalachian Trail. What follows are lessons on preparation, humility, and nature's wild unpredictability. But this isn't a hard-nosed memoir of discouragement. What sets Lugo apart from the typical walk in the woods is his refusal to let any challenge squash his inner Pollyanna. Through it all, Lugo perseveres with humor, tenacity, and an unshakeable commitment to grooming―earning him the trail name "Mr. Fabulous"―that sees him from Springer Mountain in Georgia to Katahdin in Maine.
This bundle also comes with 3 of Lugo's favorite essential oils for his hiking excursions: kunzea, Sacred Mountain, and lemongrass.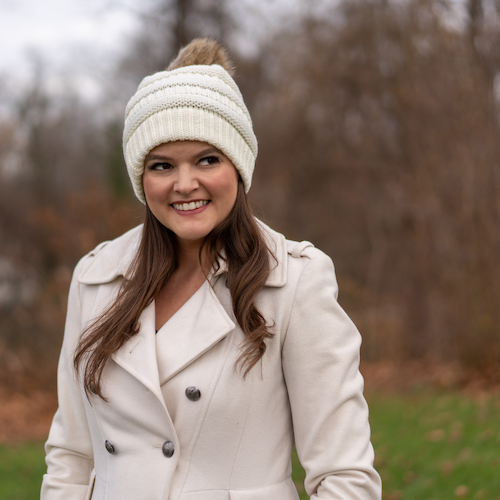 C.C. Beanie
Comfort meets style in this classic C.C. Beanie. This cable knit beanie hat is made of comfortable and durable material to last all season long. The variety of colors allows you to choose your favorite and match it with different outfits.
JaiYou Brace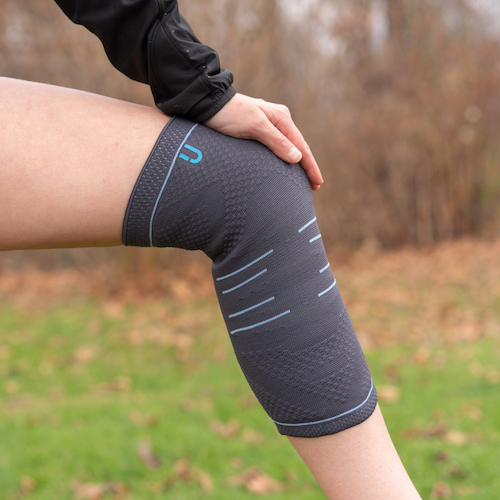 The mission of JaiYou is to keep you going with modern body braces. They go the extra mile with premium, breathable materials, flexible knit, micro massage tech and skin-friendly products. JaiYou is FDA registered as a medical product company, and they design and develop all of their products with the help of orthopedists. They combine fashion and technology to design the most effective & attractive designs, at a affordable price to help you Move Better, Live Better.
The winner of this Go Outside Giftmas bundle will receive his/her choice of a body brace or support: knitted knee support, knitted ankle support, knitted wrist splint, or back support.
Young Living Active Bundle
Reach for the famed Deep Relief Roll-On after a strenuous workout. Make sure to bring some healthy snacks for your next outdoor adventure with a 3-pack of Einkorn Granola. You'll also get a case of NingXia Zyng to energize your adventures. Enjoy Chocolate Pure Protein Complete to recover after your workout or outdoor excursions.
Day 3: Eat, Drink, & Be Merry
Methodical Coffee Bundle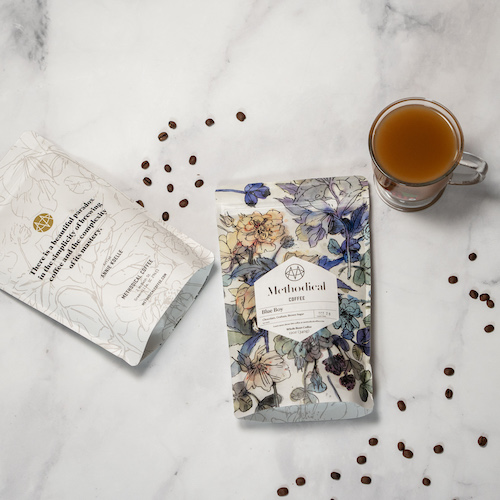 Methodical specialty grade coffee comes from top quality coffee farms in Africa, Central and South America. It is roasted locally in Greenville, SC to express the life it lived – the place, the weather, the soil – and to honor the skilled people who cultivated it. Methodical Coffee appeals to the full flavor spectrum, from classic coffees that are chocolaty and nutty to more avant-garde taste profiles, all offering a premium experience.
This Giftmas bundle includes one bag of Blue Boy coffee and one bag of Play Nice coffee.
Big Easy Bucha Bundle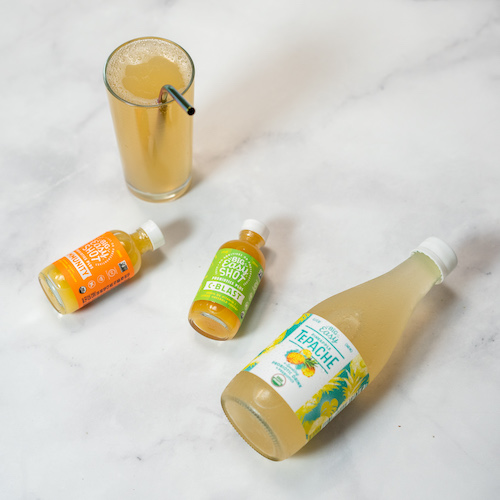 Inspired by homemade health elixirs that actually work, Big Easy Shots are made with 75% organic juices plus superfoods and all natural supplements. Big Easy Tepache is a bubbly probiotic and prebiotic pineapple beverage containing 3 g of fiber per bottle. Infused with dairy-free probiotic cultures, they're not only yummy, but good for the tummy. Big Easy Tepache and Big Easy Shots are currently available at all Publix locations; expect to see them roll out at more major retailers in January, 2021.
This bundle comes with a 6-pack case of Big Easy Tepache as well as a 24-pack case of Big Easy Shots and a T-shirt.
Three Peaks Manuka Honey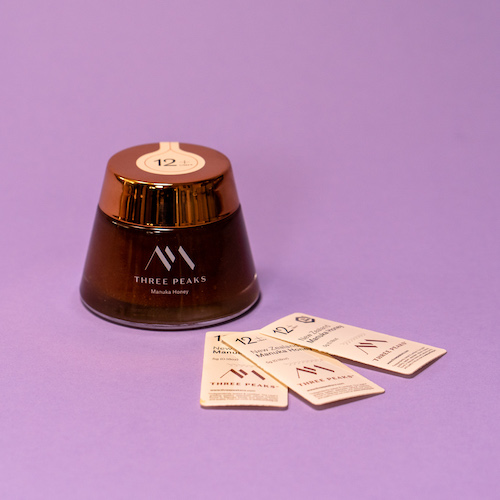 Three Peaks ultra-premium honey is created in the heart of New Zealand, in the remote hills of the volcanic central plateau adjacent to the UNESCO World Heritage Site -Tongariro National Park. Certified 100% pure and authentic, Three Peaks is independently tested and certified for stringent New Zealand UMF Honey Association purity and quality standards.
UMF stands for "Unique Manuka Factor" and is a rigorous grading system developed in New Zealand. Three Peaks is available in a UMF scale ranging from 5+ to 20+. This premium honey is life-enriching and ideal for daily use for overall health and wellness.
Up for grabs is a 7.05 oz. jar of certified UMF 12+ Three Peaks Manuka Honey elegantly packaged in a glass Tongariro Jar.
Sexy AF Sober Bartender Set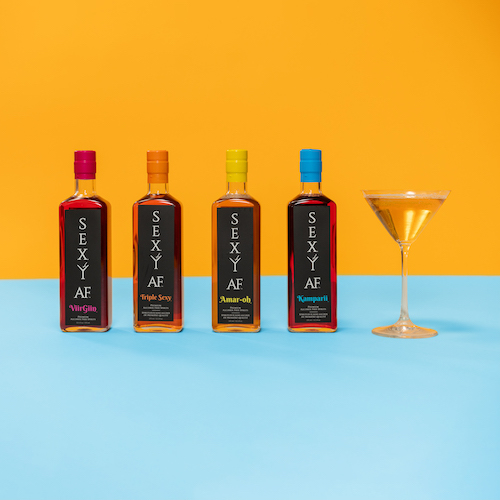 Sexy AF Spirits are 100% alcohol-free premium spirits. The spirits are plant-based and botanically infused for delicious tasting mocktails without the regret. Simply substitute the alcohol in your cocktail with Sexy AF and enjoy a classy, sophisticated and tasty mocktail that is Sexy AF. Rethink your drink with Sexy AF.
The Sexy AF Sober Bartender Set comes with 375 mL of all four Sexy AF Spirits: ViirGiin, Kamparii, Triple Sexy, and Amar-oh. Each bottle contains over 12 servings, and all perfectly hand-crafted to create over 100 different cocktails.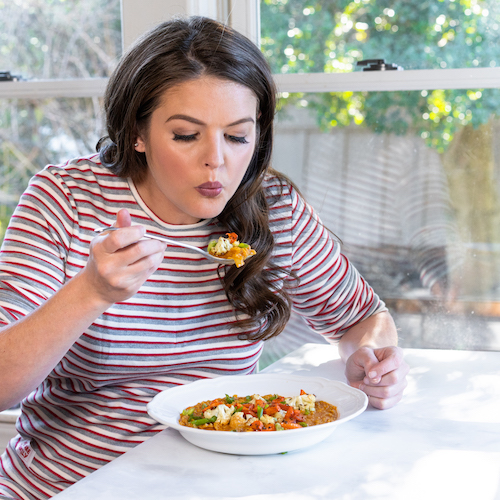 Purple Carrot Meal Box
Purple Carrot is my favorite meal delivery system. It is by far the most convenient way to cook up tasty, healthy plant-based meals that will leave you wanting more. I find myself cooking Purple Carrot recipes again and again. Enjoy a box to prepare three delicious meals with this Giftmas prize package!
Pique Tea Sun Goddess Matcha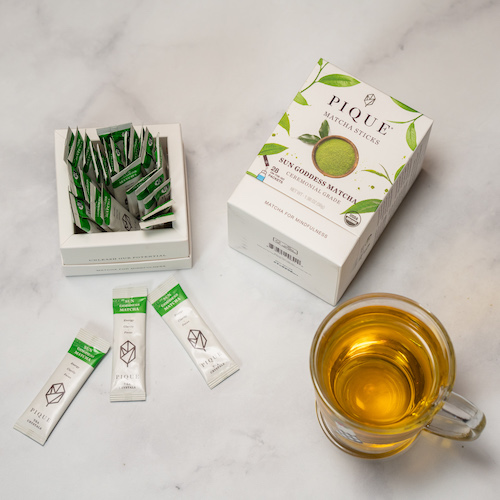 Pique Tea is your daily antioxidant powerhouse for radiant health. They have over 20 different flavors so you're sure to find something your tastebuds love and your body craves! The Sun Goddess Matcha tea contains l-theanine to provide calm energy to support a state of mindfulness. If the idea of feeling both energized and calm at the same time doesn't make sense, it will after you try this matcha. It provides balanced, sustained energy to help you get through your day. Learn more about the benefits of tea in this post!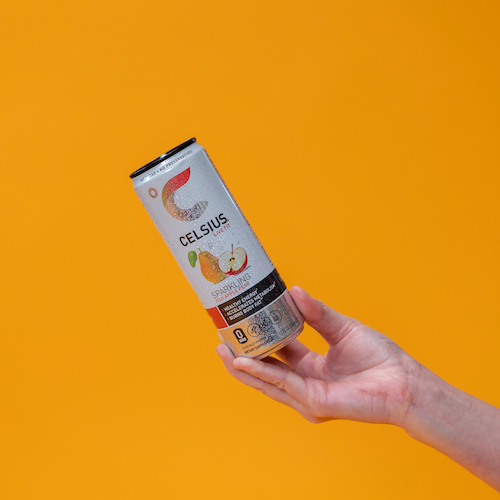 3 Cases of CELSIUS Fitness Drink
CELSIUS is a low-carb energy drink with 7 essential vitamins. Plus, it contains no sugar, artificial flavors, colors or preservatives, no aspartame, or high fructose corn syrup. It's also non-GMO, very low in sodium, vegan and Kosher. Unlike traditional energy drinks, CELSIUS has no crash or jitters, and is clinically proven to accelerate metabolism, burn fat, burn calories, boost endurance and help build lean body muscle.
Young Living Vitality Essential Oils
All you need to get started using Young Living essential oils in your kitchen, plus my favorite magnetic oil clips for easy display and keeping your essential oils at-the-ready.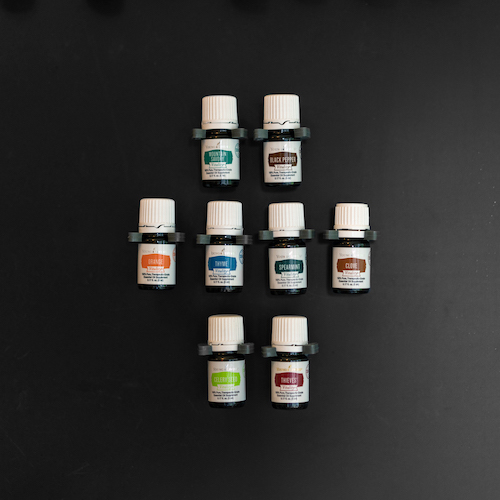 Spearmint Vitality
Black Pepper Vitality
Clove Bark Vitality
Thieves Vitality
Orange Vitality
Celery Seed Vitality
Thyme Vitality
Mountain Savory Vitality
Day 4: Healthy New Year
Dr. Jess Peatross 1-on-1 Session
This is a once in a lifetime opportunity! Dr. Jess is giving away one of her coveted wellness consults valued at $300! Dr. Jess is trained in functional medicine, Gerson therapy, ozone and nutrigenomics. Her philosophy embodies true health as being all-encompassing of mind, body and spirit. She boasts 15 top selling supplements for everyday conditions and spends her time consulting with virtual clients as a health coach. She believes that personalized, preventative and functional treatment plans are the next step to revolutionize healthcare.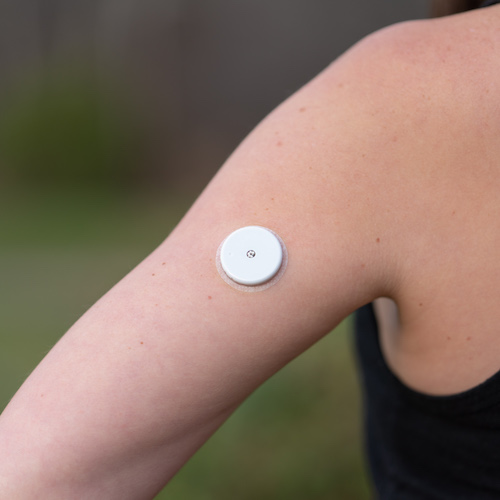 NutriSense Continuous Glucose Monitoring Program
NutriSense's team of registered dieticians provide personalized dietary programs based on your glucose data. The NutriSense app also integrates with other data from popular wearables and health apps so you can get a comprehensive view of your health status. This bundle includes the NutriSense Continuous Glucose Monitor and the NutriSense tracking app, as well as a 1:1 coaching with a registered dietician who will help you understand your glucose data and create a customized dietary plan.
Plateful Health eBook Bundle
This eBook bundle includes How to Eat More Plants and two digital cookbooks by Dr. Chen: Plate for Health and Comfort Foods. Dr. Chen, is an MD who focuses on lifestyle medicine. She created these ebooks to help people incorporate more plants and nutrient density into their diets. These recipes will not only nourish the body, but delight your taste buds. Come learn that eating healthy can be tasty!
Sauna Space Portable Photon Healing Light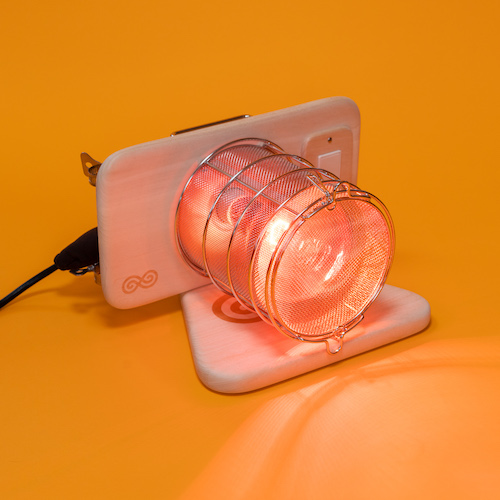 SaunaSpace is on the leading edge of Incandescent Therapy. This U.S. made, 100% chemical-free sauna is free from toxic, synthetic materials, so the only toxins you encounter will be the ones you sweat out. Plus, it's 100% EMF-free to guarantee full protection from all external EMF. SaunaSpace is so confident in their product, they offer a 100% money-back guarantee and lifetime warranty on their saunas.
The portable Photon is a near-infrared healing light which can be used in many ways. Try it at your desk or as a natural light source after dark to improve sleep. Enjoy the benefits of light and heat therapy to relieve soreness and muscle pain, or implement it into your beauty ritual to boost collagen production for smooth skin and a healthy glow!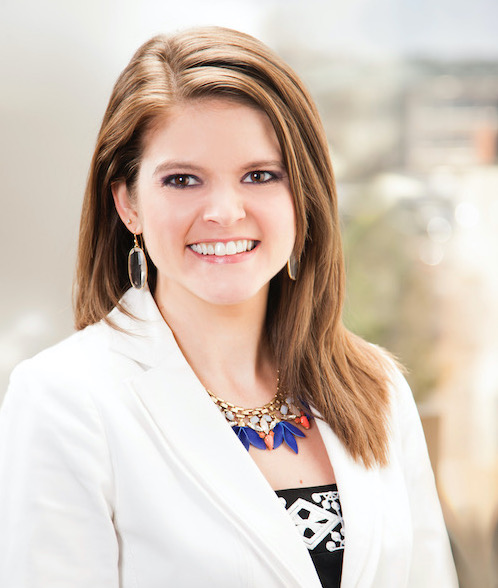 One-on-One Health Consultation with Dr. Lindsey Elmore
The winner of this Giftmas bundle will receive a complimentary one-on-one virtual appointment with Dr. Lindsey Elmore to discuss your health and wellness needs and goals. She'll help you develop a protocol to get your healthy journey started, and it even includes a follow-up session to evaluate your progress.
Selenite Crystal Charging Block
In order to vibrate at their highest potential, your crystals need to be properly cleansed and charged. These selenite charging blocks from Wild | Alabaster are perfect for this purpose.
Unlike most crystals, selenite does not need to be cleansed or charged. In fact, it helps amplify the energy of other crystals. The pure, high vibrational energy of selenite has the ability to cleanse and purify. Additionally, selenite is great for absorbing and transmuting negative energy. In this way, selenite helps dispel negative energy from an environment. It also encourages peace and mental clarity.
Young Living to Your Health Bundle
Nothing beats the comforting aroma of warm cinnamon bark essential oil. Load up your diffuser with this oil to boost immunity during the winter months. Inner Defense is a great supplement to have on hand this time of year to help support your immunity. For emotional health, enjoy the soothing aroma of Trauma Life essential oil blend.
Day 5: Gifts for the Wild Ones
Cat Cave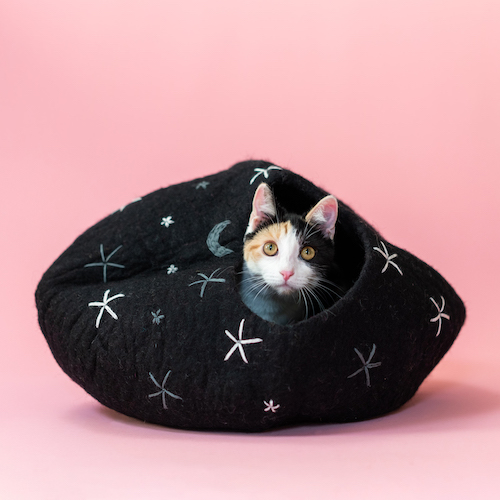 Each Cat Cave is hand felted with love from the highest quality soft merino wool available to ensure your pet's happiness and health. Cat Cave Co. is passionate about creating cozy, high quality homes for your pet, that not only look good but are good for the planet. That's why they use natural, cruelty-free wool and 100% natural organic materials.
As an added bonus, Cat Cave Co. pays their workers 200% the average wage to help transform their local communities. Every purchase supports women in need by providing them well-paid work, as well as donating to rescues and shelters.
PrintArtKids Gift Certificate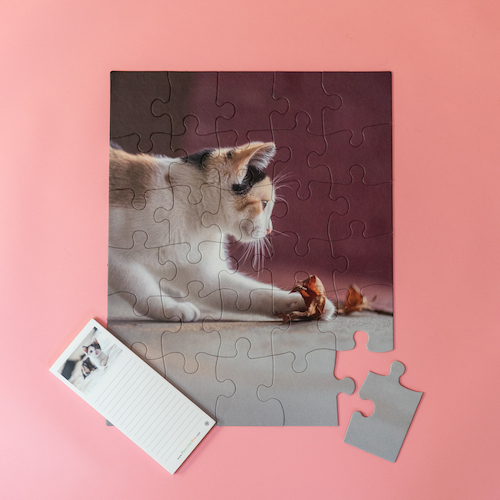 PrintArtKids creates custom stationery, gifts and home decor featuring your child's original art, your own masterpieces, and favorite family and pet photos. Whether you're a saver and keep everything, or prefer to keep only a few special pieces, don't let your child's artistic efforts go unnoticed. Preserve those cherished pieces and let PrintArtKids turn them into printed treasures that you will use and enjoy every day.
This Giftmas prize includes a $50 Gift Certificate toward the purchase of any puzzle as well as a $25 Gift Certificate toward the purchase of any product from PrintArtKids.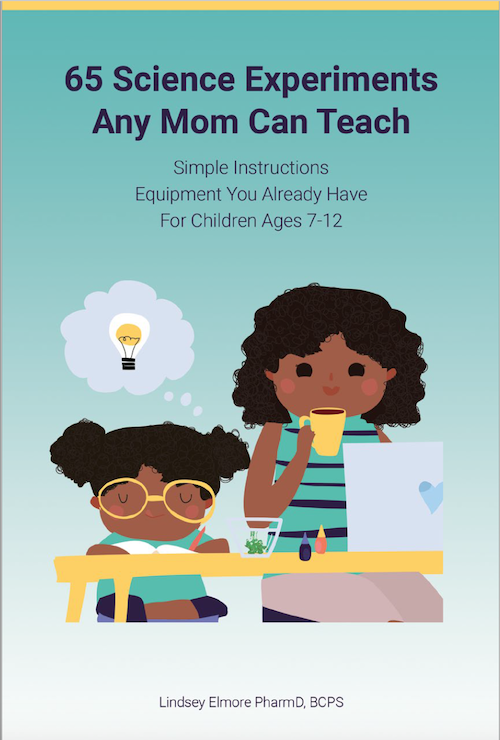 65 Science Experiments Any Mom Can Teach by Lindsey Elmore
This unique book of science experiments is a must-have resource for parents who find themselves teaching their children at home. Loaded with 65 categorized science experiments, this book is complete with thought-provoking questions and activities to foster a life-long love for learning and exploring.
Clevercat Top Load Litter Box
The award-winning Clevercat top entry litter box nearly eliminates tracking, prevents over-the-edge spills and reduces odor. This dog-proof litter box gives your cats the privacy they deserve.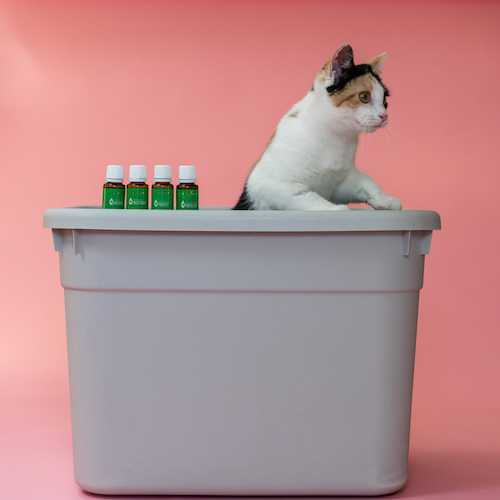 Young Living Pet Bundle
Animals need skincare too! They will thank you for pampering their skin with Animal Scents PuriClean, MendWell, and Infect Away. And it's always a good idea to keep ParaGize on hand for your furry friend's upset tummies.

Young Living KidScents Roll-On Collection
The new KidScents Roll-On Collection comes with all 5 KidScents pre-diluted blends for kids:
Day 6: 'Tis the Season to Be Oily
Whimsy and Wellness Dusk Set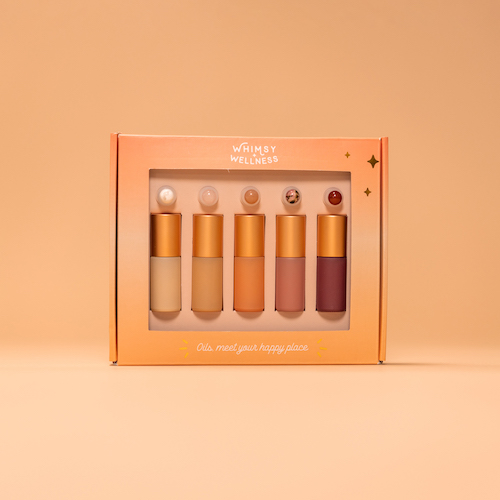 The Dusk Roller Bottle set from Whimsy and Wellness includes five 5 mL roller bottles with rose gold caps in custom created earthy pink tones. It includes the following gemstone roller tops:
White Howlite: calming for upset states of mind and emotions
Rose Quartz: the ultimate love and relationship stone
Peach Moonstone: calming, assists in times of change
Rhodonite: emotionally balancing, encourages forgiveness and self-love
Carnelian: invigorating, motivating, stimulates creativity
Modern Makerie Essential Oil Journal
This Modern Makerie Essential Oil Journal is perfect for storing all of your diffuser blends, roller recipes, DIY recipes and wishlists. Each journal provides a place to write down your favorite essential oil recipes with 4 tabbed sections to keep organized: diffuse, roller, recipe, and notes.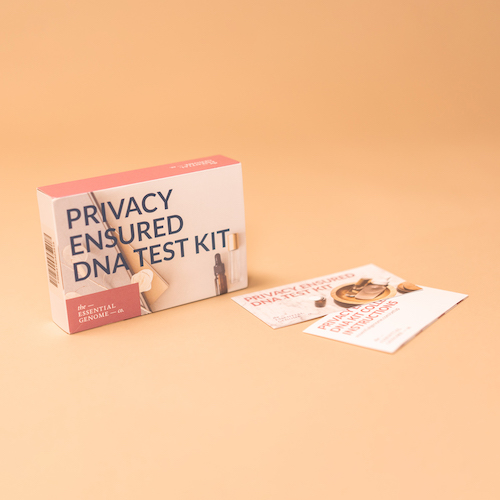 Essential Genome DNA Test Kit and Report
The Essential Genome Report is a DNA analysis that can help you determine which essential oils and supplements will most benefit your body based on your unique genetic profile. This simple test evaluates your DNA and provides meaningful feedback to guide your health and wellness decisions. Your personal report gives you clear, practical insight about your health and wellness. But what's more is that it gives you tools to improve areas where the likelihood of imbalance is higher. Learn more about Essential Genome in this blog post.
Autographed Copy of Essentials: 75 Answers to Common Questions About Essential Oils and Supplements book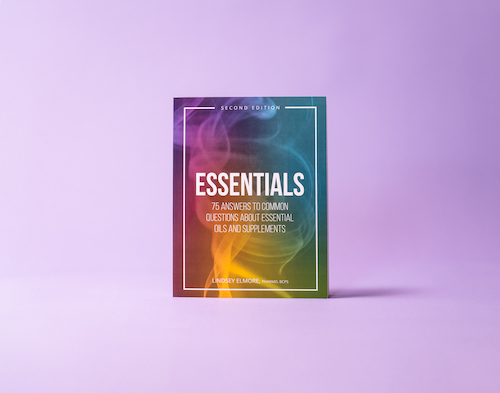 With 75 easy to understand answers to common questions about essential oils, herbs and supplements, this book cuts through the confusion and empowers you to decide on your best wellness practices.
You will find practical, no nonsense answers to common science questions in straightforward language. This reference tool separates fact from fiction, and instead of fear mongering and insisting that there is one right way to own your health, provides rational options so you can choose what is right for you.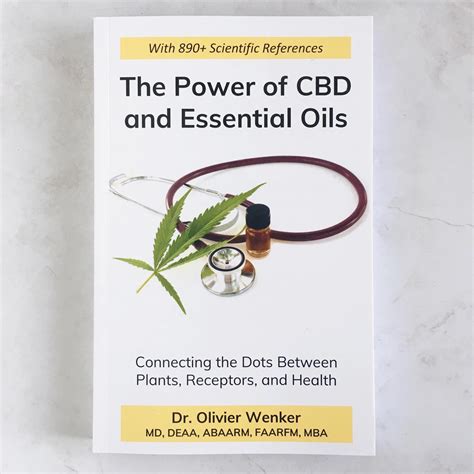 The Power of CBD and Essential Oils book by Dr. Olivier Wenker
Doctor Oli answers many questions about CBD in The Power of CBD and Essential Oils. His findings, recommendations, experiences, and personal blends, backed by over 890 scientific references, connect the dots between CBD, essential oils, receptors, health, and wellness.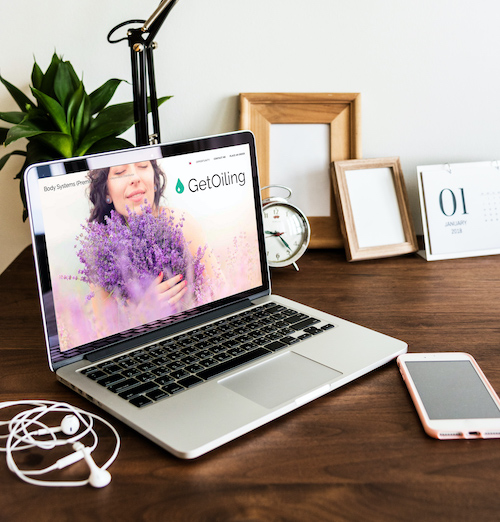 One Year Free Basic Annual Membership to GetOiling
GetOiling is a comprehensive business building solution for YL distributors. They offer software, training, and support to help your business grow more quickly. They provide a simple platform for Young Living distributors to create a personal website and complete software business systems.

This program makes designing your YL website easy, so you have more time to focus on building your business. GetOiling believes in creating ways for distributors to do more of what they love — and less of what they don't.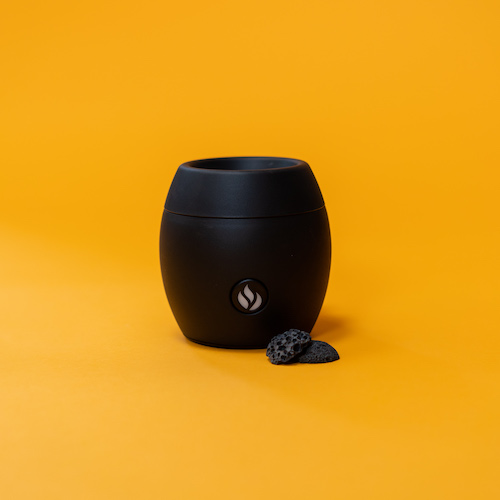 Maivara Steamy Mug
Create your own personal mini sauna with the Maivara Steamy Mug. Adding essential oils to steam brings combined benefits of steam and aromatherapy. Steam becomes a powerful medium to deliver essential oils to your skin and respiratory system.

One-Year Membership in the YL Education Club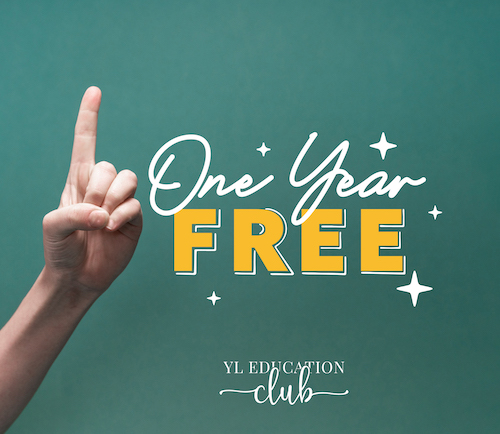 With this all access pass, you'll get:
Hundreds of Young Living product videos
Dozens of in-depth courses, not available anywhere else
Business education and tools to grow your downline
Live coaching from Dr. Lindsey Elmore and Young Living leaders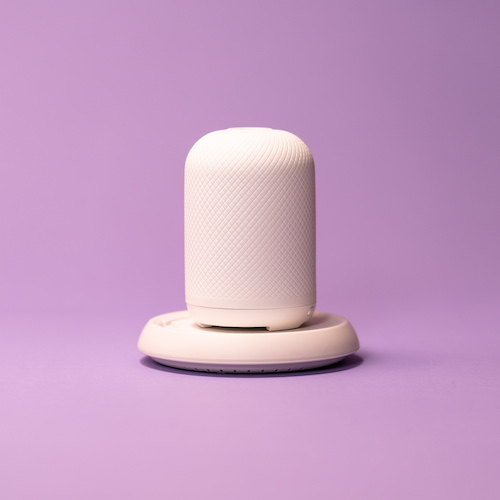 Kinitó Refresh Mobile Diffuser Battery
Don't you wish you could take your diffuser everywhere? With the Kinitó Refresh mobile diffuser battery, you can diffuse your favorite essential oils everywhere, even without a power outlet. Each unit provides up to 3.5 hours of diffuser run time and is compatible with most diffuser models. Now you can easily and conveniently diffuse anywhere!
Young Living Oils of Ancient Scripture Collection
This collection of essential oils contains 10 essential oils with scriptural and spiritual significance.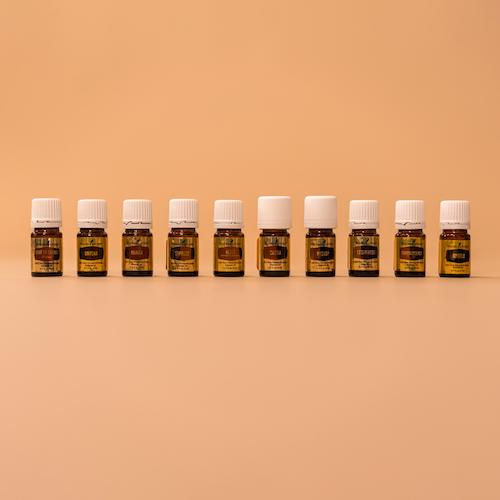 Aloes (Sacred Sandalwood)
Cassia
Cedarwood
Cypress
Frankincense
Hyssop
Myrrh
Myrtle
Onycha
Rose of Sharon (Cistus)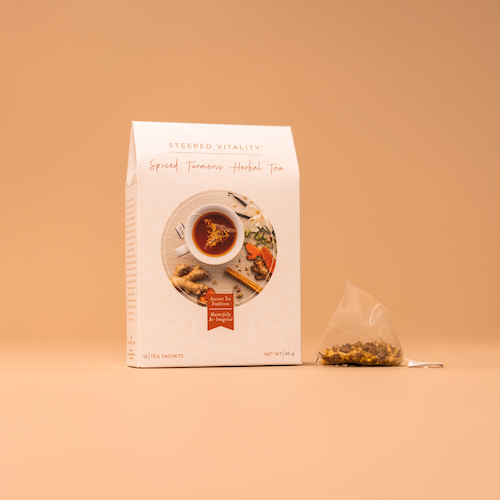 Bonus Young Living Prizes
This Giftmas bundle also comes with a box of Young Living Spiced Turmeric Herbal Tea and the Young Living Foundation diffuser ornament. Each ornament helps vulnerable women in Uganda gain stable employment to provide the opportunity to send their kids to school.
Day 7: Take Me Away this Holiday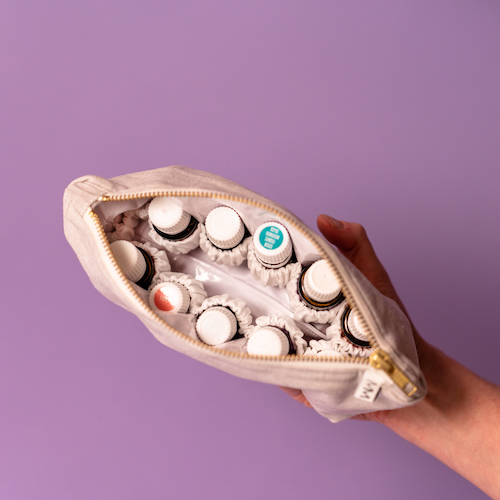 Modern Makerie Large Essential Oil Bag
Cute cotton bag with vinyl-lined interior with 12 elastic storage compartments. Fits 5 mL, 15 mL, and roller bottles for easy storage. This handy bag fits in your backpack, purse, or gym bag.
NAO Acupressure Wellness Ear Seeds
Derived from Traditional Chinese Medicine thousands of years ago, Ear Seeds are adhesive seeds placed on specific acupressure points on the ear to address symptoms of the physical and emotional body. Health alignments Ear Seeds targets include anxiety, insomnia, back pain, sciatica, restlessness, headaches, libido, fertility, depression, and compulsive behaviors, weight loss and simultaneously promote relaxation and a sense of balance. NAO Wellness At-Home Acupressure Ear Seeds Kit is great for all ages, including children and babies.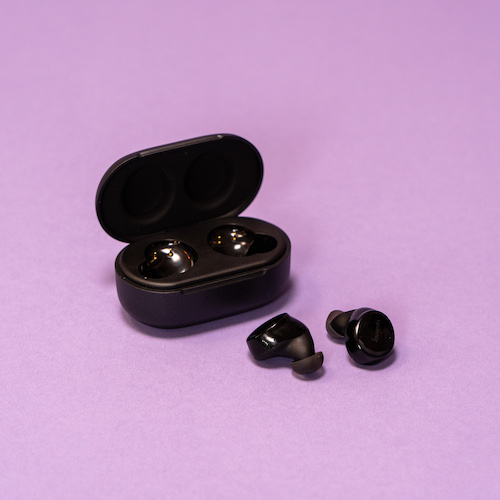 Lavanda Lune Wireless Noise Cancelling Earbuds
Lavanda Lune ANC technology uses internal and external microphones to monitor sounds in your environment and your ear canal to produce an opposite signal to cancel unwanted noise. All that's left is what you want to hear. With ambient mode, secure and comfortable design, waterproof design, 45-hour battery life, and superior sound, these ear buds will be your new favorite accessory.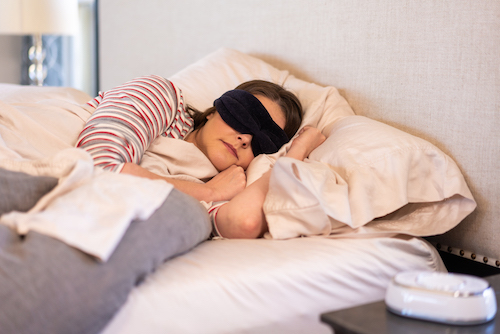 TempurPedic Eye Mask
Two things make the perfect sleep mask: total darkness and a comfortable fit. The TempurPedic Signature Sleep Mask takes care of both. It's cool, compact, and molds perfectly to your face, maximizing tranquility for a restful sleep.
Dune Jewelry Gift Card
Dune Jewelry & Co. creates fine experiential jewelry and home accents using sand & natural elements from thousands of locations around the globe. You can choose from their Sandbank, or send your own natural element to create your design of choice. They use sand from your favorite beach, golf course, hiking trail, or ballpark or pressed flowers from a wedding or funeral to create custom jewelry and accessories that hold a tangible reminder of your favorite moments. Made in the USA, Dune offers a lifetime warranty and happiness guarantee on every design. Plus, a portion of every purchase is proudly donated to important coastal and global causes.
The winner of the Day 7 Giftmas bundle will receive a $150 gift card from Dune Jewelry & Co. to create your own one-of-a-kind keepsake and a handy travel jewelry box.
Young Living Attitude Adjustment bundle
Uplift the atmosphere of your home during the holidays or any time of year with 15 ml bottles of two popular essential oil blends: Joy and Clarity. This bundle also includes the Sweet Aroma Diffuser and carrying case for convenient travel.
Day 8: Dolled Up Under the Mistletoe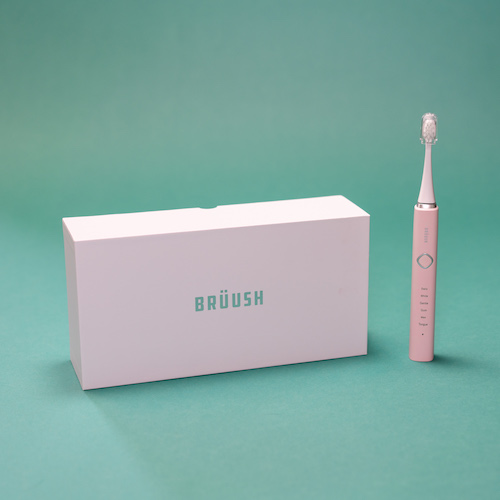 Brüush Electric Toothbrush Bundle
This state of the art, modern Brüush toothbrush gives you and your loved ones a reason to smile this holiday. Designed with dentists and built with sonic technology that delivers 31,000 brush strokes a minute, the Brüush electric toothbrush removes plaque and stains, whitening your teeth from day one! In beautiful Blush Pink, this kit comes with the Brüush electric toothbrush, travel case, USB power adapter, magnetic charging stand and 3 brush heads.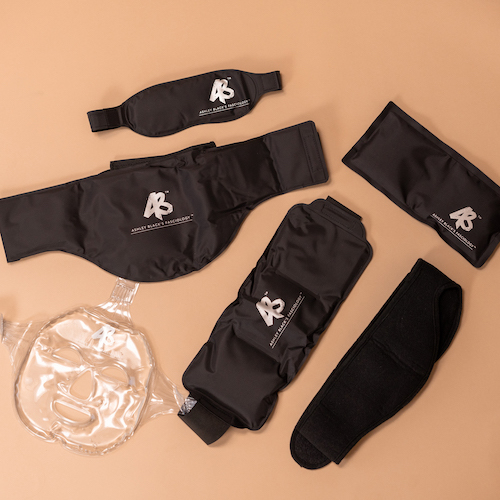 Ashley Black's Kryo Packs
Bring the benefits of cryotherapy to the comfort of your home with Ashley Black's Spot Kryo Pack! These gel packs mold easily to the body and provide the perfect way to ease bruises and other injuries. Or enjoy the cooling relief of a kryo pack across your forehead.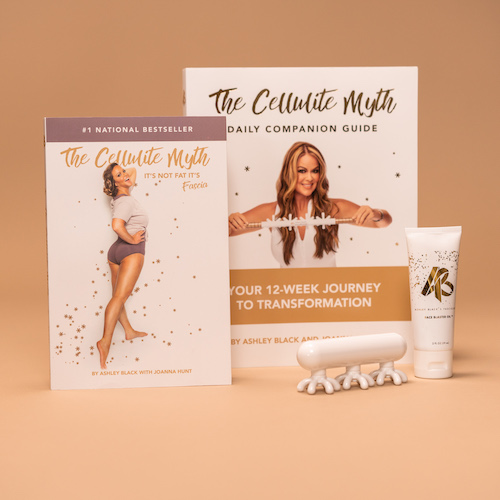 Face Blaster Bundle
The FaceBlaster from Ashley Black is the smallest Blaster tool, with 3 tiny, dainty claws for smaller, delicate areas. It temporarily increases local blood circulation to the face, which is amazing for our skin. Even though it was designed for the face, it is an amazing prep tool for all over your body. Try it on small areas such as your neck, head, feet, hands and knees. You'll also get the FaceBlaster Oil and The Cellulite Myth Book and Companion Guide.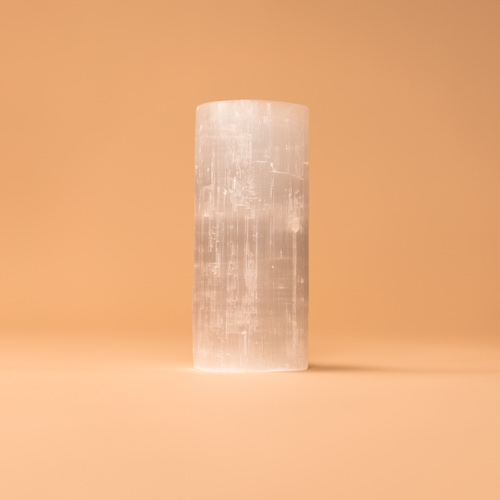 Wild | Alabaster Selenite Lamp
The pure, high vibrational energy of selenite has the ability to cleanse and purify. Additionally, selenite is great for absorbing and transmuting negative energy. In this way, selenite helps dispel negative energy from an environment. It also encourages peace and mental clarity. This sleek 8″ selenite lamp from Wild | Alabaster will uplift the energy in any room.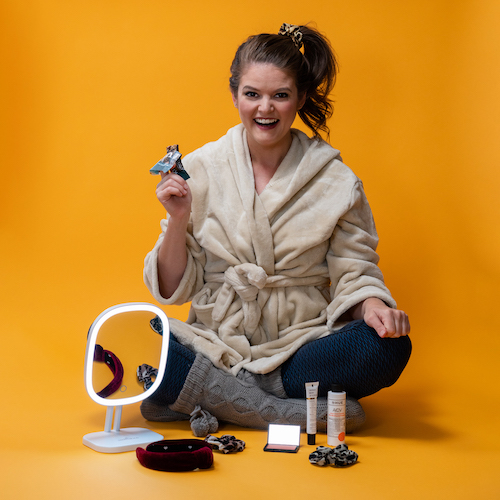 FabFitFun Winter Box
FabFitFun offers seasonal subscription boxes with full-size fashion, beauty, fitness and lifestyle products that you can customize. This Shimmer, Spice and Everything Nice Winter Box comes with a vanity mirror, summer robe, a great headband, cabin socks, vinegar dry shampoo, a facial dry brush, a card case and nail recovery serum.
Amika Jack of All Curls Grooming Tools
Amika Jack of All Curls is the last hair styling tool set you'll ever need. It comes with 5 interchangeable curling barrels to create loose waves to bodacious curls. Tourmaline-infused ceramic barrels retain moisture, while negative ions seal the hair cuticle and create smooth curls with staying power – no frizz, no flop. The set stores neatly and travels well in a heat-resistant carrying case.
Young Living Pamper Package
Start your routine with intention. Inhale a few drops of Envision essential oil blend while envisioning your goals and intents for the day. Keep your skin ultra smooth and hydrated with Mirah Luminous Cleansing Oil, and shine up those pearly whites with Thieves AromaBright Toothpaste, Thieves Fresh Essence Mouthwash and Dental Floss. We've also included something for the men in this Giftmas package with the ever-popular Shutran 3-in-1 Men's Wash!
Day 9: O Come All Ye Yogis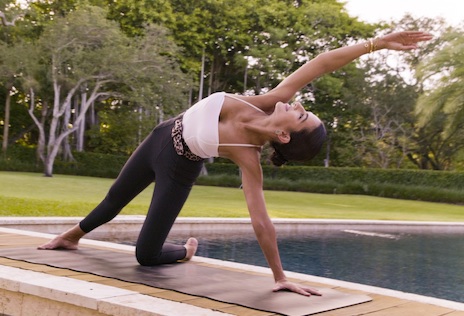 1-Year Mimi Yoga Subscription
No time to get to the yoga studio? How about an extensive library of yoga classes right in the comfort of your own home? MimiYoga.com is an online platform for new and experienced yogis. They offer an expansive, 100+ hour content library, 3 weekly live-classes, and exclusive member content.
Enjoy a year-long subscription to Mimi Yoga with this Giftmas prize bundle!
TUSOL Wellness Smart Smoothies
TUSOL Wellness presents a collection of "Smart Smoothies". These organic, functional meal-replacement smoothies contain only the cleanest lab-tested ingredients to boost energy, metabolism and collagen in one simple daily step. Once you enjoy this week supply of 5 smoothie packets, you'll never go back to chalky smoothies with ingredients you can't pronounce.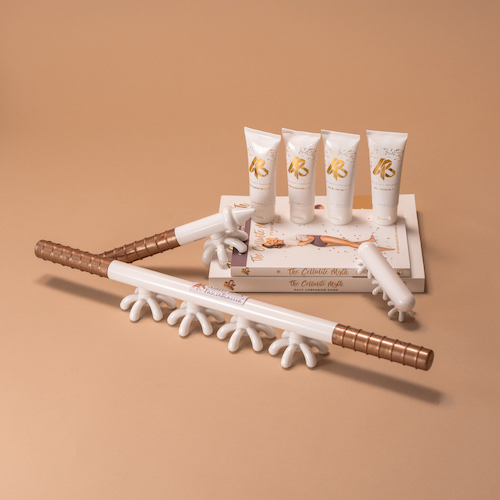 FasciaBlaster Beginner Kit
The Beginner Kit has everything you need to whisk through fascia at the surface and deeper levels. Enjoy The FasciaBlaster for full-body surface fascia as a massage tool. The Mini 1 for deeper massage and stubborn areas. The FaceBlaster is perfect for smaller, delicate areas. Combine with oils specifically designed for FasciaBlasting.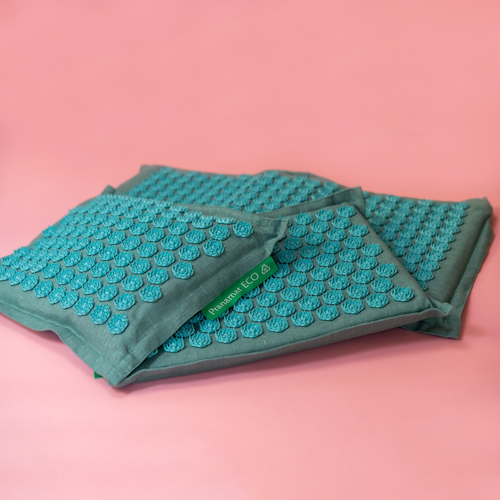 Pranamat 3-Piece Set
Pranamat ECO is the #1 home acupressure massage set. It's clinically proven to relieve tension and stress, block pain, induce restful sleep and increase motivation and energy. Pranamat home massage fosters body-wide relaxation and calms the mind. Each mat is backed by a 30-day trial period and a 5-year warranty.
This Pranamat 3-piece set comes with a mat, pillow, and mini mat for on-the-go.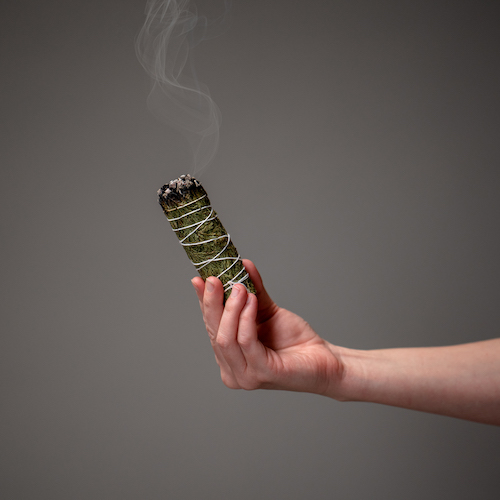 Cedar and Sage Bundles
Burning cedar and sage bundles offers a way to cleanse and purify your home. The ancient spiritual practice of smudging can offer protection as well as cleanse your home from unwanted negative energies.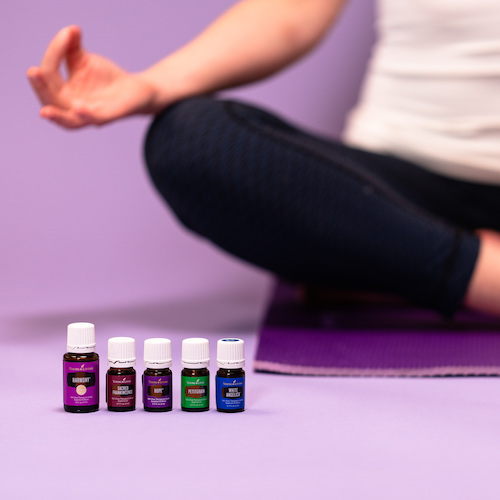 Young Living Yoga Bundle
Enhance your yoga and meditation practice with the following essential oils and blends: Petitgrain, Sacred Frankincense, Harmony, White Angelica, and Hope.
Day 10: Sparkle and Shine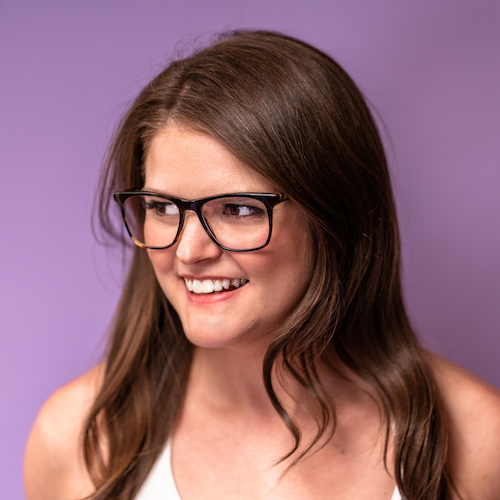 Felix Gray Blue Light-Filtering Glasses
Every pair of Felix Gray glasses is designed with blue light-filtering and anti-glare technology embedded directly into the lens. Less blue light means less straining, headaches, and restless sleep. Whatever you're doing, Felix Gray makes eyewear that helps you do it better. The winner of the Day 10 Giftmas bundle will receive their choice of frame style and color.
Learn more about how blue light affects your vision in this post.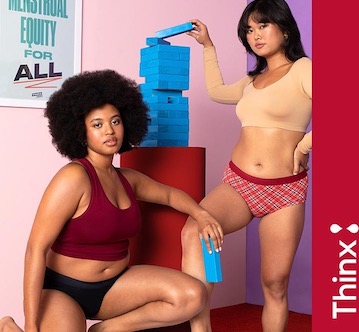 Thinx Holiday Gift Set
Who doesn't want to open a gift box with period underwear inside? Give your loved ones the gift of a better, sparklier, comfier period with the new Thinx Sparkle & Scotch Gift Boxes. It's no secret that I love Thinx panties as well as their mission to help girls experience healthier periods. Check out this post about their super adorbs Holiday Gift Sets.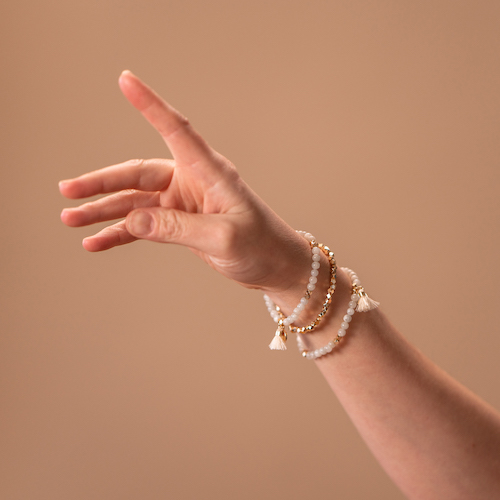 Put on Love Designs Jewelry
Put on Love Designs is a modern California jewelry line that affirms the light, love, and beauty in every woman! Jewelry lovers apply essential oils to the jewelry's finishes and open their hearts wide to joy and delight all day long.
The New Moon bracelet set includes moonstone gemstones in natural colors reminding you of shimmering moonlight. Not only does this bracelet go with absolutely anything, but it can also encourage new beginnings, calm the mind, and assist with change.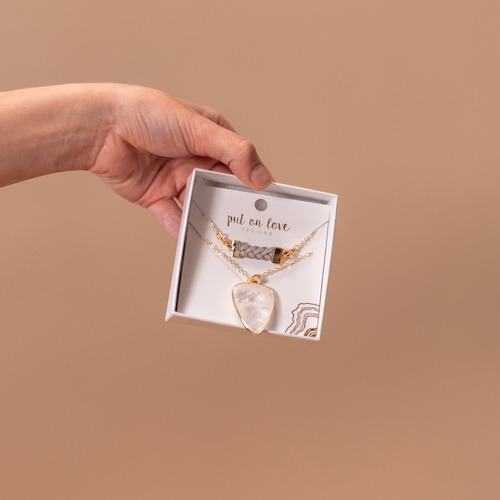 Each set of Affirmation Beads features 2 dainty natural gemstone bracelets and a gold accent bracelet. They are perfect to use with daily affirmations and essential oils.
The clear quartz necklace is a fan favorite. The soft, luminous beauty comes to you in a lovely leaf-shaped cut, ready to accent any of your cozy neutrals or bright fall colors.
Jen Lesea Designs Jewelry
Jen Lesea Designs is another woman-owned business in Boulder, Colorado. She creates handmade jewelry inspired by the elements of nature. The new Radiance Collection is inspired by the sun and all things positive, empowering women to shine their light to the world. This Giftmas prize includes a Shine Vertical Bar Necklace and a pair of Radiance Dangle Earrings in silver and 18K gold.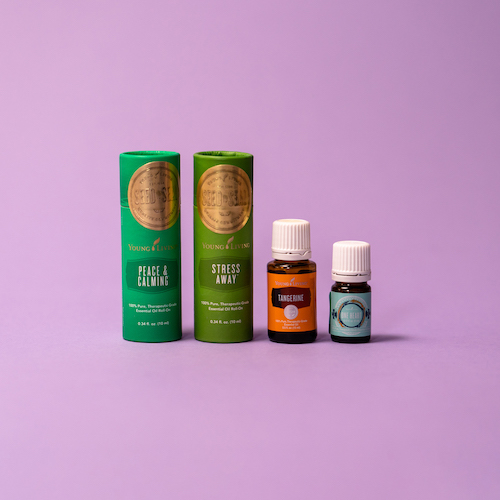 Young Living Blends make the best accessories!
Stay stress-free this holiday with Stress Away Roll-On, and attract positivity into your day with a few drops of One Heart essential oil blend or the bright aroma of Tangerine. Finally, you'll love Peace and Calming Roll-On to wind down at the end of a productive day.
Put your best face forward with Young Living Bloom Brightening Cleanser. This Giftmas bundle comes with 3 bottles!
Day 11: Silent Night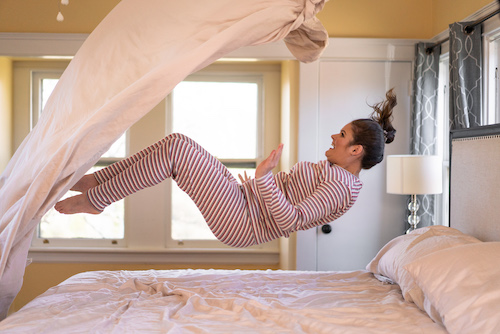 Sheets & Giggles Sheet Set
Sheets & Giggles makes eucalyptus lyocell bedding that's softer than silk, more breathable than cotton, and made with a deep, unconditional, and–some might say–obsessive love for the Earth. The sheets are super comfortable and breathable and wash like a dream. Best of all, you get to pick the color.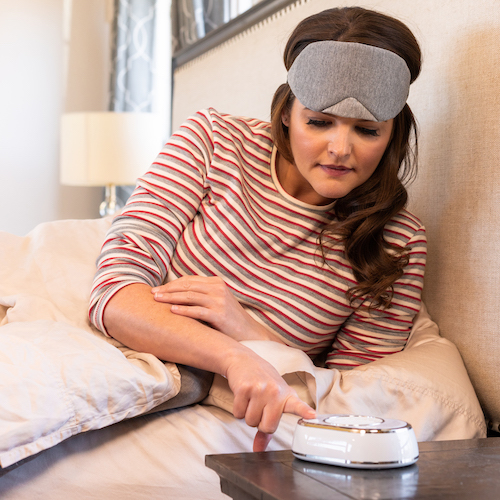 HoMedics SoundSpa
The HoMedics SoundSpa Ultra Portable Rechargeable Sound Machine fills your room with relaxing, natural sounds. Perfect for meditation, it has 12 total sounds, including white noise, rainforest, ocean, brook, thunder, gentle rain, dockside, fan, campfire, Everglades, zen, and energize. The integrated auto-off timer can be set for 15, 30, or 60 minutes as it lulls you to sleep each night. The rechargeable lithium ion battery lasts up to 12 hours, so it is perfect for home or while traveling.
Baloo Weighted Blanket
A weighted blanket molds to your body like a gentle hug. The pressure relaxes the nervous system and encourages serotonin production, which lifts your mood. When serotonin naturally converts to melatonin, your body takes the cue to rest. This means a calmer mind and deeper sleep for a healthier life. The Baloo Living weighted blanket is the only eco-friendly, luxury weighted blanket made with lead-free glass microbeads and soft premium cotton that's cool and breathable for year-round use.
The winner of the 12 Days of Giftmas Day 11 bundle will receive their choice of a Weighted Throw, Blanket, or Comforter.
Sleep Is A Skill Ergonomic Sleep Mask and Mouth Strips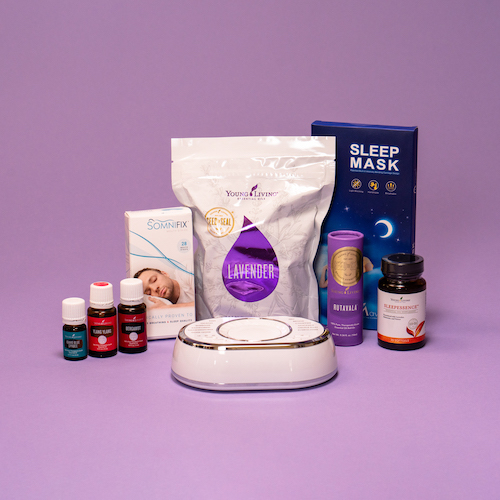 Sleep Is A Skill helps people optimize their health through technology, accountability, and behavioral change. Get better quality sleep with this ergonomic sleep mask and mouth strips that encourage nasal breathing to reduce snoring.
Young Living Sweet Dreams Bundle
Trouble falling asleep? Wind down before bed with Lavender Bath Bombs. Try SleepEssence for the restorative rest your body craves. And remember to load up the diffuser with some calming essential oils to promote rest. This bundle comes with bergamot, ylang ylang, and Idaho blue spruce. Finally, a few swipes of RutaVaLa Roll On will have you dreaming away in no time.
Day 12: An Oil for Every Enneagram
Enneagram Triads are groupings of enneagram types that tell a bit about how you see the world, approach those around you, and filter your experiences.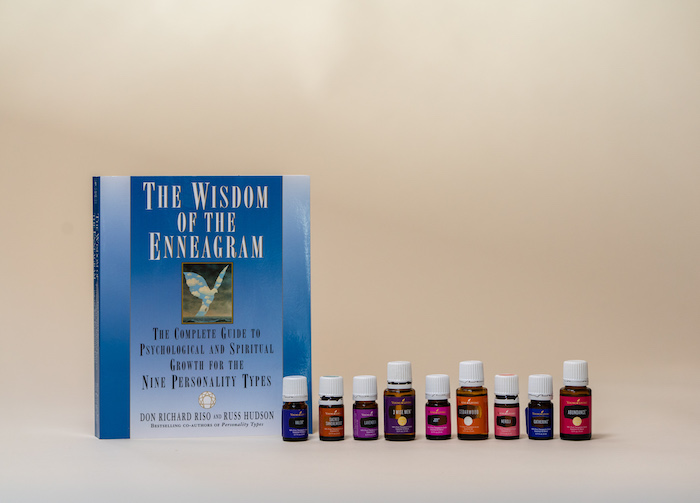 This bundle includes all of the essential oils mentioned below as well as The Wisdom of the Enneagram book.
The Feeling Triad
This includes Enneagram numbers 2, 3, and 4. These people tend to be in touch with their feelings and filter the world through an emotional lens. They share a deep craving for intimacy and connection with others. Conversely, when they feel disconnected, they will feel unworthy, guilty, and shameful.
Essential oils for the Feeling Triad include Joy, cedarwood, and Abundance.
The Thinking Triad
Enneagram numbers 5, 6, and 7 fall into the Thinking Triad. These are the intellectual thinkers who often have a tendency to overthink things. Because of their deep need for security, the thinkers may feel stressed and anxious when they feel imbalanced or insecure, such as during times of change and transition.
Essential oils for the Thinking Triad include sacred sandalwood, Valor, and neroli.
The Instinctual Triad
If you are an 8, 9, or 1, you fall into the Instinctual Triad. For these people, everything is filtered through the body. A strong sense of intuition means they make decisions easily without having to think on them long. People in this triad desire control. Therefore, they may react in anger or fear when they feel they've lost it.
Essential oils for the Instinctual Triad include 3 Wise Men, Gathering, and lavender.
Day 13: Rosy & Bright
Luxe Oils Essentials Roller Ball Holder
Luxe Oil Essentials creates unique, swoon-worthy essential oil bottles and accessories for the modern, savvy oiler. This stunning rose gold essential oil holder fits six roller bottles or small essential oil bottles. It features a mirrored base to showcase your favorite essential oils in style.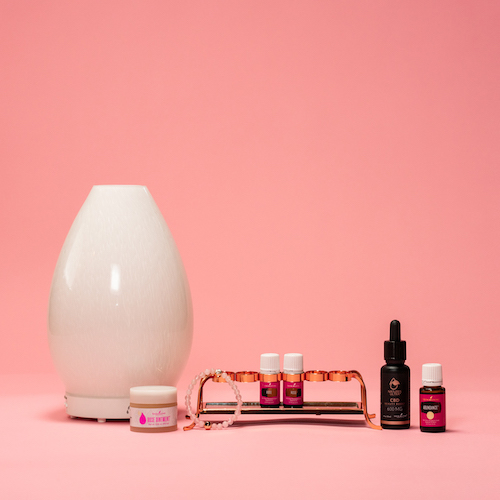 Rose-Infused CBD
Pamper your skin with Nature's Ultra Beauty Boost. This soothing combination of CBD, rose essential oil, tamanu oil, and grapeseed oil works to maintain an even skin tone and reduce the appearance of fine lines and wrinkles. Just one daily dropper of this Smart Spectrum blend will moisturize your skin and promote a youthful glow.
Lokai Pink Quartz Bracelet
Lokai products are infused with elements from the highest and lowest points on earth: water from Mt. Everest and mud from the Dead Sea. These elements inspire the wearer to find balance. Some days you're living your best life, but it's important to stay humble; while other days you've hit a low and it's even more important to stay hopeful.
This beautiful Lokai rose quartz bracelet combines the Lokai signature elements with the energy of rose quartz. Rose quartz appeals to the heart chakra, dissolving emotional wounds, fears, and resentments. Reawakening the heart brings a deep sense of personal fulfillment and contentment. Opening the heart allows one the capacity to truly give and receive love from others. This stone also encourages compassion, empathy, forgiveness, and a desire to resolve conflict peacefully.
Dragon's Blood Sage
Handmade bundles of dried white sage are dipped in dragon's blood resin. Dragon's Blood is the red sap of a tree that brings a woody, floral scent to the sage. Many people believe it is a powerful tool for cleansing and purification. The combination of sage and resin in the Dragon's Blood Sage bundle creates a unique and powerful cleansing aroma.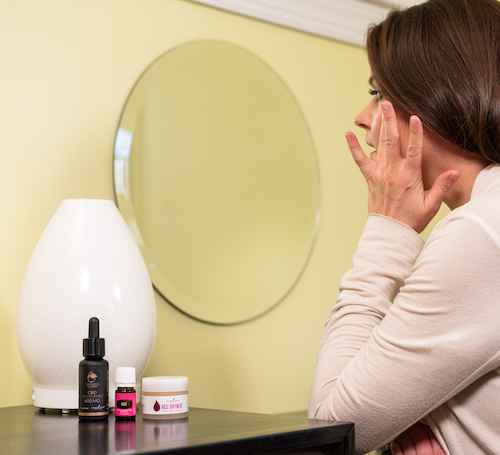 Young Living Rose Bundle
This luxurious bundle would not be complete without the coveted rose essential oil. You'll also get Abundance essential oil blend and the beautiful handmade Artisan Diffuser. Last but not least, the bundle includes Rose Ointment to pamper your skin.
---
Sooo…..What are you waiting for? Get your chance to win one of these amazing 12 Days of Giftmas prize bundles! Join the email and text lists to make sure you don't miss an opportunity!