Lately I have been answering all the questions regarding the products I choose to use for my own personal care. People know I work to seek out clean products that work, and sometimes that's not an easy thing to do. So today, I give you my daily personal care routine.
This spring, I interviewed the founders of Primal Life Organics and Whole Story on The Lindsey Elmore Show. I learned so much about proper skin and teeth care. I started incorporating a few new products into my daily routine. That grew into a few more…and let's just say I have pretty much revamped my entire routine with new, clean products, and I am loving the results! These products have totally transformed my care routine, so you'll see several of them listed here.
Facial Care
This face wash is a cleanser and polish in one. It combines the power of natural clay and herbal botanicals for a smooth, clean feel. It also nourishes skin and removes impurities with healing oils. This wash gently exfoliates dead skin and leaves my face feeling soft and glowy.
This serum smooths away fine lines, dark circles, puffy eyes, or dry, cracked skin. I use it every morning as part of my personal care routine to encourage a smooth, plump complexion.
Rejuvenate your skin while you sleep. This serum gives my skin all the nutrients it needs to recover from my day. I apply it every night to replenish and soothe.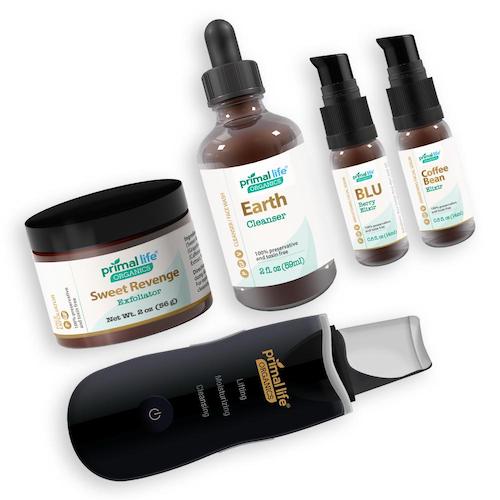 The Earth Cleanser keeps my skin relatively smooth, but I also use this exfoliator a couple times a week. The scrub removes dead skin and impurities and also nourishes with vitamin C and other vitamins and antioxidants that keep my skin looking young and fresh.
This mist is just one simple ingredient: electrolyzed acidic water. I learned that our skin can't absorb regular water, but it actually needs water with a lower pH to stay properly hydrated. The electrolyzing process makes water molecules 100 times smaller so skin cells recognize and easily absorb them into the outer rim of the cell. I spray this on every morning and evening after cleansing my face.
I love this product! It is a bit of a splurge, but it quickly became one of my favorite personal care products to date. The ultrasonic wand combines high-frequency, ultrasonic oscillation technology and electrical muscle stimulation (EMS) to deeply penetrate the skin. It has three settings that Cleanse, Moisturize, and Lift the skin. Ultrasonic vibrations help open pores to deeply purify the skin and enhance the penetration of skincare products. The Lift mode employs an EMS micro-current that gently stimulates facial muscles, tightens skin, lifts facial contours, and reduces the appearance of fine lines and wrinkles. This gadget is well worth the investment!
Teeth Care
Once I tried these tooth powders, I knew I'd never go back to toothpaste. They give my teeth that slick, smooth, just-from-the-dentist feel every time I brush. Plus I know that the blend of natural clays is helping to detox my mouth to prevent dental issues.
This system comes with a blue and red LED light device and natural, bleach and peroxide-free gel to effectively whiten teeth. You have to try it to believe it!
---
Love DIY personal care products? Check out the DIYs on my blog for lots of ideas!