Is your bathtub in need of a little extra sparkle? Make the most out of your pine essential oil with this DIY Thieves Bathtub Scrub to brighten it up! This scrub is amazing because it's natural, quick and easy to make, uses ingredients you more than likely already have, and on top of all that, it smells so great and fresh!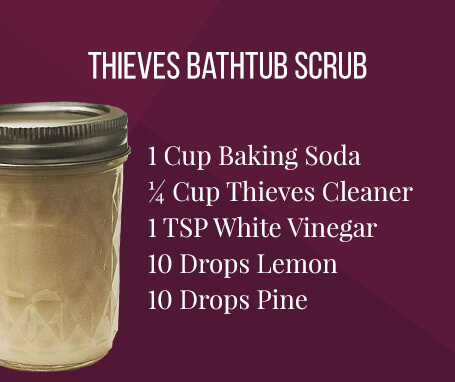 Ingredients
1 cup baking soda
1/4 cup Thieves Household Cleaner
1 teaspoon white vinegar
10 drops of lemon essential oil
10 drops of pine essential oil
Directions
In a large glass bowl, add Thieves household cleaner, vinegar, and lemon and pine essential oil.
Then slowly add baking soda, stirring to combine.
Once it's completely mixed through, transfer your scrub to your desired container. Use Thieves Bathtub Scrub on tubs, basins, counters, or any other hard surface a little more scrubbing action is needed.
---
For another great bathroom cleaner using Thieves, check out Thieves Fizzing Toilet Cleaner!
More of my natural cleaning blog posts you definitely want to check out:
If you want more tips and education to get the most out of your essential oils, Join The YL Education Club!