So many people think a vegan lifestyle means eating salads and bland steamed veggies all the time. On the contrary, I have learned that vegan foods are incredibly versatile. I love ethnic cuisine, and I have adapted hundreds of traditional recipes to come up with delicious, flavorful vegan meals and snacks. Having the right spices on hand does make it easier to create a variety of food that is bursting with flavor. Check out this list of herbs and spices to consider adding to your vegan kitchen.
Salt is a staple in any kitchen. Himalayan pink salt may be a better choice than table salt for a few reasons. For one, it contains small amounts of trace minerals not found in table salt. It also has a saltier flavor, which may cause you to use less of it than regular salt. And finally, table salt is usually heavily refined and mixed with anti-caking agents to prevent clumping. Himalayan salt is more natural and does not usually contain additives.
One of my favorite ways to use pink salt in on popcorn. Check out this super simple Homemade Popcorn Seasoning with Himalayan pink salt.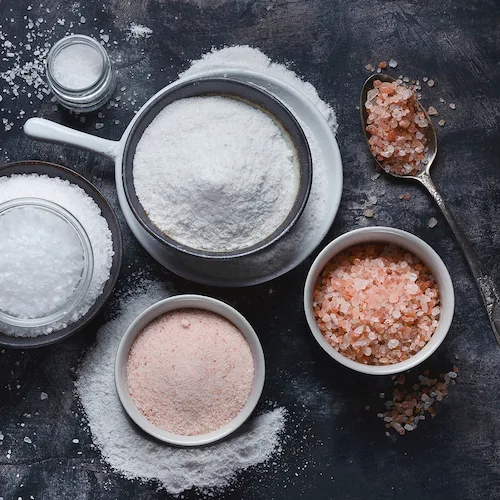 Chefs around the world tout the superiority of maldon salt. This light, flaky, pyramid-shaped salt adds a lovely burst of flavor and crunch to a dish. Because the texture is lost when cooking, it is best used for finishing a dish. It just adds an extra-special element. If you have something you want to sprinkle with salt at the end, for that crunch of salt — that's when you want the flakiness of the maldon sea salt.
Black salt, also known as kala namak, is Indian volcanic rock salt. Surprisingly, this salt is not black; it's pink. This is because it starts out as Himalayan pink salt. The salt is heated to extremely high temperatures and mixed with Indian spices and herbs, which contain sulfur and other trace minerals. This gives the salt a rich, savory aroma and flavor. It tastes great in Indian dishes and as well as any "eggy" dish.
Want to try black salt? Check out this recipe for Vegan Egg Salad!
I cringe any time I see a shaker of ground black pepper. I mean, it is so easy to use fresh peppercorns, and the difference in flavor is remarkable. If you've never used fresh ground pepper in your vegan dishes, please, set that shaker aside and invest in a grinder. You'll never go back.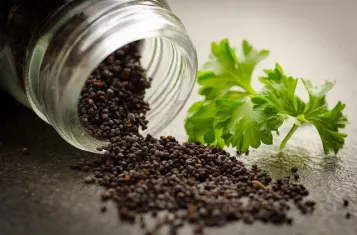 These little seeds add a rich nutty flavor to a variety of foods. They also contribute a subtle crunch when added in salads, breads, oatmeal, and more. Try them in my Butternut Squash Salad.
A sprinkle of good quality chili powder can transform a meal from blah to delish. I use it extensively in Mexican foods, like these Tofu Sofritas, but don't limit yourself here. Chili powder adds a burst of smoky flavor to a variety of dishes, like these Pulled BBQ Jackfruit Sandwiches.
Cumin powder comes from ground, dried cumin seeds. Traditionally used in Indian, Mexican, and Middle Eastern dishes, this spice adds a unique characteristic flavor. Try it in these Buffalo Maitake Mushrooms.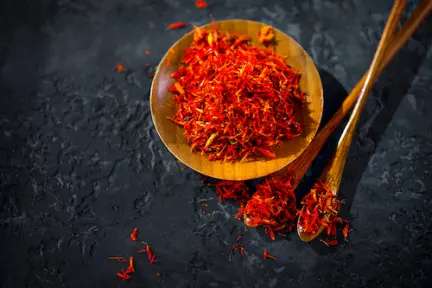 This precious spice comes from the stigmas of the saffron crocus flower. The slightly sweet, luxurious taste is totally mysterious—it's difficult to describe but instantly recognizable in a dish. Just give it a try in one of my favorite dishes, this Mushroom, Artichoke and Red Bell Pepper Paella.
Kaffir Lime Leaves
Kaffir lime leaves are the Asian equivalent to bay leaves. They are common in Thai curries, soups, and stir-fries. They also add a delicious burst of citrus when slivered and added as a topping in a variety of recipes. Enjoy them in this Thai Green Curry recipe.
Nutmeg is a familiar pumpkin spice seasoning. But this spice is so much more versatile than just fall flavors. I find it is particularly well suited for creamy dishes as well as a variety of desserts or other sweet dishes, like this Vegan French Toast with Berry Compote. Once again, go for whole nutmeg and not the pre-ground stuff for the most flavor. Simply use a microplane grater for delicious fresh nutmeg!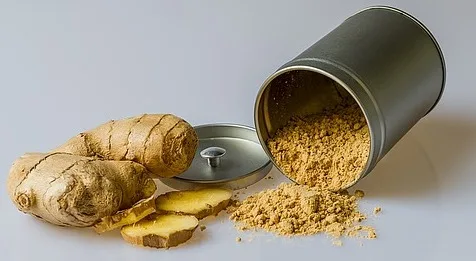 Fresh ginger is great in many recipes, but I also like the subtle flavor of ground ginger. It has a light, peppery aroma and a mildly spicy, sweet flavor. Ginger is a natural in baked goods, like these Pumpkin Pancakes, but don't forget it when cooking savory foods such as sauces, vegetables, and soups.
Want the flavor of onion without the trouble of dicing? Onion powder provides just that. Nothing more than dehydrated, granulated onion, a little bit goes a long way. Add it to soups, stocks, gravies, sauces, and more.
I typically prefer to cook with fresh garlic. However, sometimes a dash of garlic powder is all that is needed to wake up a dish. If you love garlicky goodness, check out these amazing Crispy Fries with Garlic Tahini Sauce.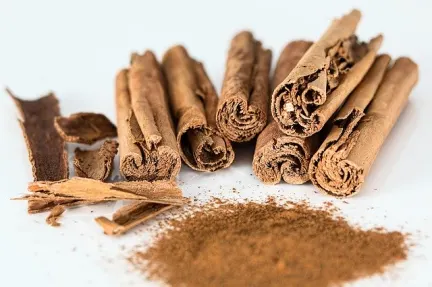 Fresh ground spices are typically more flavorful and pungent than their pre-ground counterparts. However, the flavor of stick cinnamon is actually more subtle than ground cinnamon. This is because the sticks come from the tops of the trees, which aren't as mature as the bark, whereas, ground cinnamon comes from the trunk. Use it when you want a gentle, subtle hint of cinnamon, like in this Tofu Makhani recipe.
Pungently sweet, woody and warm, cinnamon adds a familiar aroma and flavor to many a vegan dish. Sprinkle on toast, pancakes, oatmeal or add a dash to your tea. It spruces up squashes and is a necessary ingredient in many curries as well.
Another staple ingredient in curries, turmeric adds a unique flavor and color. Fresh or ground, turmeric adds a bounty of nutritional value as well. I love to use it to spice up vegetables, rice, bean dishes, and soups, like this Carrot, Ginger, and Turmeric Soup.
The earthy and pungent aroma and flavor of mustard is unmistakable. In potato dishes, salads, sauces, and more it adds a tanginess and slight warmth. One of my favorite recipes with mustard powder is this recipe for Vegan Oyster Rolls.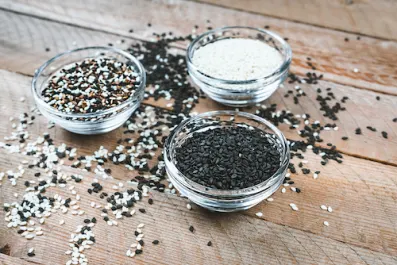 Try using sesame seeds to add flavor and texture to salads, dressings, stir fries, and more. Toasting them just before cooking brings out the nutty flavor even more. They also make a perfect garnish in recipes like these Shanghai Style Dumplings.
Paprika comes from dried, ground mild peppers, such as bell peppers. Look for many varieties, such as sweet, spicy, smoked, and more. It's great for enhancing the color and adding a hint of pepper flavor to foods.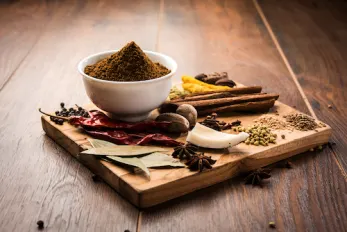 Garam masala is a spice mix commonly made of cumin, coriander, cardamom, cinnamon, nutmeg, cloves, bay leaves, peppercorns, fennel, mace, and dried chilies. It is the most popular spice blend in India, and is great in marinades, sauces, curries, vegetables, salads, and more.
Allspice is sometimes confused as a blend of spices, but it actually comes from a tree native to Jamaica. Maybe this is because the flavor can be described as a combination of nutmeg, cinnamon and cloves. It adds a delicious depth and warmth to this Butternut Squash Soup.
A combination of 12 warm, aromatic spices creates this wonderful, spicy blend. It has a very coarse, earthy texture and adds a zesty hot flavor to many foods. Try it in this Hearty Potato Soup.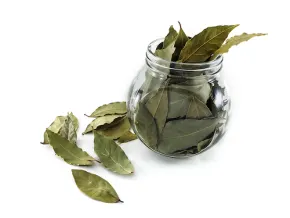 Many people dispute that bay leaves add any flavor to the soups, stews or other dishes to which they are commonly added. But in truth, they add a layer of richness and flavor when cooked slowly. Think of it as the background music for other more noticeable flavors.
Cardamom has a strong, pungent aroma and a flowery, almost eucalyptus type flavor. A little goes a long way with this spice in curries, spicy drinks, rice and vegetable dishes.
Dill weed has a brightness that provides a light freshness to food. It is a buttery herb with a warm, grassy aroma and notes of anise and lemon. I love to add dill to many sauces and dressings, such as this Vegan Ranch Dressing.
Coriander is the dried seed of the Coriandrum sativum plant. Cilantro is the leaf of the same plant. Surprisingly, the flavors of these two spices are vastly different from one another. Coriander has a mildly sweet flavor with a touch of citrus. It adds a hint of sweetness to these Beyond Meat Taquitos.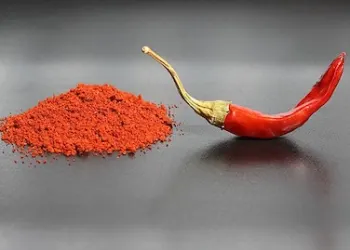 Bring on the heat! Cayenne adds a very spicy zest to many ethnic dishes. I suggest working dash to dash with cayenne, lest you overspice and ruin a dish. In other words, add a dash and taste. Repeat until you achieve the desired level of heat. If you like it hot, try this spicy Virgin Mary with cayenne pepper.
Crushed Red Pepper is a must in every kitchen. This pepper is not made of one type of chile, but from various combinations of ancho, bell, cayenne and more. Use it to add a finishing touch of color and spice to soups, sauces, salads, and vegetables. One of my most popular and versatile dishes, Ramen, is delicious with a dash of red pepper.
The sweet-spicy oregano flavor is characteristic of Italian cuisine, such as this Vegan Baked Ziti. It is one of the most versatile and most-used spices in my kitchen.