Plant-based meat products are becoming more and more popular. While vegan and vegetarian meat options used to be limited, more people are looking for alternatives to meat. Now you can find plant-based meat products in almost every grocery store, nicer restaurants, and even some fast food places. Still, lots of people are unsure about eating plant-based meat. If this is you, these Beyond Meat Taquitos may be a great place to start.
What is plant based meat?
Plant-based meat, or meat alternatives, approximates aesthetic qualities or chemical characteristics of specific types of meat. Plant based options include hamburger, chicken, pulled pork, and even shrimp or crab.
What is it made of?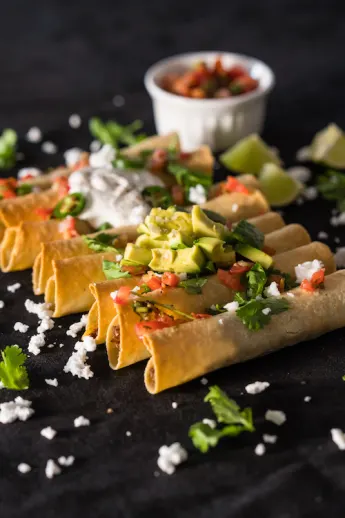 Soy and gluten are common in plant-based meats, but so too are ancient grains like quinoa, millet, and amaranth, beans and legumes like black beans, chickpeas, mung beans, and even potatoes, rice, and vegetable and fruit extracts, like pomegranate and beet juice for color. Pea protein is having a major moment in faux meats as well. This is the base of the spectacularly popular Beyond Meat.
Plant-based heme is another key ingredient making headlines in the Impossible Burger. It is generated via fermentation of GMO yeast that contains the DNA of soy proteins that produce heme.
Why eat plant-based meat?
Some people want to try a #meatlessmonday for social media, and others make plant-based eating a key part of life. Eating plants helps:
Reduce the risk of coronary heart disease.
Reduce total cholesterol and low-density lipoprotein (LDL, 'bad') cholesterol.
Does eating plant-based meat increase the risk of protein or vitamin deficiencies?
When you eat a plant-based diet, the biggest vitamin deficiency risk is Vitamin B12. Studies suggest that vegans have lower serum B12, and up to 50% of vegans may be deficient. If you decide to eat a plant-based diet, taking a B vitamin supplement is quick, simple, and readily available. This ensures that you have adequate B12.
Protein deficiency is, in my opinion, a myth of not eating meat. I have never seen a study to suggest that humans require meat to get adequate protein. In most cases, protein deficiency only affects very impoverished areas where malnutrition is a concern. Studies conclude that even people who eat 100% plant-based diets over-consume protein daily. Protein consumption is dramatically higher than recommended in boys and men aged 14-70 years old.
Furthermore, vegans and vegetarians consume significantly more iron per 1000 calories. Even better, the iron is the in non-heme form of iron that is less likely to cause iron toxicity.
I agree with the American Dietitians Association and Canadian Dietician Association. Vegetarian diets are healthy for people of all races, ages, and genders.
Ready to give it a go?
You are going to love these flavorful Beyond Meat Taquitos! You may also want to try  Beyond Meat Bolognese or Vegan Baked Ziti.

Make it a Meal
Add Mexican Pinto Bean Salad and a few Refreshing Virgin Watermelon Margaritas to finish off your meal. You may also want to try Mexican Roasted Chickpeas as a topping for your taquitos!