Rice bowls are one of the easiest ways to make use of staple ingredients and leftovers in the refrigerators. You can experiment with Mexican, Korean, Italian, or even Mediterranean flavors. In this Vegan Sushi Bowl, we leverage classic Japanese flavors: vinegar, salt, umami, and soy.
How the Recipe was Developed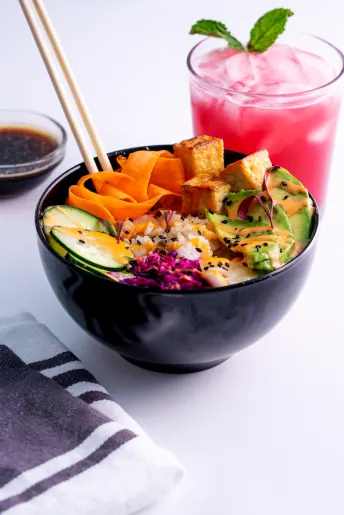 Japanese food is based on the staple ingredient of rice, and most dishes are build from this base. Traditional Japanese food shunned meat because of the influence of Buddhism, so this Vegan Sushi Bowl, aka donburi, is not only classic, but super flavorful.
Vinegar is present in both the pickled vegetables and rice vinegar. Salt can be found in the tamari and nori. Umami is found in the sesame oil and liquid aminos, and soy in the tofu.
There is a creamy spicy mayonnaise on top that lends additional moisture to the dish and offsets the thick minerality of the nori.
To Serve
Sushi Bowls such as this one are a great way to get the kids involved in preparing foods because of the variety of toppings. Lay out all of the ingredients and allow everyone in the family to make their own interpretation of a sushi bowl.
Make it as pretty as you like! You can also add any toppings that you like: edamame, red peppers, cooked mushrooms, green onion, sugar snap peas, and radishes all are great in the bowl!
Love the Vegan Sushi Bowls?