Working from home has many benefits, including flexibility of hours and more time with your family. But it can be challenging to remain productive and efficient while working from home. It's easy to get distracted, and you lose a sense of accountability that you have when you report to an office every day. That doesn't mean it's impossible though. Check out these 10 tips for working from home from pros who do it all the time.
Create a work area.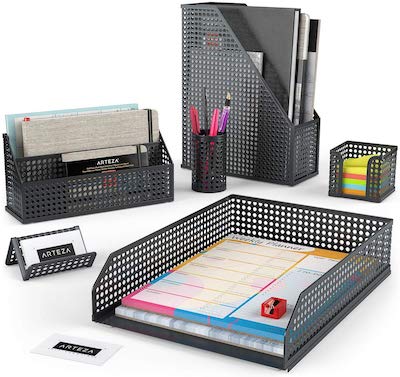 The last thing you want to do is hunker down on the couch with your laptop and try to get something done with Netflix going in the background. Even trying to work from the dining room table amidst numerous distractions will make it harder to stay focused. If you don't have the luxury of a home office, you can at least designate a table or desk as your workspace. Setting aside a work area will encourage you to remain focused, and you'll be more productive. Make sure your area has all the supplies you need readily at hand so you avoid having to get up repeatedly.
How about a nifty desk organizer to clean up your space and make sure everything you need is within reach?
Get dressed.
For real. Resist the temptation to stay in your pajamas all day just because you're at home. Get ready for the day just as if you were headed off to the office. This means showering, brushing your teeth, and putting on clothes. Getting dressed changes your mindset. Let's face it: We all enjoy a lazy day in sweatpants, but do we get much done on those days?
While you can stick to a more comfortable attire than usual, you'll be so much more productive if you get up and get ready for the day as you normally would. If working from home requires you to be on teleconference calls, take an extra few minutes to style your hair and apply a bit of makeup too. Your professionalism really will make a difference to those watching.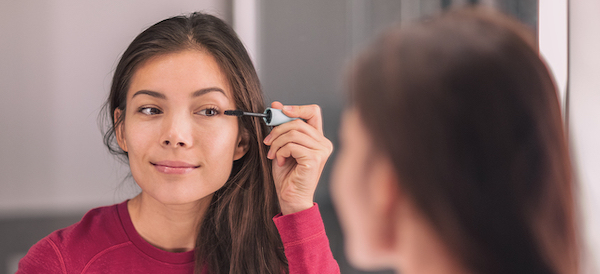 Create a to-do list of the most important tasks.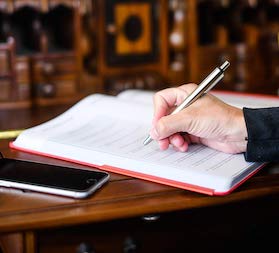 And then start with those first. When you conquer the top two or three tasks each day before lunchtime, then you set yourself up for a productive day. Don't be tempted to multitask too much. Focus on one project and see it to completion before moving on to the next item on the list. Even if you're not a list person, you'll find it is much easier to get off-task while working from home. Having a checklist will help you stay on task and visualize your progress.
Check out this High Performance Planner to help you prioritize work and personal tasks and set a schedule that works for you.
Minimize distractions.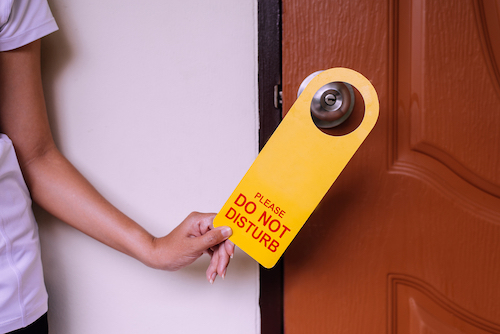 Interruptions kill productivity like nothing else. Give family members expectations and guidelines. "When you see Mom on the phone, at the computer, etc. you need to wait before interrupting with questions." Setting boundaries is a healthy way to show your children that your work is important. Devise a way for them to let you know they need your attention when it's not urgent so you can get to a stopping point before giving them your attention. Just don't get into the habit of dropping everything every time your child wants to ask a question.
Some people work better with background music or noise; others don't. If you prefer quiet, work in a room with a door that you can close or provide headphones for family members. Better yet, designate your work time as quiet hours when children can read, work on projects, or play outside.
Set work and break hours.
It's unrealistic to plan on working a straight 8-hour shift from home. Instead, set aside two-to-three hour blocks for work and build in breaks. If you have kids at home, these shifts can work around their schedules. For example, you may get up early and knock out a project before the little ones need all your attention. Then pick it back up after breakfast when the kids are settled with an activity or during nap time.
The point is, make a plan. Trying to aimlessly squeeze in a few hours here and there probably won't work. Set up a schedule and do your best to stick to it.
Try to get out each day.
One of the biggest pitfalls of working from home is never getting to really leave the "office". Staying home 24/7 will make any person stir crazy in no time. Try to get outside for a short walk or run a few errands each day. Even just 15 minutes outside can go a long way to clear your head and help you regain focus.
Stay connected.
When transitioning to working from home, you may feel isolated and out of the loop. Be sure to check in with coworkers regularly. Collaboration and socialization are great for boosting productivity and positive teamwork. Keep up on a personal level as well as a professional level by sharing the things that are most important.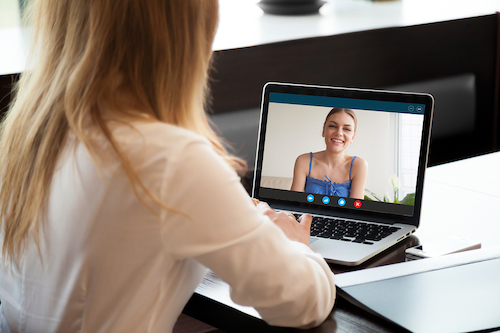 Don't have a camera on your desktop computer? Check out this webcam for all of your conference calls.
Keep it tidy.
Nothing is more distracting than a messy work area. Clean up after yourself throughout the day and keep your work area organized.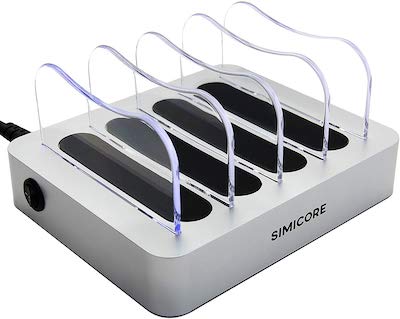 Nothing is more frustrating than device batteries dying in the middle of a busy day. Be sure to keep all your devices charged (and your desk clean) with this multi-device Charging Station.
Take care of yourself.
This is one of the most important tips for working from home. Your schedule has much more flexibility at home, but for some that leads to work, work, work, and not a lot of breaks. Eat breakfast before you tackle big projects and be sure to set aside time for lunch. Take regular breaks to get up and stretch, and stay hydrated.
Another pro tip for working from home is to make sure you stay comfortable. Check out my favorite Balance Ball Chair that improves posture and strengthens your core. Another great investment is a laptop stand to prevent you from looking down all the time. Be sure to protect your eyes from light from your devices with these blue light glasses too.
Enlist help if you need it.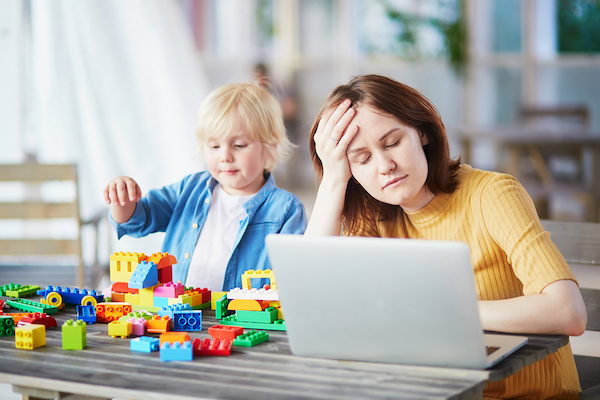 If you find yourself bogged down with kids or tasks at home, consider asking for help. You may need to hire a temporary babysitter for a few hours a day so you can focus without distractions. Come up with a plan to swap kids with a friend or neighbor so you can both get some work done. A housekeeper can also take a lot off of your plate if household duties are too much of a distraction. Your work is important, so treat it as such, and take steps to provide yourself the time and space to be productive.
---
Check out more of my favorite work-from-home products and gadgets here.
Are you a seasoned work-from-home professional? What are your top tips for working from home? Comment below and share!
Sometimes you need some help staying focused on the task at hand. Try my Focus Essential Oil Roll-On to boost your productivity.
---
Ready to invest in yourself and take your business to the next level? Apply to join the next session of Brand Strategies Lab.