Crispy carrot cakes combine with creamy, tangy aioli, olive relish, and green bean amandine for a delicious dish that's satisfying and packed with nutrition. This meal sounds more complicated than it actually is. Trust me, one bite of these carrot cakes with all the accompaniments, and it'll be one of your favorite go-to dinners!
Health Benefits of Carrots
Eye Health
Everyone knows carrots are great for your eyes. As an excellent source of beta-carotene, lutein, and zeaxanthin, carrots supply many nutrients that improve eye health and vision.
Antioxidant Support
Carrots also supply a healthy dose of phenolic antioxidants to your diet. These are necessary to help combat free radicals to improve overall health and well being. Free radicals also help slow the aging process and may even protect against cancer, cardiovascular diseases, and neurodegenerative diseases.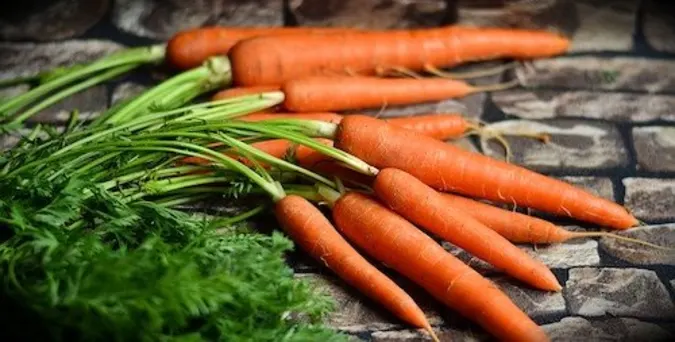 Fiber
Carrots provide a great source of roughage, or fiber. This helps keep the digestive system working smoothly and prevents constipation, IBS, and other digestive disorders.
Skin Health
Vitamins A and C in carrots are great for your skin and hair, as well as your eyes. They not only help protect skin from the sun's UV rays, they also nourish the skin from the inside out.
Prevention and Treatment of Diabetes
Studies show that Polyacetylenes found in plants of the Apiaceae family (including carrots) may help manage diabetes. This is because they can help stimulate basal or insulin-dependent glucose absorption in the body.
Let's Make Some Carrot Cakes
If all of those health benefits aren't enough, try these carrot cakes simply because they are delish. The combination of textures and flavors is sure to please!
---
Looking for another great recipe with carrots? Try my Carrot, Ginger, and Turmeric Soup with Sweet and Spicy Carrot Chips!