No one knows the exact origin of the onion ring. The crispy, decadent summer staple recipe was first printed in the New York Times in 1933. For me, I remember my mom eating onion rings with ketchup as a kid. She preferred them to fries. Fish fries and french fries were staple foods in my childhood, but we never ate onion rings at home. To make these extra crispy onion rings, I channeled inspiration from eating at the ballpark as a kid.
I wanted to stay true to traditional onion ring flavors that I remember from childhood. Just salt and pepper and tiny bit of paprika are the only seasonings that I chose. However, If you want a more vibrant flavor, consider adding fresh herbs likes basil, parsley or dill to the egg mixture, or add some spice with cayenne pepper.
Wait, Eggs?
This recipe is vegan as can be, and Just Egg is used as a binding agent that helps hold the gluten-free panko to the onion and helps to make the rings crispy.
Just Egg is an egg substitute made from mung bean protein isolate which gels and cooks like egg. The color comes from turmeric, and there is mild seasoning from onion powder and natural flavors. The product is egg-free, dairy-free, non-GMO, cholesterol-free, and has 5 g protein/serving.
Why Onions?
With only 45 calories per serving, onions pack a nutrient-dense punch with vitamins, minerals and fiber. Onions are also high in vitamin C, vitamin B6, and potassium. Plus, one medium sized onion contains 7% of the daily recommended value of fiber, which most Americans lack in their diet.
Onions also have one of the highest level of flavonoids in any food. Flavonoids lend not only color and flavor to onions, but also serve as antioxidants that protect the plant from herbivores. Onions contain primarily two flavonoid classes. The anthocyanins, which impart a red/purple color to some varieties. And flavonols, such as quercetin, are responsible for the yellow and brown skins of other varieties. In humans, flavonoids also serve as antioxidants and can help fight free radicals.
But it's Fried!
Burn me at the stake if you have to, but no one can deny that deep frying produces the the best extra crispy onion rings that are rich, delicious, and the perfect summer picnic or barbecue food. But not everyone wants the calories, so I do offer an alternative recipe for oven baked rings that reduces the amount of oil.
Extra Crispy Onion Rings
The oven fried recipe uses an oil spritzer bottle which helps to brown the onion rings evenly and produce a crispy exterior.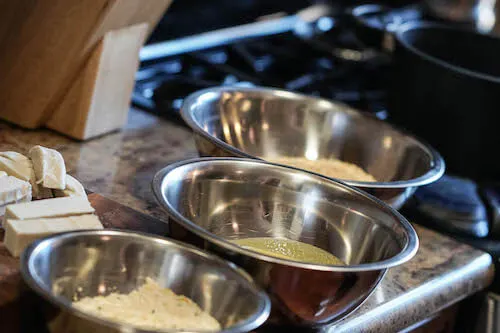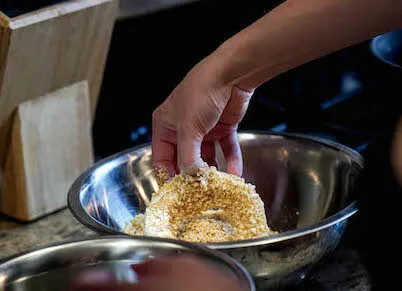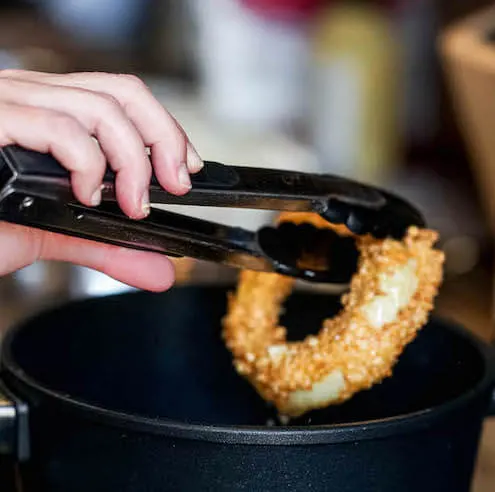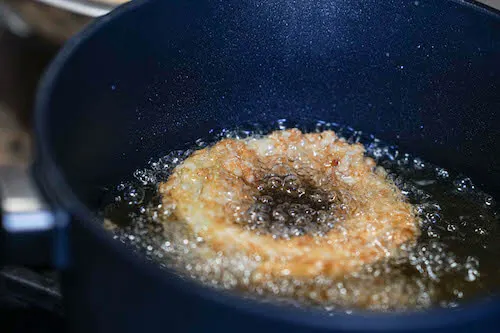 Take your time with the process of breading and frying onion rings. Coat them thoroughly and make sure they do not touch while frying. The end result will be perfectly crispy onion rings!
Make it a Meal
I love to serve these onion rings with homemade Marinara Sauce. Serve them up with these Vegan Mushroom Lentil Burgers for a delicious meal!