This delicious protein-packed recipe is bursting with flavor. Creamy, mild butter beans combine with a zesty sauce and seasoned quinoa for a hearty, warming meal. These Crispy Butter Bean Bowls are simple, nutritious, and so satisfying.
Comfort Food Doesn't Have to be Boring
The smooth texture and mild flavor of butter beans lend well to many soups, stews, and side dishes. In this dish, they combine with the more assertive flavors of Romanesco sauce and chimichurri seasoning. This results in a flavor-packed meal that is warming and comforting.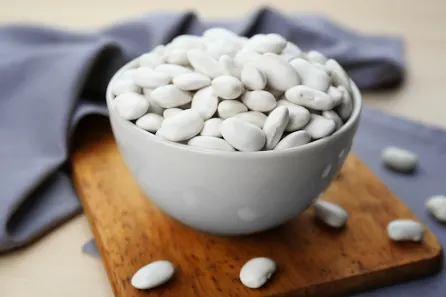 Romanesco sauce is a rich, versatile Latin sauce originating in Spain. The base is roasted red peppers, puréed and thickened with almonds and hemp seeds. The flavor is further sharpened with raw garlic and red wine vinegar. The result is a robust, flavorful sauce that is delicious over pasta or a variety of vegetables. If you have time, allow the sauce stand for an hour or more at room temperature before serving. This allows the flavors to meld all the more.
I like the butter beans extra crispy. To obtain this result, be patient and allow them to crisp in your frying pan before adding other ingredients.
---
Make it a Meal
Combine the Crispy Butter Bean Bowls with Barely Braised Greens or Roasted Romanesco Broccoli for a complete meal!