Years ago, I created this vegan soup recipe. It was one of those times I didn't know what to cook, so I started pulling things out of my fridge and pantry. An hour later, this unique, now-favorite Leek, Fennel, Apple and Walnut Soup recipe was born.
For me, the easiest of all foods to make is soup. If I could cook nothing else for the rest of my life, it would be soups. I love the slowness of the whole process; from making stock, to slicing vegetables, to toasting nuts, to adjusting seasonings. . . it all just makes me happy.
More than anything else, cooking soup is a master for every person with a love-hate relationship with leftovers. I forage through the fridge and find ways to make soups out of whatever I happen to find among the week's leftovers. I can magically make dinner out of the strangest bits in the fridge.
The Secret to Making Great Soups from Scratch
It's almost dinner time, and you don't know what to cook. You want to serve your family a warm, filling, wholesome meal, but you're fresh out of ideas and low on ingredients in the pantry. Soup to the rescue! If you have just a few staple ingredients on hand, you can create a one-of-a-kind soup creation.
Once you know the basic steps of creating a flavorful, wholesome soup, you can experiment with different vegetables and seasonings for endless possibilities.
Let's get started
Many great soups start with sautéed onions (or in this case, leeks). Add enough fat to a heavy-bottomed pot to completely coat the onions thoroughly, and sauté them slowly over medium-low heat. Don't skimp on the oil as it can make or break the final flavor of your creation. Cook the onions until they are translucent and soft, but not crispy.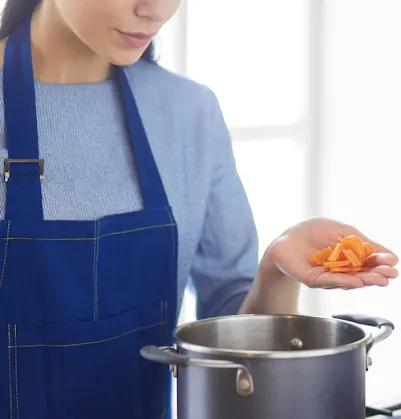 Add your veggies
Next, add your other vegetables or fruits, such as carrots, celery, and in this case, apples and fennel. Be sure your produce is cut uniformly, otherwise you will end up with under- or over-cooked bits in your soup. Salt the vegetables generously. This is a vital technique, and not just for soup: build and develop flavor at each step before moving on.
Time for the stock
After vegetables have simmered for a few minutes, the next step is adding the broth or water. Bring the soup to a boil, and reduce to a simmer. Cook until your vegetables are tender but not falling apart. While it's good to taste along the way, refrain from over-seasoning until the vegetables are nearly done, as they impart so much flavor to the broth as they cook. When everything is tender, adjust your seasonings.
There you have it!
This basic formula is a great starter for so many different kinds of soups. You can use a variety of vegetables and seasonings to create lots of different options. If you're making a blended soup, like this one, carefully use an immersion blender to blend until smooth, and finish with your favorite garnishes.
Leek, Fennel, Apple and Walnut Soup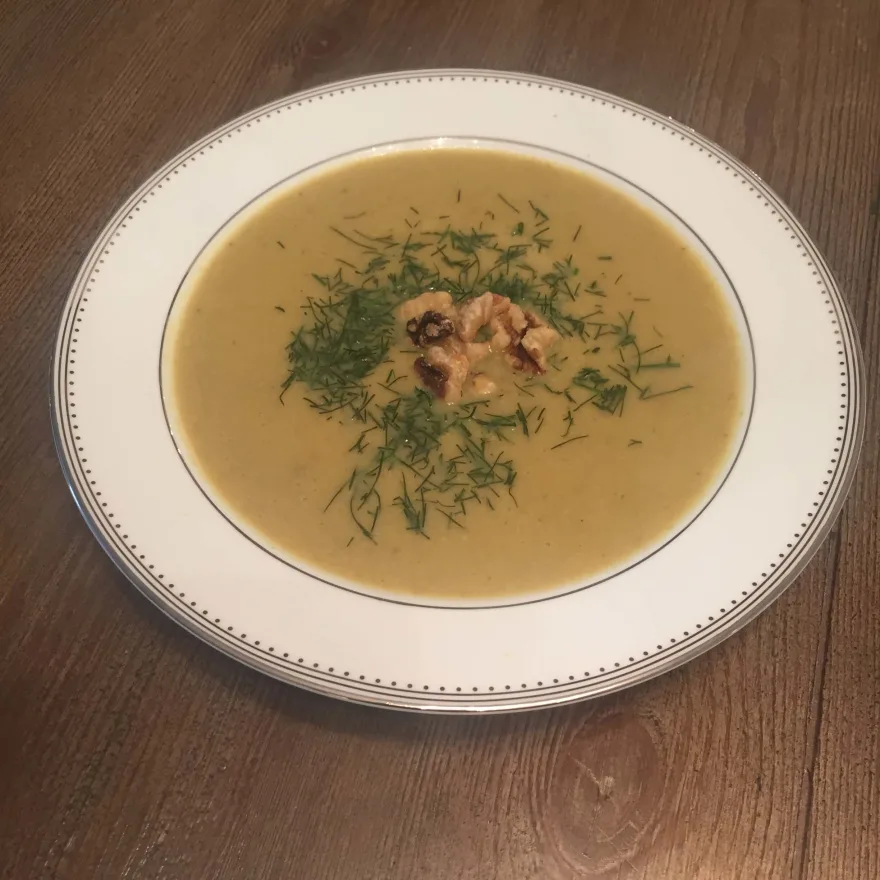 Sweetness from the apple and maple syrup, richness from the walnuts, bitterness from the fennel, pungency from the turmeric and leeks. . .this soup has a very unique flavor profile.
If you have never cooked with leeks, you may be surprised at the flavor. Though they are in the onion family, they have a much more subtle and refined flavor. They also cook a bit gentler.
Fennel is a flowering member of the carrot family and has a strong anise flavor and aroma. Every bit of the plant, from the seeds, to the bulb and the fronds, can be eaten, and each has a slightly different flavor.
Turmeric is widely touted for its health benefits and is in the ginger family. It has a very strong yellow-orange color that can easily get transferred to your hands and towels while cooking.
All in all this vegan soup is a quick and easy dish that can be a warming midweek favorite.
Make it a Meal
Serve this soup with a vegetable side, like Roasted Romanesco Broccoli or perhaps a Broccoli Salad and some toasted gluten-free bread for sopping up every last drop.