Sweet potato casserole is a comforting traditional dish for fall that graces many a holiday table. Dating as far back as 1796, when it was called potato pudding, sweet potato casserole remains entrenched in American food culture. In this Spiced Sweet Potato Casserole recipe, I've added a twist by using a few of my favorite essential oils in place of spices.
Cooking with Essential Oils
Cooking with essential oils adds a burst of flavor and nutrition to foods. Additionally, it can save time dicing, chopping, and grating. A drop or two of essential oil can take the place of a spice or herb that you may not have in your kitchen and often tastes better than dried herbs.
Of course, there are a few things to bear in mind when substituting essential oils for dried or fresh spices. The main thing to take into consideration is that essential oils are extremely concentrated. The smallest amount (sometimes less than a drop) will often add plenty of flavor and aroma, and you don't want to ruin a dish by adding too much at once. Start small, taste often, and gradually add more essential oils to achieve the flavor you want.
Just as you won't get good results from generic, cheap spices, it is also very important to choose high quality essential oils for cooking. Low quality essential oils usually contain fillers and potentially toxic chemicals, and they can spoil a dish with a single drop. For safety's sake, it is also pertinent to choose essential oils specifically labeled for internal usage.
To learn more about the how's and why's of cooking with essential oils, head here.
Spiced Sweet Potato Casserole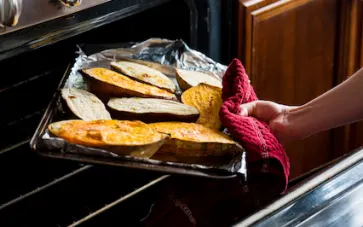 For this casserole, I am using cinnamon and clove essential oils. Their flavor is a bit more assertive than the ground spices, making this dish extra homey and comforting. The nut crumble on top adds a bit of sweetness, but not as much as gloppy marshmallows that overtake the flavor of the sweet potatoes.
This casserole is great as a side dish to an everyday dinner, but it's special enough to accompany your Thanksgiving, Christmas, or other special occasion meal as well.
---
Want to learn about the health benefits of sweet potatoes? Check out this post, and make some delicious Sweet Potato Fries!