I love sweet potato fries, but it is hard to find a good healthy version that isn't fried. This recipe has a few extra steps to ensure crispy fries, and some zesty seasonings for delicious fries that are sure to become a favorite in your household!
Health Benefits of Sweet Potatoes
Ah, the sweet potato. I love sweet potatoes prepared a variety of ways because they taste so good, you hardly believe they are actually good for you. Sweet potatoes are a good source of fiber, which is great for healthy digestion. They also contain iron, calcium, selenium, vitamin C, and a hefty dose of most of the B vitamins. Beta carotene, is a carotenoid that converts into vitamin A in the body. Carotenoids are beneficial for the prevention of cancer and promoting eye health, as well as improving cognitive function and cardiovascular health.
The Secrets to Crispy Oven-Baked Fries
Soak your potatoes
Soaking potatoes in cold water for at least 30 minutes after they are sliced removes extra starch. It is also very important that you dry them completely after soaking. Drain the water and pat dry with paper towels before adding oil and seasonings.
Use parchment paper and don't crowd
Parchment paper prevents sticking and helps create a layer of air underneath fries, ensuring more even cooking on all sides. Spreading them in a single layer with a bit of space around them also helps.
Use cornstarch
Add your seasonings to a couple tablespoons of cornstarch and toss your fries in the mixture before baking.
Be patient
Take the time to rotate and flip your fries halfway through baking time. Rest time after fries are baked helps them crisp up even more. Also be sure to add your salt last, after baking.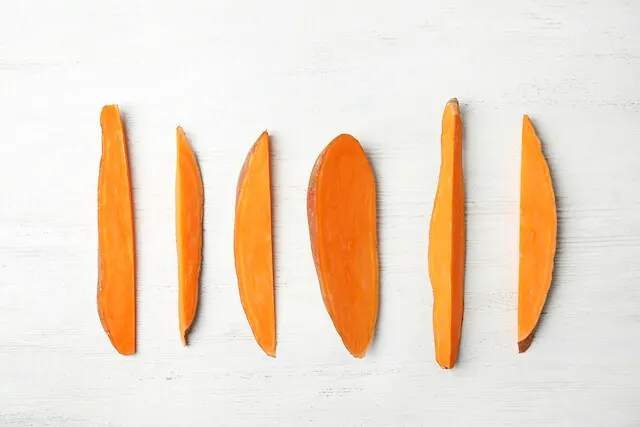 Make it a Meal
Pair your sweet potato fries with Vegan Mushroom Lentil Burgers for a healthy spin on a classic American meal. For another sweet potato recipe, check out these Mexican Sweet Potato Skins.