I love creating colorful salads with different textures and flavors. This Avocado Mango Salad combines creamy avocados, sweet and tangy mangoes, and some spices for an added punch. Once the flavors meld and come together, this salad is delicious any time of the day or even as a salsa.
Health Benefits of Mango
Mangoes lend themselves well to sweet or savory dishes. This sweet and juicy tropical fruit is great as a quick snack or added to a variety of recipes. Beyond the sweet, luscious taste of mangos, they contain a variety of vitamins, minerals, and antioxidants.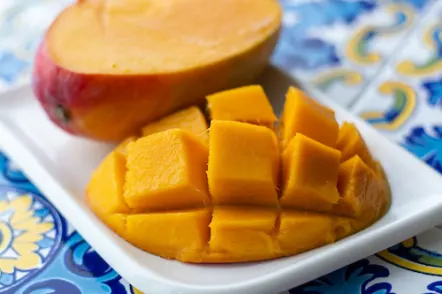 Mangoes provide an excellent source of potassium and magnesium, as well as B-vitamins and vitamins A, C, E, and K. Additionally, they contain powerful antioxidants that neutralize free radicals throughout the body. This can help prevent heart disease, premature aging, cancer, and many other degenerative diseases.
Several studies show that phytochemicals in mangos play an anti-inflammatory role in several chronic disorders. In fact, these phytochemicals —primarily gallic acid— can relieve inflammatory bowel disease and ulcerative colitis, and have a protective effect on the gastrointestinal system.
Bioactive components in mangos have also shown anticancer activity. The polyphenol mangiferin is a bioactive compound able to inhibit carcinogenesis and cancer cell growth
Health Benefits of Avocado
Avocados are also very nutritious and contain a wide variety of nutrients, including 20 different vitamins and minerals. Additionally, avocados provide an excellent source of monounsaturated fatty acids. These essential fatty acids not only support healthy body weight, studies show they also improve brain health and cognition.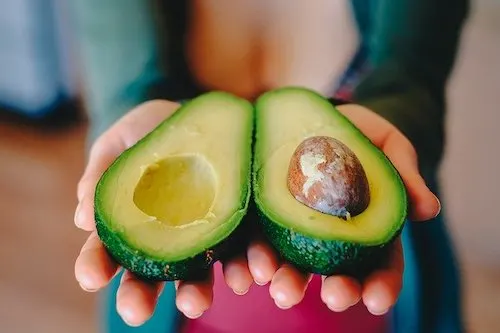 The good fats found in avocados can also help reduce cholesterol levels and blood triglycerides. What's more, they contain the carotenoids lutein and zeaxanthin, which are important for eye health. Learn more about these vitamins for eye health here.
Combine the Two Together for a Power-Packed, Delicious Avocado Mango Salad!
So what's not to love? Mangoes and avocados provide so many beneficial polyphenols and good fats. And they come together in this recipe for a dish that's appealing to the eyes and the taste buds.
Make it a Meal
This dish is great by itself eaten as a salad. Or you can use it as a salsa with some Jackfruit Tacos or atop Mexican Pinto Bean Salad.