Pesto is a classic Italian sauce that originated in Genoa, the capital city of Liguria, Italy. It traditionally consists of crushed garlic, European pine nuts, coarse salt, basil leaves, hard cheese, such as Parmesan or Pecorino Sardo, all blended with olive oil.
This pesto sauce breaks from tradition and instead uses walnuts and cilantro to create pesto di noci, or walnut sauce, to make this Gemelli Pasta with Pesto di Noci and Crispy Lemon Tofu.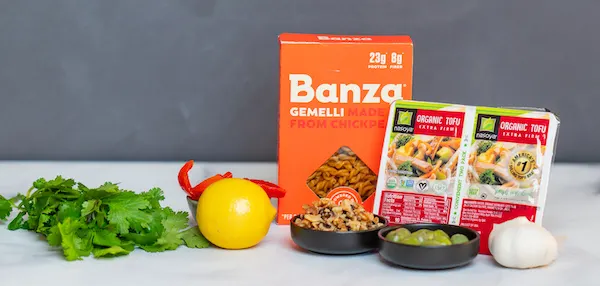 Why Chickpea Pasta?
Banza pasta is my favorite gluten-free pasta for Italian dishes. It is made from chickpeas, which are sustainable plants full of protein and fiber.
I like chickpea pasta because, compared to wheat-based pasta, it has slightly fewer calories, double the fiber, double the protein, and is naturally gluten-free. It also has higher levels of iron and potassium.
Compared to other gluten-free pasta, chickpea pasta is less gummy and more sturdy, making it perfect for Italian food.
Make it a Meal
To make a complete meal with this gemelli with pesto di noci and crispy lemon tofu, serve along side Roasted Romanesco Broccoli. Or keep cooking pasta! Check out even more pasta recipes here.
I adapted this recipe from a recipe from Purple Carrot, my favorite vegan meal delivery box. Grab a box and make eating plant based a whole heck of a lot easier.