If you want to learn how to be a better cook, one of the easiest ways to up your game is with garnish. Soup is typically very dull and boring, but garnish can take it to the next level. This Mint-Spinach Soup is topped with oven roasted carrots and chickpeas, yogurt, and fresh mint leaves that have been roasted with ras el hanout seasoning.
What is Ras el Hanout?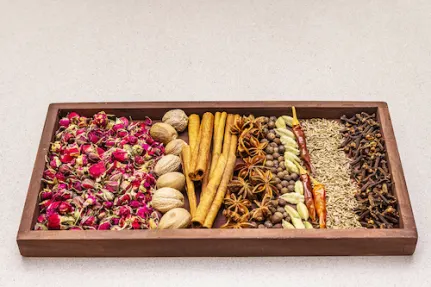 Ras el hanout literally translates to "head of shop", but when spoken in Arabic, it means "top shelf". Legend has it that this Moroccan spice blend was created by North African spice dealers. They would mix together the best of the best spices and herbs to create a rich, aromatic seasoning that sometimes had dozens of spices involved.
Ginger, cardamon, mace, cinnamon, allspice, coriander, nutmeg, turmeric, black pepper, white pepper, cayenne pepper, crushed red pepper, anise, cloves, paprika, fenugreek, nutmeg, or sugar may all be included, lending deep flavor to dishes.
In this dish, the bold aroma of the ras el hanout plays off the sweetness of the carrots and the blandness of the chickpeas. When roasting the chickpeas and carrots, be sure to evenly coat them with seasoning and oil by rolling them around on the sheet pan, and perhaps getting your hands a little dirty. The drier that you can get the chickpeas before roasting, the crispier they will become.
Looking for another Easy Dinner?
Check out this recipe for Green Pea and Asparagus Risotto. Takes time, yes, but super simple cooking that can translate into a ton of different dishes.
---
This meal was inspired by Purple Carrot, my favorite vegan meal subscription service. To get the box directly to your doorstep, subscribe now.