The mojito is a marriage of zesty citrus and mint with a touch of sweetness. This refreshing combination makes the mojito a favorite summertime cocktail. On July 11, celebrate National Mojito Day with this essential oil-infused mocktail recipe.
How'd the Mojito Come to Be?
The mojito originated in Havana, Cuba. Supposedly, Sir Francis Drake's crew members went ashore in Cuba seeking a remedy for an outbreak of scurvy and dysentery on the ship. They returned with limes, which are rich in vitamin C and an effective treatment for scurvy, "burning water", which was essentially a rum/sugar mixture, and mint. The story goes that this was the first marriage of these ingredients. At that time, the drink was dubbed "El Draque" after Mr. Drake.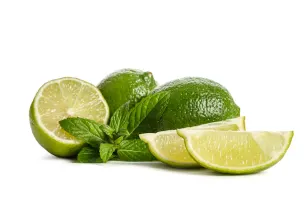 Later on, sometime in the 19th century, the drink was renamed mojito, which may be a variation of the Spanish word mojado, which means "wet." Some sources say the mojito was a favorite drink of Earnest Hemingway. Whether or not this is true, it lends a bit of sophistication and class to an old favorite.
Cheers! and Happy National Mojito Day!
As always, when choosing your essential oil for this recipe, make sure it is labeled safe for ingestion.
Love homemade mocktails? Try this Ginger Lime Mocktail or a Refreshing Watermelon Margarita!