I love pasta dishes because they are so versatile. They can feed a couple or a crowd, and pasta lends itself nicely to a variety of sauces and spices. This dish is no exception. Nice enough for a romantic dinner and hearty enough to please the entire family, this Sun-Dried Tomato Linguine is a winner for just about any occasion.
Sun-dried tomatoes add a wonderful burst of flavor to this pasta dish. They combine with the nutty flavor of the chickpea pasta well, while the light cream sauce balances the dish nicely. The dish also keeps well in the fridge and makes great lunch the next day. (If you have any left over, that is!)
Why Sun-Dried Tomatoes?
Sun-dried tomatoes are funky, sweet, intensely flavored morsels of concentrated nutrition. They bring with them vitamins C and K, iron, and lycopene and may help support the immune system, blood homeostasis, and provide anti-inflammatory antioxidants.
Cooking with Sun-Dried Tomatoes
You can find sun-dried tomatoes packed in oil or dry. The former is more manipulable and better for blended sauces, however it does bring additional calories. The dry version can be reconstituted in water and brings a rich umami flavor to any dish that can stand up to the bold flavor.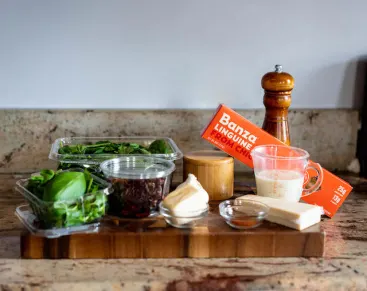 Sun-Dried Tomato Linguine
As I mentioned before, sun-dried tomatoes have some funk to them. Some people choose to add brightness from lemon. But this recipe embraces the richness of vegan butter, parmesan and oat milk with earthy of garlic, and the herbaceous of basil and nutmeg. The result is a creamy, rich pasta that is so satisfying! Even a dairy lover will be hard pressed to tell the difference from the original.
Make it a Meal
Dessert anyone? Follow this delicious Sun-Dried Tomato Linguine with a delectable Vegan Key Lime Pie!