I love juicing. I love that fresh juices are such a quick and easy way to inject some serious vitamins and minerals into my routine. These are two of my favorite fresh juices, and I drink them on the regular. Feel free to adapt these to your taste and the fresh, organic produce available in your neighborhood. Be creative with juices – just don't go too heavy on the fruit because this adds sugar and can lead to blood sugar spikes.
Benefits of Juicing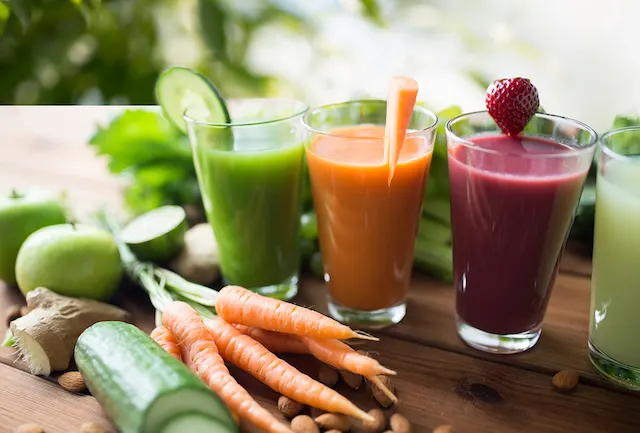 Let's face it. Most of us just don't eat enough of the right kinds of vegetables daily. In fact according to the Center for Disease Control, less than one-third of adult Americans eat the recommended nine servings a day. Drinking fresh juices you've made at home can help you squeeze more fresh fruits and vegetables into your diet. This also gives a healthy increase of healthy antioxidants, soluble fiber, vitamins and minerals.
In the past five years, some studies have found a potential link between certain juices and many health benefits. For example, kale juice may help lower cholesterol levels, which can protect against heart disease. Carrot juice may reduce oxidative stress in women treated for breast cancer. And some citrus juices may reduce blood pressure and the overall risk of heart disease.
Choosing a Juicer
Look for a juicer that is easy to use and easy to clean. Nothing will stop you from juicing like an all-day production with too many parts. My favorite is this Breville Juicer. If you choose to use a VitaMix instead of a juicer, you may need to add a bit of water to thin out all of the fiber. Keep in mind that using a blender or VitaMix will create a juice that is a lot more filling as well.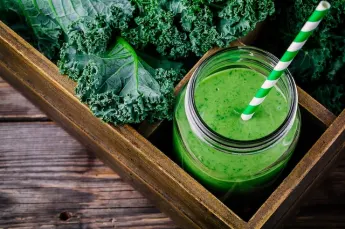 Two Fresh Juices
The Everyday Green Juice is so simple and one I have been making for years. In the morning when you drink it, it feels like a detox ready to happen. Add in lemon juice for a bit of extra punch.
The Lemon-Lime Purple Cabbage Juice is the perfect combination of sweet and tart to start your day of on the right foot. Be sure to use fresh pears, otherwise this juice can become gritty.