It's known as America's most beloved dressing. People Ranch dressing on all sorts of foods as a topping or dipping sauce. From tacos to French fries, and onion rings to salads, everything is better with a dollop of creamy, zesty Ranch dressing. This Vegan Ranch Dressing is as delicious as its dairy-filled counterpart.
Ranch dressing is a combination of buttermilk, spices, and mayonnaise or other oil emulsion. This basic sauce easily adapts to other flavors as well. You can simply adjust the seasonings or add in other ingredients to achieve the desired flavor. Try crushed red pepper for a spicy dipping sauce. Or mix in half an avocado for an avocado ranch salad dressing.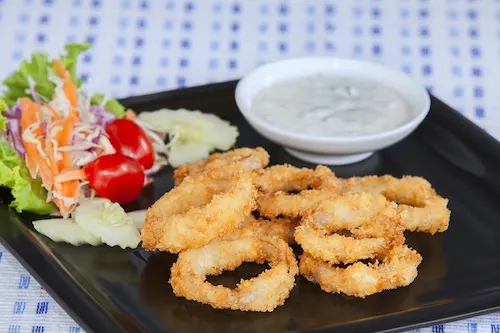 Make it a Meal
Most people love Ranch because it's tangy and creamy. Vegan Ranch Dressing is the perfect way to cool down a spicy dish, like Buffalo Cauliflower Tacos. It's also essential for dunking Crispy Onion Rings or Mozzarella Sticks.