Finding the perfect gift for the health and wellness junkie in your life just got easier. Chances are you know someone who loves crystals, positive affirmations, or just wants the best night's sleep. There is something on this list for everyone. Which will you choose?
Let's Start with Some Crystals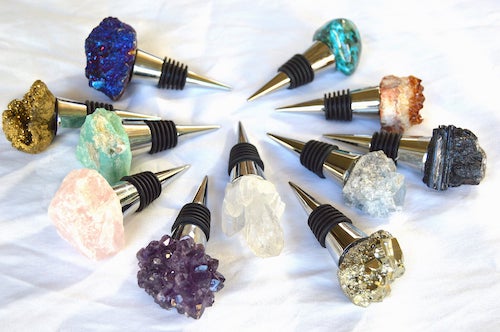 Y'all know that I love my crystals paired with essential oils and salt lamps, so why not fermented grapes? These geode wine bottle stoppers keep your wine fresh longer and add a decorative element to the home. Who knows? Maybe it also gives the wine an extra energetic boost. Snag these Crystal Wine Bottle Stoppers as the perfect housewarming gift.
Take care of your 'sacred cave' with these rose quartz eggs. Simply insert and retain these Yoni Eggs. Research suggests that the practice can strengthen pelvic floor muscles, maintain urine continence, and enhance sexual pleasure. It can also further your yoga practice, and make you stronger in balance postures.
The Biomat is a mat made of amethyst crystals that warms through and through. Laying on it is so very relaxing, and some people think that thermal therapy and far infrared radiation may help relax muscles, ease minor aches and pains, muscle spasms, minor strains, and back pain. There is also evidence that it can reduce stress and fatigue, support the immune system, improve sleep, and increase tissue oxygenation. The Biomat is the luxury gift for health and wellness connoisseurs.
And Now Practice Some Yoga and Meditate
Speaking of yoga, check out one of my favorite yoga blankets. This Mexican style yoga blanket is great for use in an outdoor practice, rolled or folded as a bolster, or as a blanket during Shavasana. You can even use it for a picnic or a beach blanket!
Whether you are practicing yoga without a mat, want to reduce the risk of falls around the house, or need a little extra cushion under tired, pregnant legs, Yoga Socks are a super trendy item that will soon be everywhere.
Yoga Blocks are useful in practice for people who have really tight muscles or for people who are super flexible and want to deepen their stretches. I love to use blocks to prop up my hips when I practice Nadi Shodana.
Master the art of the sit with this Meditation Cushion. Use it as you learn the best way to chant the universal sound of "Om."
LuluLemon Reveal Tights. These ultra thin, laser cut tights will up the fashion score for your favorite yogi. Super breathable and flexible materials make them perfect for the gym, but the styling is edgy enough to take to the streets.
At the end of a long day, take a minute to roll out on this Foam Roller. This one is better than just a flat foam roller because the grid helps to access trigger points that flat rollers cannot.
Ready for your new favorite fizzy, probiotic-infused beverage? Okay, then try kombucha. Ready to stretch your limits and try your bestie's new brew? Gift this Kombucha Home Brewing Kit and send Booch recipes with your girl.
Don't Forget to Stay Hydrated
Staying hydrated is critically important to everyone's wellness routine, and this NYC themed, lightweight, stainless steel Sip by S'well Water Bottle ensures that we aren't adding more pollution to the ocean, ingesting plastic remnants, or exposing our body to hormone-altering bisphenol A.
The amount of plastic wasted daily in this world is abhorable. We are literally creating a cesspool of waste around us that is fueled by plastic. Let's all commit to just one small action that will contribute to change and look fancy at restaurants with these steel Stainless Steel Straws.
Switching from coffee to tea is a great way to reduce exposure to blood pressure-raising caffeine and increase our intake of antioxidants. Some people even claim that drinking tea regularly reduces the risk of stroke and heart attack and may help with weight loss. Put together a custom collection of my favorite Pique Tea.
Now Let's Cook
Flex your green thumb with a simple, easy to grow indoor herb garden kit. Get them growing and you'll never have to buy chives again. Place this Indoor Garden in the windowsill of your kitchen, and add brightness and zest to your dinner, like this Baked Ziti.
For the foodie in your life, gift them a Purple Carrot Membership. This is a delicious vegan meal prep box that arrives each week with simple to follow instructions on how to quickly get dinner on the table.
For many a year, I have been using a Breville Juicer to make green juice, carrot juice and beet juice. I have given this juicer as a gift to health and wellness friends who are getting married, buying a new house, or just deserve some more vitamins and minerals in their life. Once you get your juicer, come check out two of my favorite recipes.
What about a gift for the health and wellness bathroom?
Dry Brush techniques have been used throughout history to remove dead skin, encourage blood flow, and rejuvenate the skin. Learn more about it in this blog post.
Your teeth have never been so well polished as they will be using Sparkle Dust. Use it alongside your favorite toothpaste and get the gentle abrasive action of four different types of earth clay, calcium, diatomaceous earth and activated charcoal.
Time for the Best Sleep Ever
Words fail to describe how much I love this TempurPedic Sleep Mask. I have had this mask since 2009 and it has been all over the world with me. It is so soft, perfectly shaped for your eyes to be able to blink without hitting the mask, and the memory foam contours to your face.
Eye Masks aren't the only amazing product that I use from TempurPedic. This ergonomically designed Pillow will have you sleeping like a baby for a solid 8 hours. I love the way that the curves hug the neck, and the two heights are perfect for both side and back sleepers.
But before Bed, Why not pull Some Cards?
These cards are beautifully designed, positive and inspiring, and heartwarmingly true. Gabrielle Bernstein hits the nail on the head with Universe Has Your Back Cards. Pull a card when you are feeling down, struggling, or need a bit of a pick me up.
Love Powered Cards are written to affirm, connect, empower women to care for themselves. These are exceptional cards that reveal a ton of different powers that we all have in us, even if we sometimes forget. The power of humility, authenticity, determination, beauty, and positivity are all within us. Be brave enough to embrace it.
And You Better Read a Book
I may be a bit partial, but the gift of the year for your favorite essential oil and supplement user is Essentials: 75 Answers to Common Questions about Essential Oils. Get your copy today, and find out the answers to the questions that I get day in and day out.
---
What are your favorite gifts for health and wellness gurus that you can't wait to give?