This Coconut Lentil Soup recipe includes spicy and sour tamarind concentrate to ramp up the flavor. Additionally, coconut milk adds richness and healthy fat to the dish. The oven roasted vegetables transform the creamy soup by giving it a crispy bite. Finally, bright, fresh scallions finish the meal.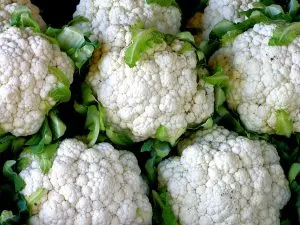 Cauliflower makes up the base and topping of this soup by providing thickness and a mild creaminess. Not only that, but cauliflower is packed with nutrition, making this comfort food an immune system powerhouse as well. One serving of cauliflower contains 472% of your recommended daily allowance of vitamin C, as well as fair amounts of calcium, magnesium, vitamin B-6, and potassium. It also contains a compound called indole-3-carbinol, which is a phytochemical that has cancer-protective properties. Learn more about cauliflower in this post.
The lentils are a good source of insoluble dietary fiber, which promotes proper digestion and helps to stabilize blood sugar. Lentils also add about 18g of protein to this dish, making it as hearty as it is delicious. As a pulse-based food, lentils are healthy for your heart and may help to lower cholesterol levels.
Make it a Meal
Enjoy Coconut Lentil Soup with a side of naan bread to sop up every last bit. Or add a side of Barely Braised Greens for added nutrition.