There's nothing worse than putting on your favorite bracelet, necklace, or other piece of jewelry only to find it tarnished and dull. Most jewelry cleaners contain chemicals that may damage your precious keepsakes after repeated use. These all-natural recipes work just as well as the chemical stuff, but they won't damage your jewelry. Keep your jewelry sparkling clean with these essential oil jewelry cleaner recipes.
Essential Oil Jewelry Cleaner
Jewelry Polish
Ingredients
1 tablespoon salt
1 tablespoon baking soda
5 drops lemon essential oil
Instructions
Combine all ingredients in a small bowl.
Use a moistened jewelry brush (or a clean toothbrush) to apply polish to jewelry* and form a paste.
Scrub thoroughly into cracks and crevices of jewelry before rinsing.
Follow with the jewelry soak if desired.
Store remaining polish in a small lip balm container or jar.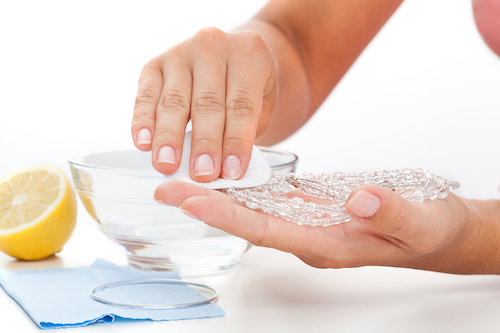 Jewelry Soak
Ingredients
1/2 cup warm water
1 tablespoon white vinegar
1 tablespoon liquid castile soap
3 drops lime essential oil
3 drops lemon essential oil
1 drop tea tree essential oil
Instructions
Combine water, vinegar, and soap in a small bowl.
Add essential oils and stir to mix. Transfer to a small jar.
Place jewelry* in the jar and allow to soak for at least 30 minutes. Rinse and dry.
*Some jewelry, such as pearls, is fragile and may be damaged by essential oils. These recipes are intended for all kinds of silver, gold, and other durable metals, as well as most gemstones.
---
Make sure you smell as good as you look with these DIY Essential Oil Perfume recipes.