Summer can be hard on hair. From chlorine and salt water to time in the sun, summer fun may leave you with dry, damaged hair. Try this protective summer hair serum to prevent damage and to help restore natural shine and condition to your hair.
About the Ingredients
Camellia Seed Oil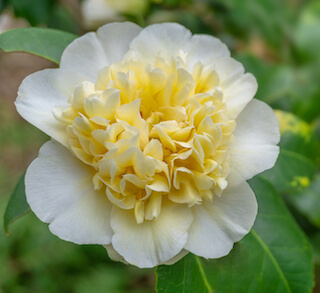 Japanese Camellia seed oil is cold-pressed from seeds of the wild Camellia japonica flower (called Tsubaki in Japanese). This oil is responsible for the legendary beauty and shine of Japanese women's hair. It is rich in oleic acid, plant collagen and nourishing vitamins A, D and E, as well as Omega 3, 6 and 9 fatty acids. Oleic acid and collagen smooth and strengthen hair, while the vitamins help repair and restore moisture balance to your locks. Plus, it is rich in antioxidants that protect and reduce damage.
Jojoba Oil
Jojoba is actually not a true oil but a wax ester. As a common microemulsion in many haircare products, jojoba can strengthen hair and prevent breakage and split ends. It may also be helpful in treating dandruff and dry scalp.
Baobab Oil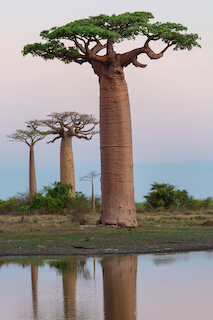 Baobab oil comes from the African baobab tree (Adansonia digitata). This oil is great for hair because it is relatively non-greasy but absorbs into hair quickly and adds shine and improves elasticity. Uniquely, this oil has relatively equal proportions of saturated to monounsaturated fats and polyunsaturated fats. This is important because the smaller fatty acids penetrate hair readily to add moisture and suppleness, while the polyunsaturated fats remain on the surface of the hair. This forms a protective layer, adds shine, and serves as an excellent detangler.
Castor Oil
Like, jojoba, castor oil is actually a wax. The thicker texture of this oil helps to thoroughly coat hair with a protective layer. It has a high ricinoleic acid content, which some people claim can boost hair regrowth (however, studies on this are lacking).
The Essential Oils
Citronella essential oil nourishes hair follicles and has the added benefit of an aroma that promotes a comfortable outdoor experience. Rosemary encourages healthy hair growth, and peppermint promotes circulation in the scalp and adds a fresh scent and tingly sensation. Lime helps balance the production of sebum and cleanses the scalp. Lime may cause lightening of hair in the sun. Therefore, you may choose to use cedarwood essential oil in lieu of lime if you are concerned about lightening.
Protective Summer Hair Serum Recipe
Ingredients
0.75 oz. camellia seed oil
0.35 oz. jojoba oil
0.25 oz. baobab oil
0.15 oz. castor oil
10 drops citronella essential oil
6 drops rosemary essential oil
4 drops lime essential oil
4 drops peppermint essential oil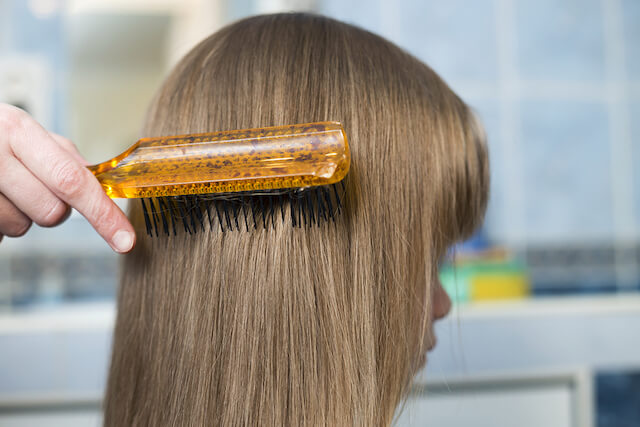 Instructions
Combine camellia seed, jojoba, baobab, and castor oil in a 2 ounce dropper bottle, and shake to combine. Next, add essential oils and give it another shake. Allow oils to rest and combine overnight before use.
To Use
Add several drops (depending on the length of your hair) of the serum to the palm of your hand. Massage into hair and scalp before swimming or going in the sun. May also be used as a leave-in treatment after shampooing.
---
Once again, thank you to my friend Julie for this awesome DIY recipe!
You may also want to try my tried-and-true favorite Essential Hair Tonic!