Making risotto is almost a meditative process. It takes love and patience to simply add broth slowly over the course of time. But when you do, the result is a rich and creamy rice dish. Many vegan websites recommend making this with very little fat, but to me, this makes for a very bland dish, so I pumped mine up with vegan butter and vegan parmesan. Lemon juice and zest helps to cut through the sweetness.
This traditional Italian dish is a bit of an exercise in patience. You can't just throw the ingredients together and walk away. Rather, making risotto is a gradual step-by-step process. For this reason, a lot of people shy away from making risotto altogether.
Who Has the Time to Make Risotto?
In today's fast-paced, get-dinner-on-the-table-in-30-minutes-or-less mentality, you might be wondering, "Why would I cook a rice dish that I have to babysit?" I'll tell you why.
The result is a delicious, creamy, comforting dish that compliments a variety of other foods, but is also filling enough to stand on its own. Not only that, but the reward is in the process. When you put thought, time, and careful preparation into a meal, it somehow tastes better. The love and energy you put into your cooking is almost as important as the ingredients you choose. This is a different kind of nourishment, and we just don't get enough of it.
So while risotto may not be a Monday night dinner for the average busy family, it is a dish that is worth the time. Plan ahead and set aside an evening to enjoy the process of cooking and not just throw dinner on the table. Then pay attention to how everyone enjoys the meal. Take note of the pride you feel for not just feeding your family, but nurturing them. Notice how you may have actually enjoyed cooking the meal.
Now, go make some Risotto!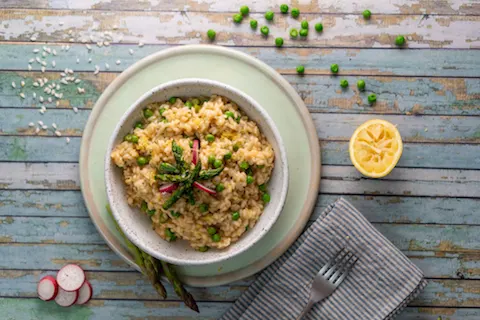 Make it a Meal
Traditionally, Risotto is served as the first course of the meal. However, it is also a great base for a variety of recipes. Try it with this Mushroom, Artichoke, and Red Pepper Paella.