When I was in Bali I had an amazing coconut facial at Fuller Life Wellness, and then a coconut scrub, massage and bath at the Ritz-Carlton (Balinese peeps are serious about their coconut). I wanted to create some vacation vibes right here at home, so I tested out this recipe for a coconut lime bath soak.

Results: amazing! Such a luxurious bath!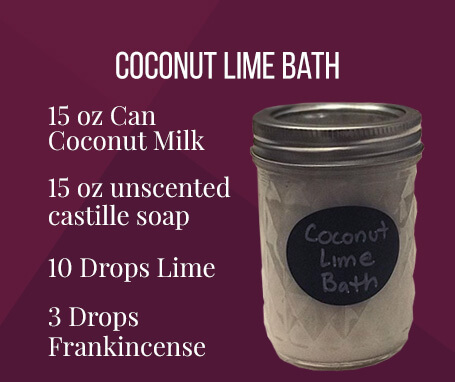 ---
Ready to make your own Coconut Lime Bath Soak?
Ingredients
1 15 oz. can coconut milk

15 oz. unscented castile soap
10 drops lime essential oil
3 drops frankincense essential oil
Instructions
Take 1 can of coconut milk, at room temperature, and shake well. Pour into a medium sized bowl.
Then refill your can with castille soap and add to coconut milk.
Add essential oils and whisk together.
To use
Add 1/4-1/2 cup to a warm bath and soak, soak, soak! Store at room temperature for up to 1 week. I split mine into multiple jars and stored the extra jars in the refrigerator for a longer shelf-life!
---
Want to keep your bath fun all year long? Check out my Winter Bubble Bath.
Want more essential oil pampering recipes plus a lot more?