Some days are better than others when it comes to your skin. There are a variety of reasons you may wake up with under eye inflammation or dark circles. Lack of sleep, dehydration, sun exposure, poor diet, allergies, hormones, fatigue, and the aging process can take its toll on the delicate skin around the eyes. Check out this recipe for Turmeric Eye Brightening Cream that can help soothe and rejuvenate your eyes to give you a younger, energetic look.
Benefits of Turmeric Eye Brightening Cream
The active ingredient in turmeric is a compound called curcumin, which is an effective antioxidant that can treat a number of skin disorders, ranging from discoloration and inflammation to skin cancer. Turmeric also helps protect against free radical damage to slow the process of aging. This helps preserve the elasticity of the thin skin around the eyes to prevent fine lines.
Shea butter deeply nourishes and moisturizes the delicate under eye area. This helps prevent fine lines and improves the appearance of the eye area.
Almond oil adds a brightening effect to this cream. It helps gradually improve darkened areas while moisturizing the skin.
The essential oils in this blend also help improve the appearance of the under-eye area. Lemon essential oil contains limonene, a compound that helps lighten and brighten skin. Frankincense is one of my go-to essential oils for skin because it is so nourishing and protecting. Finally, lavender essential oil calms inflammation and can help improve the appearance of skin.
Ingredients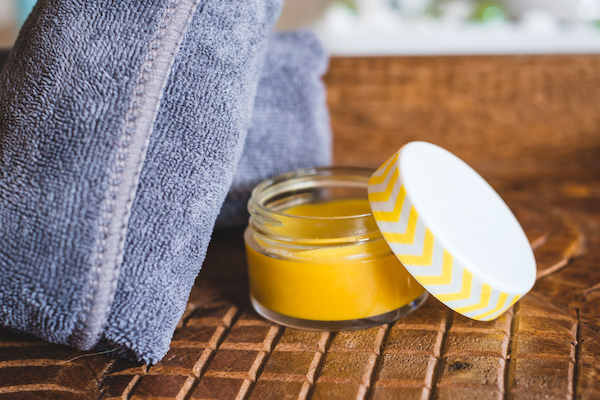 1 tablespoon (about 0.4 oz.) shea butter
1/4 teaspoon beeswax
1/2 teaspoon almond oil
1/4 teaspoon turmeric powder
2 drops lemon essential oil
2 drops lavender essential oil
4 drops frankincense essential oil
Instructions
Combine shea butter and beeswax in a small glass jar.
Create a double boiler by pouring a few inches of water in a small saucepan, and carefully set the jar of ingredients in the water.
Next, gently heat the pan over medium-low heat.
Once the mixture is completely melted, remove from heat.
Add almond oil and turmeric.
Finally, add essential oils and gently swirl to incorporate.
Pour mixture into a small jar with lid and allow to cool completely and solidify before using.
---
For another anti-aging recipe for your skin, check out my Blue Tansy Cleansing Cream.