Oil cleansing has so many therapeutic benefits for skin. From moisturizing and protecting to reducing free-radical damage and acne, many women are ditching their facial cleansers and soaps in favor of a more gentle method of cleansing and nourishing their skin. This Blue Tansy Cleansing Cream combines the antioxidant benefits of blue tansy and frankincense essential oils with skin-loving plant-based oils.
Before we begin, come learn about the Benefits of Oil Cleansing.
Blue Tansy Cleansing Cream
Feel free to experiment with different oils in this recipe. I chose the ones listed because of their low comedogenic scores as well as their therapeutic benefits for skin. To learn more about different oil options, check out this Guide to Choosing the Best Carrier Oil.
Ingredients
1 tablespoon olive-derived emulsifying wax
3 tablespoons (about 1.3 oz.) ivory shea butter (You can use yellow shea butter, but your end result will be green instead of blue.)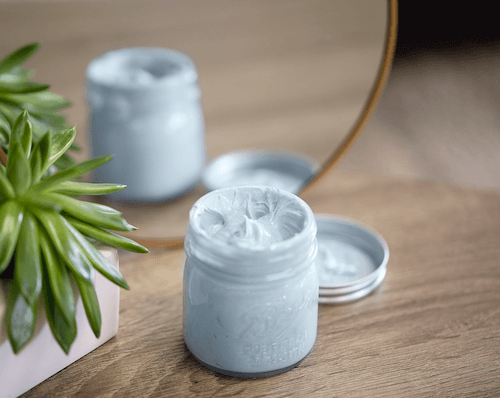 2 tablespoons jojoba oil
2 tablespoons castor oil
1/4 teaspoon vitamin E oil
20 drops blue tansy essential oil
10 drops frankincense essential oil
Instructions
Combine emulsifying wax and shea butter in a jar or glass measuring cup.
Create a double boiler by pouring a few inches of water in a small saucepan, and carefully set the jar of ingredients in the water.
Next, gently heat the pan over medium-low heat.
Once the mixture is completely melted, remove from heat.
Finally, stir in liquid oils and essential oils.
Allow to cool completely. If you're in a hurry, you can put it in the refrigerator for about 30 minutes.
Once cooled and solidified, use a hand mixer to blend the cream. This step is optional, but it will produce a smoother, lighter texture.
Scrape your cleansing cream into a small glass jar and store at room temperature.
To Use
Apply about a dime-sized amount of Blue Tansy Cleansing Cream to your palms and smooth over dry face. Gently massage oil into skin. If you are in the shower or bath, you can allow the cream to stay on your face for a few minutes for better penetration. When you're ready to remove it, use a dry or moist washcloth to gently wipe away. You may want to use a cotton pad or tissue to wipe away eye make up. You may follow by applying moisturizer, but many women find they don't need it.
Download a cute label for your Blue Tansy Cleansing Cream here!
---
Want to try another one of my favorite DIY recipes for your skincare routine? Check out this Green Tea Toner.