Valentine's Day means celebrating love in all sorts of ways. Whether you're showing love to your family, friends, yourself or a special someone, these recipes for sweet homemade gifts are sure to make this Valentine's Day a memorable one.
These are three of my favorite winter DIYs that are nourishing for your skin and body, and are perfect to use as gifts or to keep a jar on the counter for yourself.
Chocolate Truffle Body Butter
The combination of oils is super moisturizing and nourishing to skin. I love the gentle cocoa aroma of this recipe that comes from the cocoa butter. Personally, I do not feel the need to add essential oils to the lotion. However, if you want a different aroma or benefits of essential oils, feel free to add them in.
A little goes a long way. When you first apply the body butter, it feels a tiny bit greasy. However, I find that it absorbs almost instantly for a smooth, satiny feel. It does not leave skin greasy.
Ingredients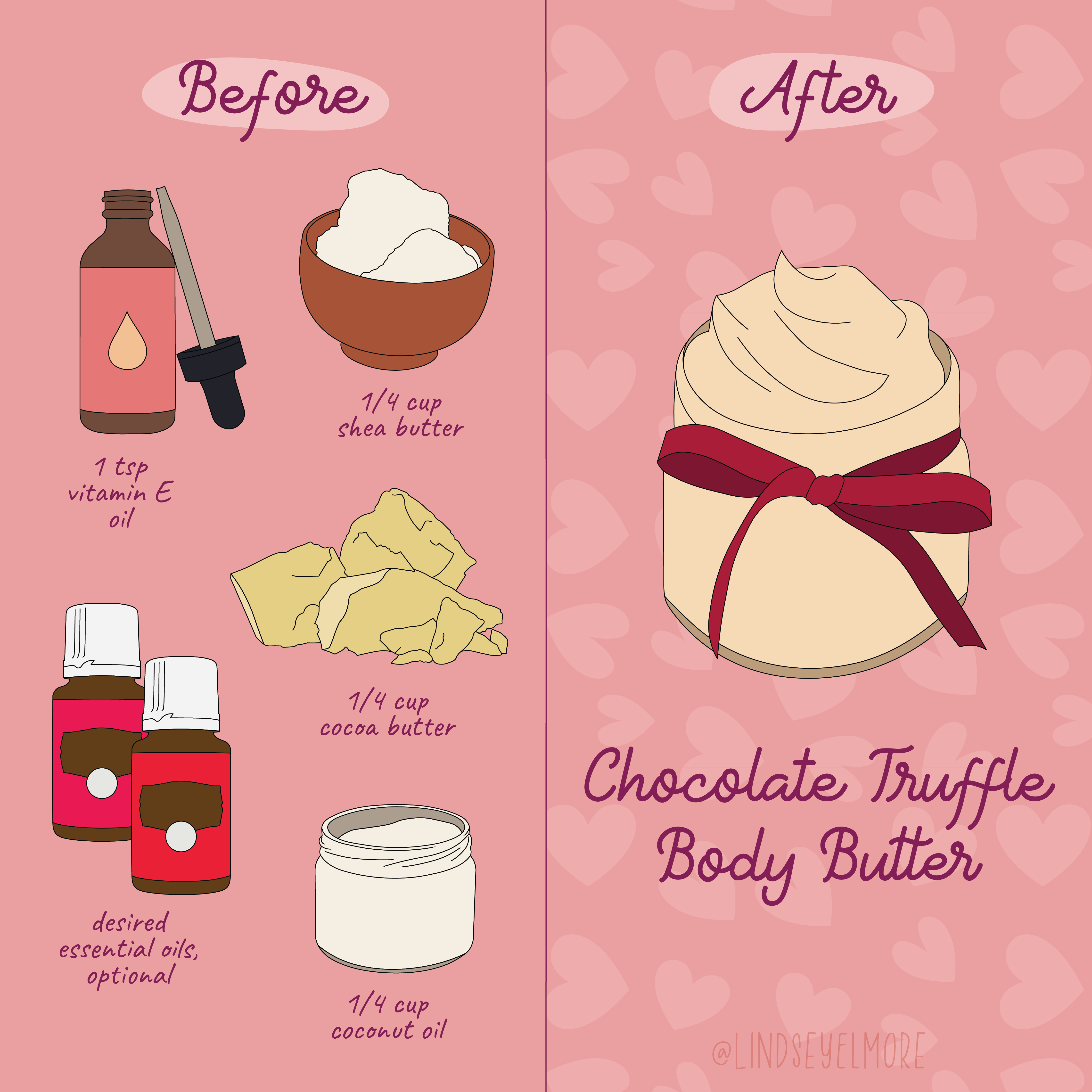 Instructions
Create a double boiler by placing a small glass bowl in a saucepan with water. Add coconut oil, shea butter, cocoa butter to the glass bowl.
Turn heat on medium and bring water to a gentle boil. Stir mixture frequently until shea butter and cocoa butter melts completely.
Remove from heat and stir in vitamin E oil and essential oils (if desired).
Place the bowl in the freezer for about 10-20 minutes. When the mixture starts to solidify and turns opaque, remove from the freezer.
Scrape the edges of the bowl and stir to incorporate. Then pour mixture into a mixing bowl for a high speed mixer.
Beat mixture at high speed until light and fluffy, about 5 minutes. If you overmix, it will become dry and crumbly. If this happens, simply warm the mixture slightly, and start again.
It should resemble whipped butter or cream when it's done.
Store body butter in a glass jar.
Love Your Skin Salve
The cold winter months can wreak havoc on skin. If you have sore, stressed skin, try this ultra – moisturizing winter salve to soothe hands, feet, elbows, or other stubborn dry areas. There are four rockstar ingredients in this recipe that will keep your skin feeling and looking silky smooth.
Tip: A little bit goes a long way! Use a small amount of salve on dry skin. Try applying to dry hands before bedtime. For extremely dry skin, you can apply a thick layer on hands and cover with cotton gloves. Or apply to feet and cover with socks. Wake up in the morning with smooth, moisturized hands and feet!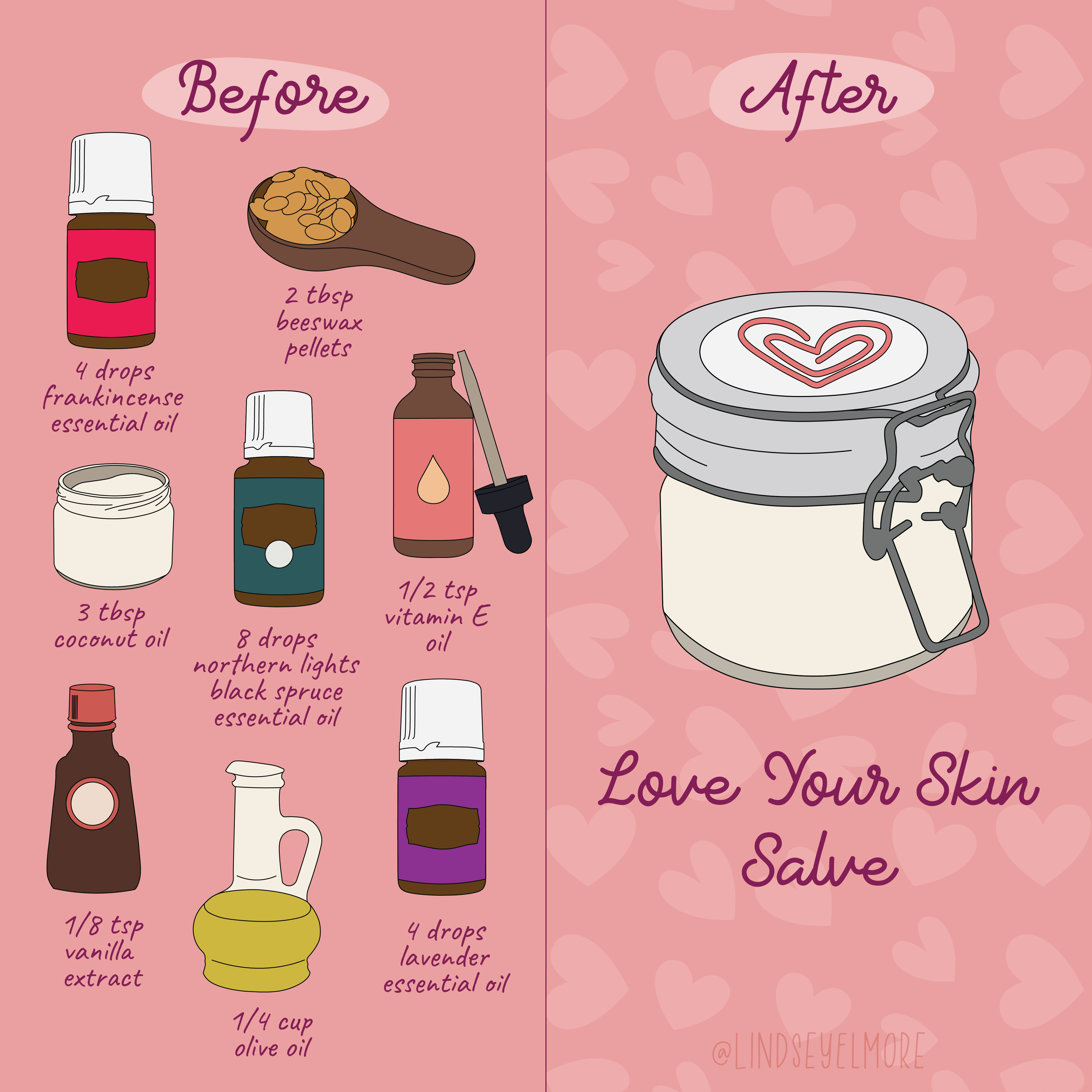 Ingredients
1/4 cup olive oil
3 tablespoons coconut oil
2 tablespoons beeswax pellets
1/2 teaspoon vitamin E oil
1/8 teaspoon vanilla extract
8 drops Northern lights black spruce essential oil
4 drops frankincense essential oil
4 drops lavender essential oil
Instructions
Combine olive oil, coconut oil, the beeswax, and vitamin E oil in a glass jar.
Create a double boiler by pouring a few inches of water in a small saucepan, and carefully set the jar of ingredients in the water.
Next, gently heat the pan over medium-low heat.
Once the mixture is completely melted, remove from heat. Add essential oils and vanilla and gently swirl to incorporate.
Finally, pour into a small jar. Allow to cool completely and solidify before using.
Sweet as Sugar Exfoliating Hearts
Sugar scrubs are such a quick, simple way to exfoliate and freshen the skin. This recipe combines moisturizing oils, cleansing natural soap, and fragrant essential oils to leave skin silky smooth. I love the handy little cubes that are just the right size to quickly clean and exfoliate hands, legs, or other areas. These vanilla chai exfoliating cubes are simple, handy, and even make great gifts.
Shea butter is an emollient that helps skin retain moisture. It also contains vitamin C, which is an antioxidant that helps keep skin looking young and healthy. I use vitamin E oil in so many of my DIY recipes for skin because it is high in antioxidants that decrease the appearance of scars, stretch marks, cuts, and other blemishes. Coconut oil is an emollient, which is a moisturizer that helps keep the skin moist and protected by trapping moisture in the skin. It is also antimicrobial, so it is great for cleansing hands and other areas in this scrub.
The vanilla and essential oils give these little exfoliating hearts a delicious aroma. Plus the oils are great for cleansing and protecting hands and skin.
Ingredients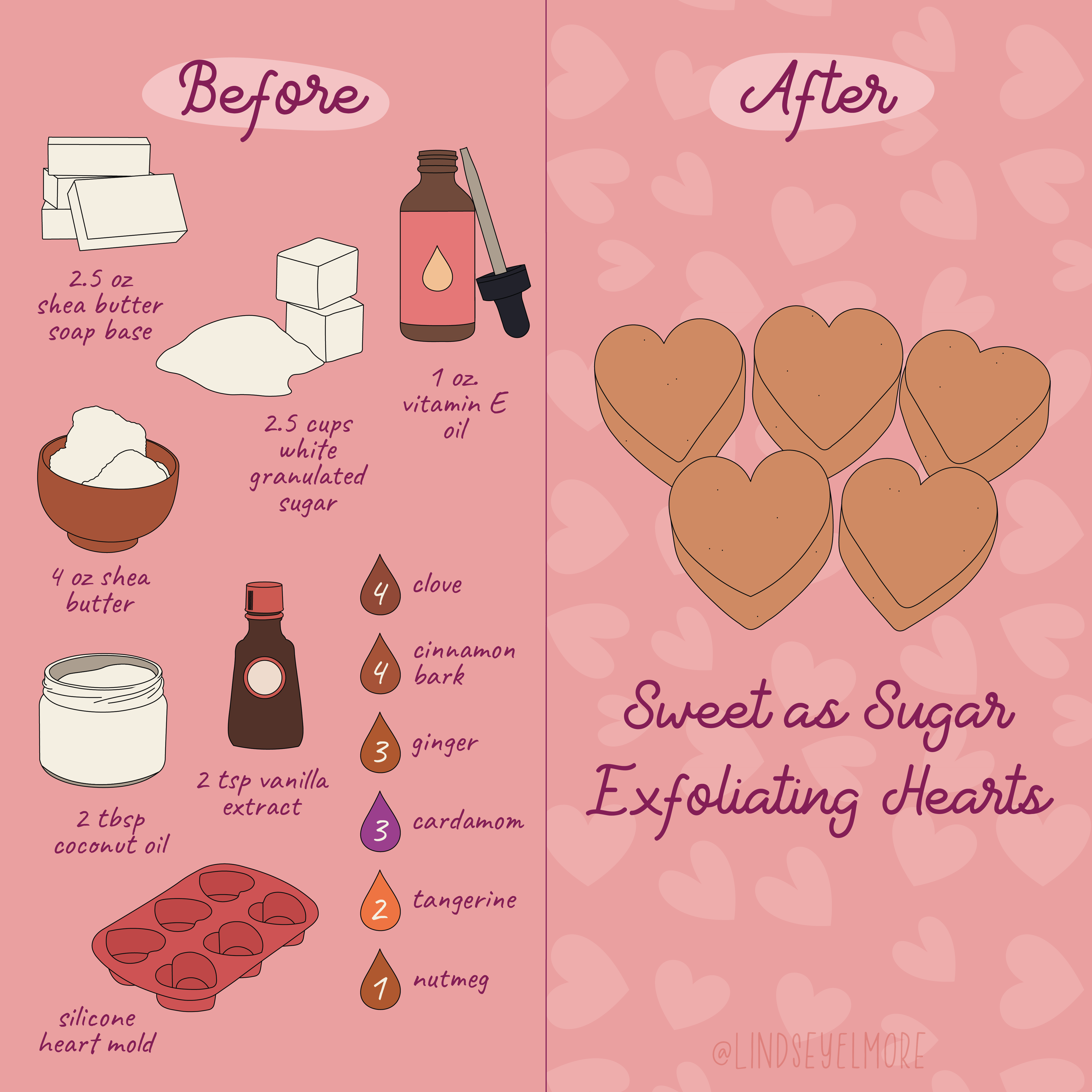 Instructions
Using a kitchen scale, weigh soap base in a medium pot. Tare your scale and weigh shea butter into the same pot. Warm gently over low heat to melt the soap and shea butter, while stirring constantly.
Once melted, remove from heat and add coconut oil and vitamin E oil. Stir to melt coconut oil.
Add essential oils.
Stir in sugar. The mixture will be loose, but it will harden as it cools.
Scoop mixture into silicone mold and smooth the tops the molds.
Allow to cool and solidify for at least 2 hours at room temperature or for about and hour in the refrigerator before popping out of the molds.
Store cubes in a jar with a lid in a cool place. (They will melt if they get too warm.)
---
Looking for even more great DIYs for all winter long? Try this Sugar Lip Scrub for soft, luscious lips!