Many of you know I recently got a kitten. This is the first pet I've owned in my adult life, and in the beginning I was a bit clueless about what I needed to keep her comfortable, happy, and entertained. For anyone who has ever owned a kitten, you know they want to play constantly, and a bored kitty is a naughty, annoying kitty. We've found many things she loves, so I thought I'd share my 15 must-haves for new cat owners here.
Necessities
There are so many things to keep your cat happy and entertained, but let's start with what your kitten actually needs.
Food
Cats are carnivores. You don't see cats in the wild munching on grass or other grains; they are hunting live prey because they eat meat. That's why it's best to choose a grain-free cat food. Most commercial pet food contains grains as fillers, but this brings unnecessary extra calories and may even cause a variety of health issues, from inflammation to digestion problems.
One good option is Blue Buffalo Wilderness. It comes in both dry and canned wet food. I love that both varieties are loaded with protein and vitamins and antioxidants from natural ingredients like flaxseed, fish oil, alfalfa, and berries. Plus, they are free from animal by-products and common allergens, such as corn, gluten, and soy as well.
Food Dish
The ideal food dish is functional, easy to clean, and easy for your kitten to access. This double diner cat food dish has one bowl for food and one for water. The cute stand elevates your pet's bowls for better posture, and that means better digestion. The stainless steel bowls are also dishwasher safe for convenience.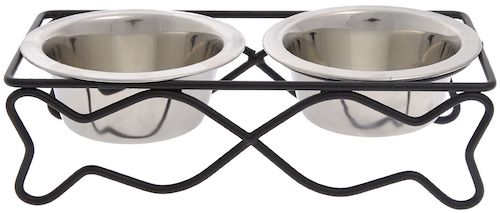 Cat Litter
Gone are the days of messy, smelly, clumpy cat litter. Pretty Litter is seriously the bomb for cat owners. Not only does it absorb odor instantly and eliminate moisture, it actually changes colors to alert you to your potential health issues, so you can get your cat help before it becomes an urgent medical situation.
This could save you big money on expensive vet bills, not to mention it could ultimately save your cat's life. Plus, it is so much more appealing and less messy than traditional clay litter. If you have a cat, you really need to give Pretty Litter a try. And don't forget a basic litter box too!
Cat Crate
It's a smart idea to have a cat crate just in case you need to take your kitten to the vet. Cats are not always the best travelers, so a crate is a must if you plan on taking your pet on road trips or airplanes. The security of a crate will prevent travel anxiety as well as motion sickness. Plus, it will protect your vehicle from cat hair and scratched seats.
Comfort Items
Cats are notorious for being lazy. I have learned that my kitten spends as much time playing as she does sleeping, but when she finally slows down, she seeks out a comfy spot to completely zonk out!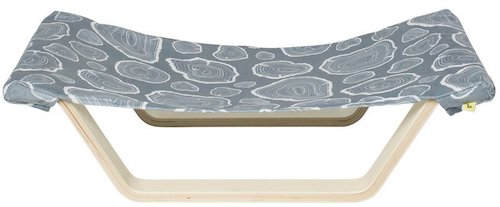 Cat Hammock
Cats will sleep in the strangest places. My kitten loves her hammock. There is something about the floating sensation and support it provides. This cat hammock has a super soft cover and is light weight and portable. It's also generously sized to provide plenty of growing room.
Pet Blanket
Of course, you will want a place for your cat to snuggle up next to you. This anti-skid pet blanket is perfect for protecting your furniture and providing a cozy place for her to settle down. It is waterproof and has anti-skid PVC backing to keep it in place on your couch, chair, or even in the car. Plus, it's machine washable and will not shrink or fade.
Snuggle Kitty
Bringing home a new kitten can be a trying experience. If your pet is recently weaned, the initial separation from his or her mother may cause crying, sleeplessness, and anxiety. Snuggle Kitty is the perfect solution to help transition your kitten to his/her new home. This cuddly stuffed animal combines gentle heat and a real-feel heartbeat to help your pet feel safe and secure.
Toys Galore
Kittens are so playful, and the more you interact and play with them, the better they'll sleep. Plus, studies show that cats develop stronger bonds with their owners through socialization and play.
Peek and Play Toy Box
Feed your cat's natural predatory instinct with the Peek-and-Play Toy Box. This unique box allows them to "capture" their favorite toys by fishing them out of strategically placed access holes. You can also drop kitty treats into the toy box for your cat to retrieve. This toy creates mental and physical stimulation to help your cat's development.
Feather Wand
You and your cat will enjoy hours of active play with this simply designed feather wand. It seems like kittens never tire of chasing the feather! This interactive, entertaining toy is made with all-natural, biodegradable materials, such as cork, hemp and wood. Only natural, dye free feathers are used. Every cat needs this most basic toy!
Chew Toys
If you've ever tried brushing a cat's teeth you know that it's no easy challenge. However, dental health is an important part of keeping your cat healthy. These Petstages Dental Health Chew Toys will help satisfy your cat's need to chew while helping to clean his or her teeth as well. The chews are filled with either catnip or mint.
Training Aids
Cat Scratchers
Cats have an innate desire to scratch, but that can mean damaged furniture, carpets, and more. Scratching allows your cat to hone his claws, stretch his muscles and relieve stress. Cats also scratch to mark their home turf; with every scratch, special glands in the pads of his paws release a scent that makes your house smell like home sweet home. Provide your cat with an approved and satisfying place to scratch with the Imperial Floor Cat Scratcher. It's eco-friendly and made of 100% recycled materials, and your cat will appreciate a place to exercise her desire to scratch!
Cat Tree
If you have the space, you can also feed your cat's instinct to climb. The Animaze Cat Tree provides plenty of space for your cat to scratch, as well as 6 levels to climb, frolic and nap. Each level offers a comfortable place to hang out, while the floor and first landing features coconut rope-wrapped scratching posts for clawing pleasure. The sturdy design means it will offer years of climbing and lazing opportunity for your pet.
Cat Harness
Whomever said cats can't be trained probably didn't try very hard. Cats are extremely intelligent, and if you start training them at an early age, they will actually enjoy going for walks just as much as dogs do. This Kitty Harness is a great way to keep your pet secure. Plus, it comes in a variety of colors to match your feline's unique personality.
Health Insurance
For incidental trips to the vet, you may want to consider health insurance for your pets. From sick exam fees and vet visits, to dental injury and disease, Petplan Cat Insurance protects pets (and your pocketbook) with the most comprehensive cat insurance coverage.
---
Owning a new kitten is such a rewarding experience. Having the right equipment and toys will make the journey more enjoyable for you and your beloved furry friend.
Want to follow the crazy, cute antics of my newest family member? Come follow Beatrix Kitto, aka Not the Puppy, on Instagram!
Keeping your cat healthy is your number one concern. There are so many options when it comes to nutritional and supportive care for pets. Want to learn about the safety of using essential oils with cats? Check out this post.