Okay coffee lovers, here are three simple recipes you can make with your beloved brew. What's great is that these not only have the wonderful aroma of coffee, they also have some skin-loving attributes as well.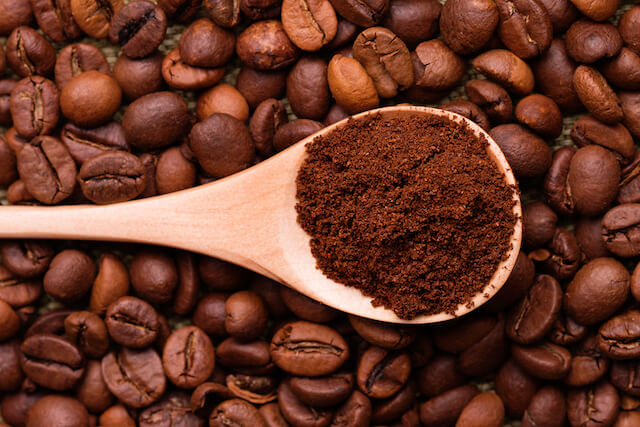 Coffee is high in antioxidants that can reduce the signs of aging. Plus, the caffeine in coffee can help diminish under-eye puffiness and stimulate blood flow to your skin, giving it a radiant glow. Coffee grounds make a great scrub because they are gentle on skin, yet make an effective exfoliant. Try these three recipes to perk up your skin and get you ready for a date night.
Bright Eyes Coffee Facial Mask
This mask is a bit messy but is such a fun treat for any coffee lover. You could also use coconut oil or olive oil in this recipe, but avocado oil is loaded with skin-nourishing omega-3 fatty acids and vitamins A, D, and E. The honey in this recipe also adds incredible softness to your skin, while clove essential oil works to improve complexion.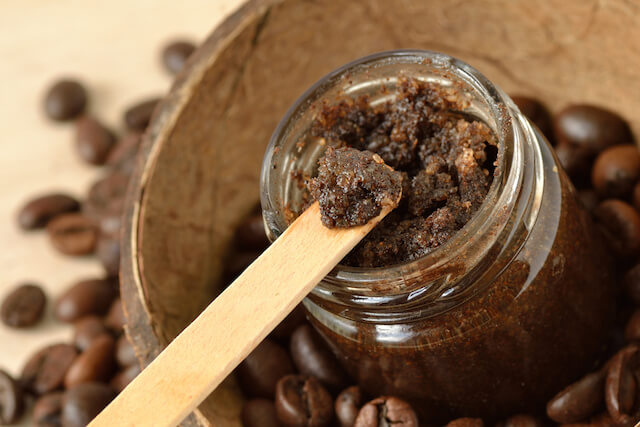 Ingredients
1/4 cup coffee beans
3 tablespoons honey
2 teaspoons avocado oil
3 drops clove essential oil
Instructions
Using a coffee grinder or blender, grind coffee beans into a fine powder. You will need 3 tablespoons of coffee powder.
Combine honey, avocado oil and clove essential oil in a small bowl. Slowly add coffee powder to form a paste.
Store in an airtight jar for up to 2 weeks.
To Use
This mask is best applied with a small brush. Paint all over face, avoiding the eyes, and allow to soak for 20-30 minutes. Wash off with facial cleanser.
Perfectly Perky Coffee Soap
Making your own soap is very easy. This recipe combines the awakening properties of coffee and peppermint essential oil. These bars make great gifts for teachers or friends.
Ingredients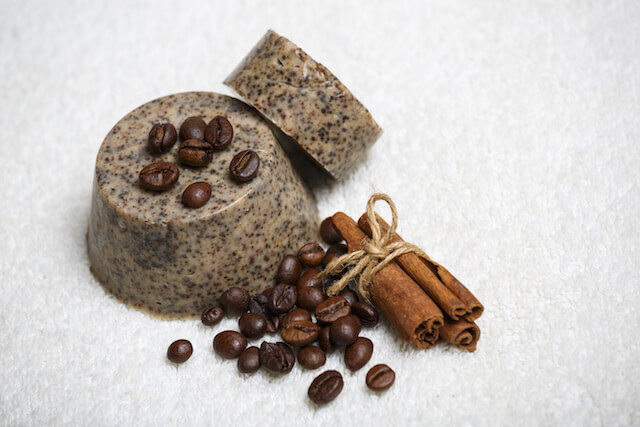 1 pound goat milk soap base
1/8 cup ground coffee beans
15 drops peppermint essential oil
Soap mold for 6 bars or you may use a cupcake pan with silicone cupcake liners.
Instructions
Cut soap base into small pieces and melt over a double boiler.
Once melted, remove from heat, and allow to cool for 1-2 minutes.
Add ground coffee and stir well. Stir in color (if desired) and peppermint essential oil.
Pour into soap molds or cupcake pan and allow to cool completely. You may place soap in the refrigerator for 1 hour, but do not freeze the soap.
Once they are hardened, remove from molds and allow to dry for several hours.
Coffee Body Scrub
This is a great addition to add a little pick-me-up to your morning shower! It is a slight variation from my other coffee body scrub recipe. Cypress essential oil is great for circulation and tightening the skin, while frankincense is great for all-over skin support. This recipe makes 2 half-pint (8 oz.) jars: one for you and one for a friend.
Ingredients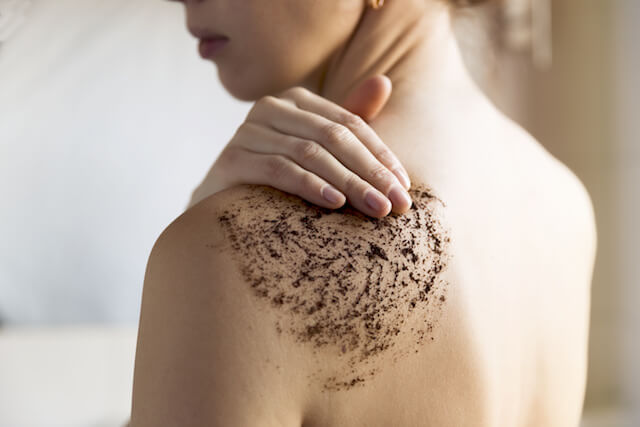 1/4 – 1/2 cup organic coconut oil
1 cup ground coffee beans (It is best to use fresh coffee. If you are using brewed coffee, make sure grounds are thoroughly dry.)
1/8 cup white sugar
1/2 cup brown sugar
6 drops cypress essential oil
8 drops frankincense essential oil
1 teaspoon vanilla extract (optional)
Instructions
Melt coconut oil in a small saucepan and set aside to cool.
In medium bowl, combine coffee, sugars, and essential oils. Mix well.
Add cooled coconut oil to coffee mixture.
Add coconut oil to get the consistency you desire.
Finally add vanilla, if desired, and stir well to thoroughly combine.
Spoon scrub into small jars.
To use
Simply massage a small handful of scrub into the skin while in the shower.
---
Also check out these 3 roll-on recipes for you and your significant other!
Want access to loads of educational videos and classes about natural health and wellness? Come try a free week in !