Did you know that coffee not only exfoliates, but provides caffeine to tighten, de-puff, and remove redness from your skin? With that in mind, here is my favorite coffee body scrub, enhanced with essential oils.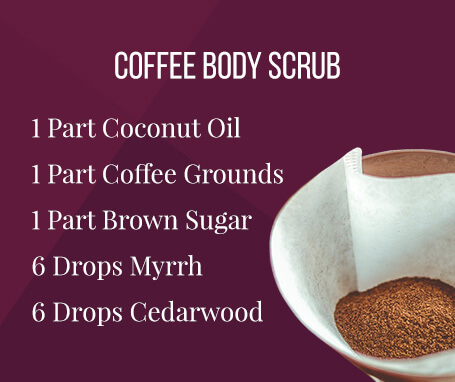 Ingredients
Equal parts coconut oil, coffee (ground), and brown sugar
6 drops myrrh essential oil
6 drops cedarwood essential oil
Instructions
First mix coconut oil, coffee, and brown sugar together by hand.
Then add myrrh and cedarwood essential oils.
To Use
Scrub entire body weekly to exfoliate and leave the skin feeling silky smooth. For extra moisture, finish with a customized lotion!
---
Love this coffee body scrub? You may also love my Pumpkin Pie Sugar Scrub!
Want more essential oil and health and wellness education?