Cold hands and feet will love this lotion recipe. This Warming Body Lotion not only smells great, it is also rich in nourishing oils to soothe dry skin as well as emollients to protect skin from damage. But the best part is the gently warming essential oils in the recipe. A layer of this luxurious lotion will create a mild warming sensation to those chilled fingers and toes.
Warming Body Lotion
The cocoa butter and almond oil in this recipe provide soothing, nourishing moisture to hands, feet, legs, arms, and other areas. Vitamin E oil adds an extra boost of hydration as well as antioxidants to protect and improve the appearance of skin. Beeswax creates a protective barrier to lock in moisture and seal out water, wind, and other elements. The lotion goes on smooth and absorbs quickly with no greasy residue.
The blend of essential oils in this recipe create a spicy warm aroma and actually create a mild warming sensation when applied topically. This lotion is not recommended for application to the face or other sensitive areas.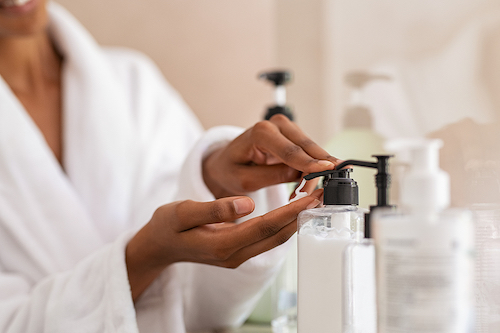 Ingredients
Instructions
Melt beeswax and cocoa butter in a double broiler.
Once melted, add almond oil and vitamin E oil.
Add water to a blender. Turn blender on lowest setting, and slowly stream in melted oil mixture. You're creating an emulsion. It will form into a thick and creamy consistency.
Once the mixture is well blended and emulsified, add essential oils.
While still warm, carefully pour lotion into a pump bottle using a funnel. The lotion will thicken as it cools and become difficult to pour. 
Apply to affected areas after showering or as often as desired. Not recommended for use on the face or other sensitive areas.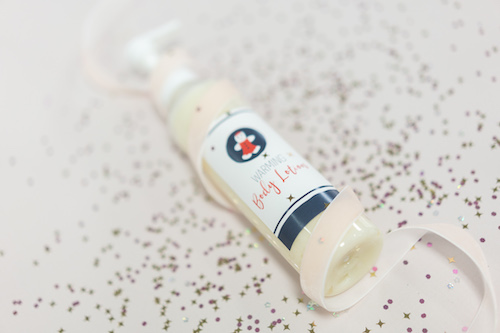 ---
Before applying lotion, why not exfoliate your skin for a silky smooth feel? Try this Pumpkin Pie Sugar Scrub!