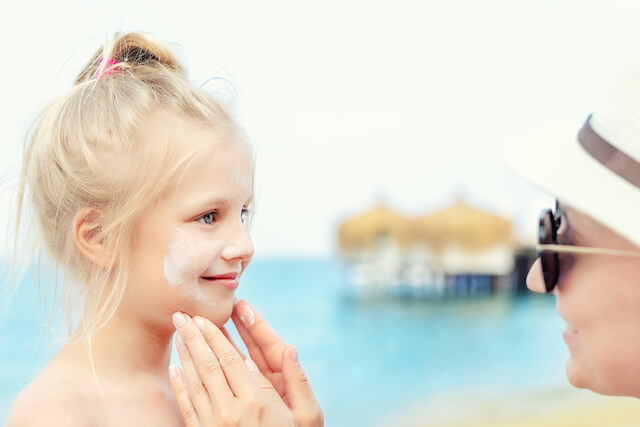 As consumers, we are taught that overexposure to sun can cause adverse effects, including skin cancer. Because of this, we constantly slather on all manner of sun protection. The problem is that the products we use to protect our skin and that of our children may have detrimental effects of their own. The FDA has said that there is insufficient information about all but two out of 14 of the most common active ingredients in sunscreen. The EPA has concerns about the safety of chemical sunscreens on coral reefs as well. Before you smear or spray a chemical sunscreen on yourself or your little ones, do a bit of research. If you are looking for a natural sunscreen, try this Sunny Days Skin Lotion instead!
About the Ingredients
Coconut oil
Coconut oil makes a great base for an outdoor lotion because it actually blocks some UV rays while allowing your skin to absorb beneficial vitamin D. Pure extra-virgin coconut oil has an SPF of about 6-7. This means that it blocks about 75-80% of harmful UV rays. Plus, coconut oil moisturizes skin and can reduce the signs of aging, which often results from too much time in the sun.
Shea Butter
Shea butter is another fatty oil that acts as a natural sunscreen. It contains cinnamic acid, which is a chemical constituent that protects skin from UV rays by absorbing both UVA and UVB rays. Additionally, shea butter has antioxidant properties and can help reduce inflammation of the skin by attacking free radicals.
Zinc Oxide
According to the FDA, zinc oxide is a safe and effective sunscreen agent at concentrations up to 25%. This recipe contains about 14% zinc oxide, offering it an additional SPF of about 14. It is important to look for zinc oxide that does not contain nano particles. Nano particles are smaller than 100nm, and this gives them the ability to penetrate the skin barrier and be absorbed into the bloodstream.
Red Raspberry Seed Oil
Red raspberry seed oil offers broad-spectrum protection from UV rays. It does this by shielding and absorbing UV rays. Because of these natural sunscreen and powerful antioxidant properties, raspberry seed oil is frequently used in skin care preparations.
Essential Oils
The essential oils in this recipe offer more benefits for the skin. They can help reduce the signs of aging and offer further protection from the elements. They also improve the overall fragrance of the lotion. You can add other essential oils of your choice, but beware of using citrus oils or others that are phototoxic. Check out this post for more about essential oils that can increase the risk of sunburn.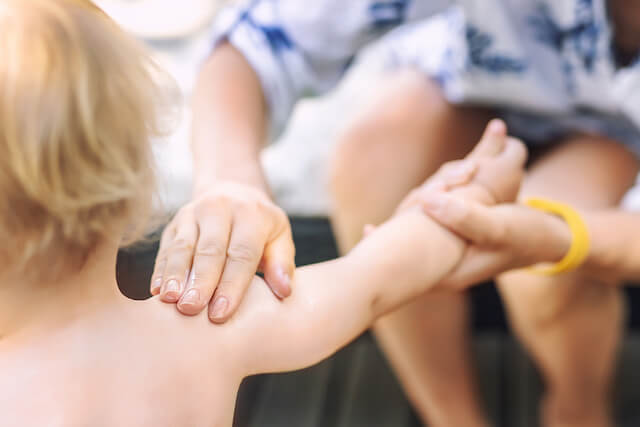 Sunny Days Skin Lotion Recipe
Ingredients
Instructions
In a double boiler set over low heat, melt coconut oil, shea butter, and beeswax. Stir constantly and remove from heat as soon as the wax melts to avoid scorching.
Allow mixture to cool to room temperature. Once cooled, whisk in zinc oxide powder.
Place the mixture in the refrigerator for about 10-15 minutes, or until it is slightly thickened. You are looking for a pudding consistency.
Once slightly thickened, use a hand mixer to whip thoroughly. Slowly add red raspberry seed oil and essential oils to the mixture. Continue whipping until the mixture is light and fluffy.
Store in a glass container. During warmer months, it is best to keep this lotion in the refrigerator. If you take it with you on a hot day, it may melt if you do not store it in a cooler. You can still use the melted lotion, however it may be a little messy.
To Use
Apply this lotion frequently when outside, and reapply after excessive sweating or swimming.
---
Looking for something to protect your hair as well?
Try this Protective Summer Hair Serum recipe!
Do you LOVE learning the science behind natural products and essential oils? Come , the complete essential oil encyclopedia!