Quite possibly the most requested DIY recipe from my followers is a natural hairspray. This is because of all the icky chemicals in commercial hairspray. Yes, we ladies want to look our best, but many of you say no to doing it at the expense of your respiratory health. After much recipe testing, I give you two natural hairspray recipes that really work. There's one for light hold, beachy waves, and one that will hold any style in place for hours. You can customize it to provide the staying power you need.
Dangers of Hairspray
The problem with hairspray is that much of it is inhaled when we spritz it on our hair. Sadly, many of the chemicals in hairsprays can irritate the respiratory tract. In fact, studies show that hairdressers who are regularly exposed to hairspray and other chemicals, have a higher incidence of respiratory and allergic symptoms.
"Fragrance" is actually a very ambiguous term. The FDA permits U.S. manufacturers to legally hide hundreds of synthetic chemicals in this one word without revealing what those ingredients are. In truth, "fragrance" can include various petrochemicals and phthalates, which may cause developmental delays and allergic diseases.
So what's a gal to do?
We've got you covered. Check out these two recipes for natural hairsprays.
Beach Waves Hairspray
This hairspray will give a bit of texture and manageability to hair.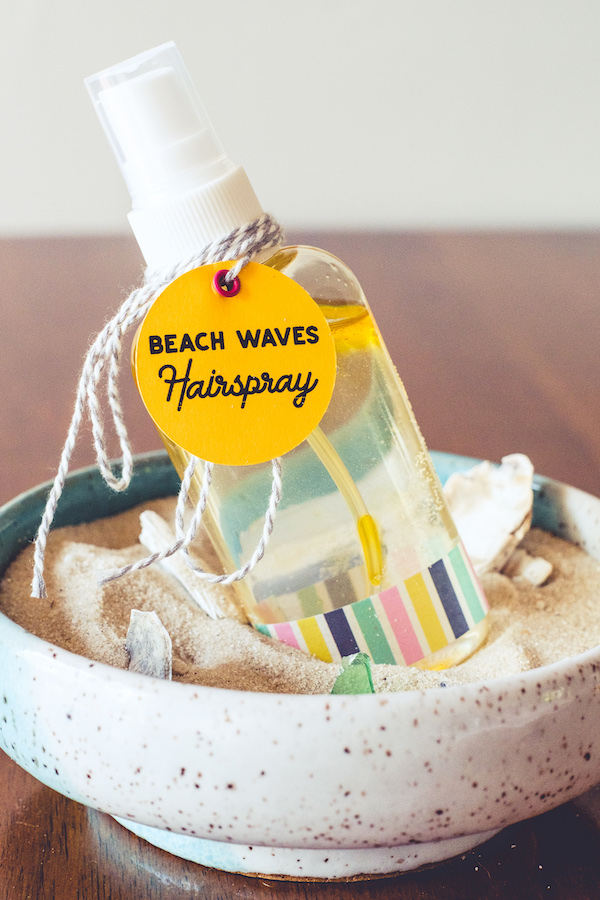 Ingredients
1/4 teaspoon epsom salt
1/4 teaspoon pink Himalayan salt
1/8 teaspoon citric acid
1 tablespoon vodka
1/2 teaspoon jojoba oil
1/4 teaspoon vitamin E oil
purified water, hot but not boiling
4 drops cedarwood essential oil
4 drops bergamot essential oil
3 drops tangerine essential oil
2 drops spearmint essential oil
Instructions
Combine salts, citric acid, vodka, jojoba, and vitamin E oil in a small spray bottle(mine was 2.5 ounces).
Add hot water to almost fill the bottle. Attach sprayer and shake vigorously to dissolve salts.
Open the bottle and add essential oils.
To Use
Shake gently to incorporate before each use.
Spray generously on damp hair.
Scrunch hair with hands to encourage waves, and allow to air dry.
Super Hold Hairspray
Most recipes for DIY hairspray contain sugar in some form. The idea of spraying sugar on my hair seemed a bit, well, gross. So I did some research and some recipe testing and came up with an alternative recipe using natural starch.
Note: Do not try this with cornstarch. You have to order the starch powder linked in the recipe to get the hold you need.
Ingredients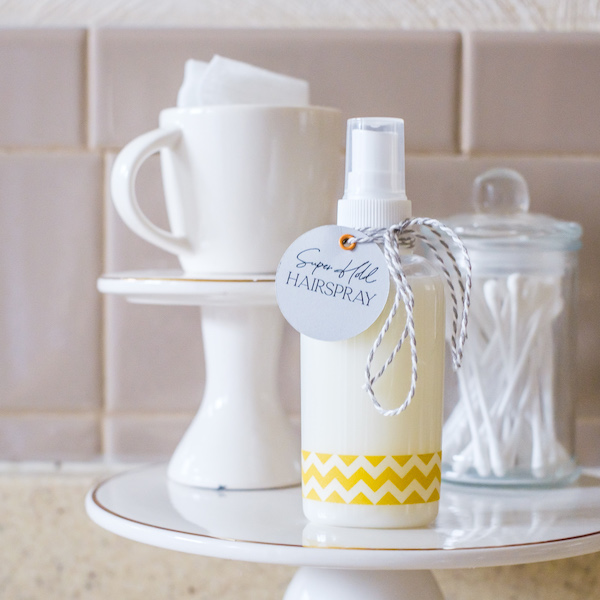 1 teaspoon Peal concentrated starch (See notes below.)
purified water, hot
1 teaspoon vodka
1/4 teaspoon baobab oil
6 drops rosemary essential oil
5 drops cedarwood essential oil
Notes about Peal starch:
Do not substitute cornstarch. This is the only starch I found to produce the results I wanted. Other starches may leave a residue and/or will just not provide the hold needed.
You can add more or less of the starch to adjust the hold strength. One teaspoon produces a spray that will hold an everyday style for a few hours. If you need more strength for all-day curls or an updo, add more starch.
If you have trouble getting the starch to dissolve, heat the starch and water mixture gently in a microwave or on the stove over low heat.
Instructions
Combine starch and about 3 tablespoons very hot water in a small bowl. Stir to completely dissolve starch.
Allow to cool slightly and use a funnel to pour mixture into small spray bottle (mine was 2.5 ounces).
Add vodka, baobab oil, and essential oils. Then top off with water to almost fill the bottle.
Shake gently to combine.
To Use
Shake gently to incorporate before each use.
Style hair as desired and spray generously with hairspray.
---
Love making DIYs? Try my favorite Hair Tonic recipe!