Remember the days of seasonal fragrance soaps? You know, the ones in the bright pump bottles with the sweet aroma of fall or winter? But I bet you don't miss the slew of chemicals that go into creating those addictive aromas, do you? Fortunately, you can create your own seasonal hand soaps using all-natural ingredients and essential oils! Check out this recipe for Pumpkin Spice Foaming Hand Soap along with free labels for your creation.
Pumpkin Spice Foaming Hand Soap
This soap combines the warm, homey aromas of nutmeg, ginger, and cinnamon essential oils for a fall aroma every time you wash your hands. Plus, the essential oils make this soap great at cleansing a purifying hands, while Castile soap removes dirt and oils and provides the satisfying suds. Hint: Don't skip the vegetable glycerin. It helps form the suds for a thick, rich lather.
Ingredients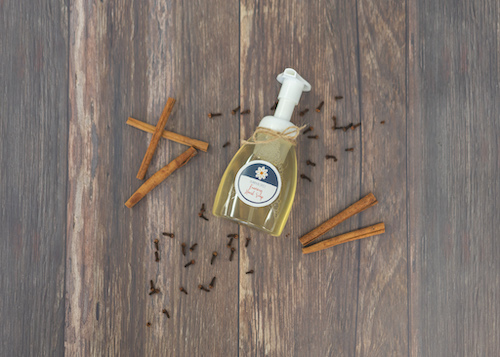 Instructions
Combine Castile soap, vegetable glycerin, and essential oils in foaming soap bottle.
Fill almost to the top with cool water. Be sure to leave space so it doesn't overflow when attaching the pump.
Affix pump and shake gently to combine.
Attach a cute label to the soap, and you have a great gift! Download free labels here!
Place Pumpkin Spice Foaming Hand Soap next to every sink in your home to encourage frequent hand washing.
---
Have dry, cracked hands, feet, or other ares during the fall and winter months? Check out one of my most popular recipes, Moisturizing Winter Salve.