Looking for a deeply moisturizing product for those dry legs, feet, and hands? This Whipped Vanilla Body Butter will satisfy that thirsty skin with a drink of soothing, moisturizing oils and shea butter. Plus, with the sweet, warm aroma of vanilla oleoresin, you'll want to slather this butter on from head to toe.
The Difference Between Lotion and Body Butter
I've heard many people complain that body butter is too greasy or too thick. These people are generally looking for a lotion versus a body butter.
Lotion is an emulsion of water and oils, so it's light, smooth, and typically absorbs into the skin rapidly. Body butter, on the other hand, contains thicker butters and solid oils—such as cocoa butter, shea butter, or mango butter—so it's thicker and takes a bit longer to absorb. The benefit of these thicker oils is deep moisturization.
Lotion helps to preserve moisture in the skin, but it doesn't replenish moisture the way that body butter does. It works great for daily use to keep skin soft and comfortable. But if your skin is parched and in need of moisture, body butter is the way to go. Just be sure to apply it to clean skin after a shower, and be prepared to wait a few minutes before getting dressed to give the butter time to penetrate.
Whipped Vanilla Body Butter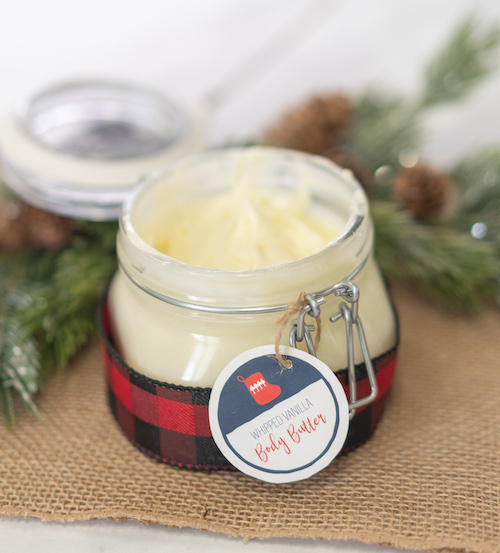 Ingredients
1/2 cup coconut oil
1/2 cup shea butter
1/4 cup olive oil
1/4 cup almond oil
Vanilla oleoresin
Instructions
Melt coconut oil and shea butter in a double boiler. I make my own double boiler by placing a glass jar in a small pot of boiling water.
Once the solid oils are melted, remove from heat and add olive and almond oils and vanilla oleoresin. Stir to combine.
Place the mixture in the refrigerator or freezer until completely set.
Use a hand mixer to whip the mixture until fluffy.
Store in a jar at room temperature.  
Download labels for your body butter here!
---
Looking for a silky smooth lotion that absorbs quickly? Try this Warming Body Lotion instead!