In honor of my favorite team playing in the 2018 Sugar Bowl, I wanted a unique way to show team spirit. To get my hands ready for all the clapping, I decided to make this layered crimson sugar scrub.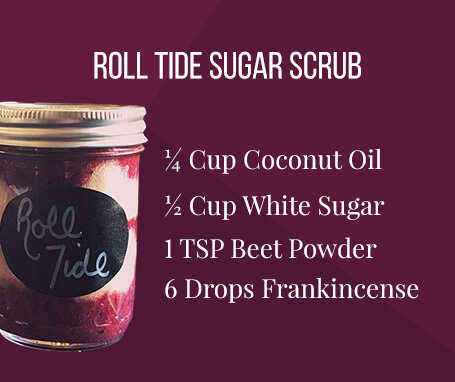 Ingredients
1/4 cup coconut oil
1/2 cup white sugar
1 tablespoon beet powder
6 drops frankincense essential oil
Directions
Place 1/8 cup coconut oil, 1/4 cup sugar, and 3 drops frankincense in each of two bowls, and mix well.
Add beet powder to one bowl. You may have to break up some of the chunks of beet powder with your hands.
Gently layer red and white sugar scrubs in mason jars and you'll be ready to roll tide, roll!
To use, massage into damp hands. Rinse and wash your hands with soap.
If you're looking for another way to moisturize using coconut oil and frankincense, check out this recipe for Moisturizing Winter Salve after making your sugar scrub!
---
For more of my essential oil recipes and education,