Summer is coming to a close, and it's time to pack up the summer sandals and flip flops. Do your feet need a little TLC after days spent in the sun, water, and sand? If summer has left your feet dry, calloused, and cracked, it may be time for some foot repair. Check out this foot soak and overnight serum for some intensive essential oil foot repair that will leave your tootsies smooth and rejuvenated.
Softening Foot Soak
If you soak your feet and remove excess dead skin before using the overnight treatment, you'll get much better and faster results. If your heels are badly cracked, be gentle with exfoliation and don't scrub hard enough to cause pain or bleeding.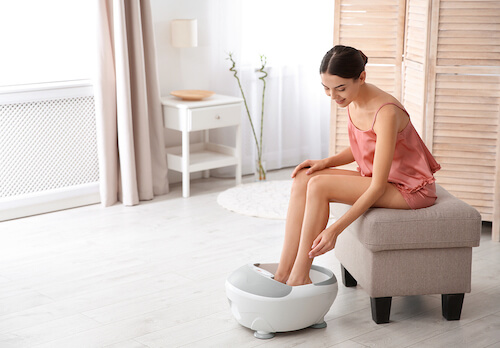 Apple cider vinegar contains acetic acid and alpha hydroxy acid. These gentle acids are great at softening dead skin so that it sloughs off easily. The lavender essential oil is nourishing to feet and lends a more pleasant aroma to this foot soak.
Ingredients
Instructions
Add hot water to a basin or tub. A foot spa works great for this.
Add vinegar and lavender essential oil.
Test water temperature before plunging your feet in the basin. The hotter the water, the better.
Soak feet for 30 minutes and pat dry.
Use a pumice stone to gently scrub away softened dead skin from soles and sides of feet.
Your feet are now prepped and ready for the overnight Cracked Heel Serum treatment!
Overnight Cracked Heel Serum
I chose avocado oil for this recipe because it is very nourishing and moisturizing to the skin. Castor oil works great in this overnight treatment because it absorbs slowly and moisturizes deeply. The essential oils work to soften and smooth the tough skin of the soles of the feet. Although there are many oils in this recipe, your tired, sore feet deserve a little pampering, and they will thank you!
Ingredients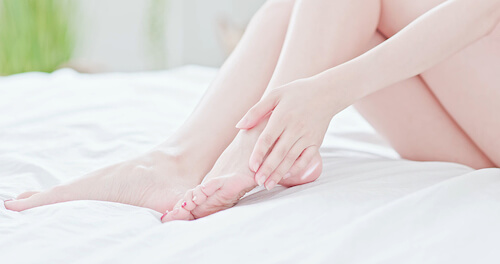 Instructions
Combine all ingredients in a 2 oz. glass bottle with a dropper, and shake gently to combine.
To use the serum, apply a generous amount to the soles of feet, especially on heels and other dry areas.
Put on 100% cotton socks and leave on overnight.
Repeat nightly until heels are healed. Then use weekly to keep feet moisturized.
Tried it?
Comment below and let us know how you enjoyed the essential oil foot repair!
---
Don't forget about those hands too! Pamper them with this ultra-rich Moisturizing Winter Salve!