A good activated charcoal mask is one of my very favorite ways to cleanse and detox my skin. Activated charcoal can help to minimize the appearance of pores, remove oils and debris, and may even help to reduce the appearance of acne. This activated charcoal mask is deeply cleansing and purifying so it is perfect for oily skin, teenage skin, or skin like mine that braves the elements in the city.
But What About Bentonite Clay?
Bentonite clay is another exceptionally good absorptive agent. Bentonite clay helps to unclog and shrink the appearance of pores. It also reduces overproduction of oil and sebum on the skin, so it's the perfect ingredient in a mask for oily skin.
Additionally, this clay absorbs toxins from the skin. It has a a gentle exfoliating effect that can brighten the skin. This also helps to even out the skin tone and generate growth of new skin.
So Here's the Recipe for the Activated Charcoal Mask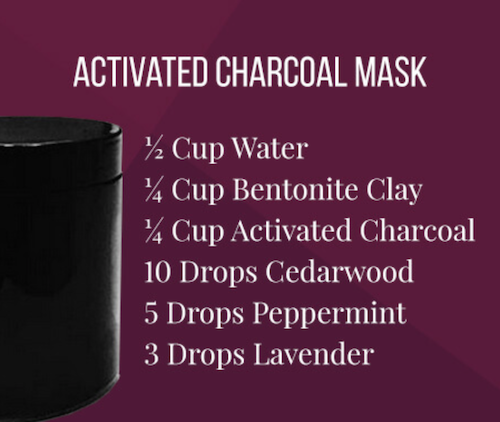 Ingredients
1/2 cup water
1/4 cup bentonite clay
1/4 cup activated charcoal
10 drops cedarwood essential oil
5 drops peppermint essential oil
3 drops lavender essential oil
Instructions
In a medium bowl, SLOWLY mix all the ingredients together. This mask makes a mess, especially if you're not careful, so make sure to stir slowly until you achieve a paste-like consistency.

Apply mask to face, and then allow to dry. Rinse with water and a wash cloth. Use once per week.
---
Love beauty DIYs? Come check out this post to learn why you should and how you can make your own natural DIY makeup remover wipes.
Ready to explore essential oil videos and so much more? . While you're at it, check out my book, Essentials: 75 Answers to Common Questions About Essential Oils and Supplements.