My doorman will be ringing in the New Year smelling amazing with the Gotham roll-on I made for him. You can make these as easy and thoughtful gifts for the men in your life too! So grab a roller bottle, some fractionated coconut oil, these essential oils listed below and let's get to work!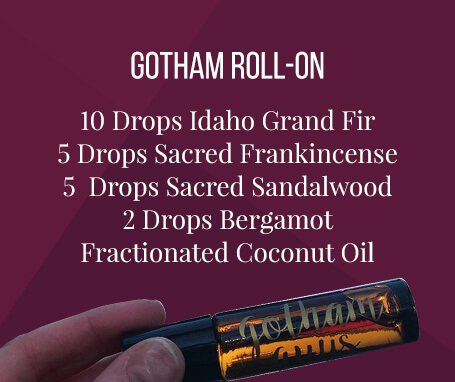 Ingredients
10 drops Idaho grand fir essential oil
5 drops sacred frankincense essential oil
5 drops sacred sandalwood essential oil
2 drops bergamot essential oil
Directions
In a 10 mL roller bottle, combine all essential oils.
Carefully top off with fractionated coconut oil.
I find that this becomes more masculine-smelling after it sits for a few days and the bergamot aroma mellows somewhat.
Can't Get Enough of the Gotham Roll-On?
Want a natural alternative to perfume for the ladies in your life too? Check out this post for some of my favorite essential oil perfume recipes!
---
Looking for more essential oil and health and wellness tips and education? Then come and While you're at it, you should also check out my book, Essentials: 75 Answers to Common Questions About Essential Oils and Supplements.