Most women spend loads of time on skincare. We use scrubs, lotions, and balms on our legs, feet, hands, face, and other areas. We slather on serums, spray on toners, and apply masks and other products to keep skin looking its best. So how about some pampering for those lips too? I use lip balm every single day to protect and keep my lips smooth and soft. It's so simple and inexpensive to make your own lip balm. I promise if you try my DIY Moisturizing Lip Balm recipe, you'll be hooked.
About this Recipe
Your lips are particularly sensitive to moisture loss. This is because the skin of your lips is thin, and they're exposed to the elements more than other parts of your skin. Coconut oil is an emollient, which is a moisturizer that helps keep the skin moist and protected by trapping moisture in the skin. Other benefits include the antimicrobial effects of coconut oil. This helps prevent infections and excessive inflammation of lips.
Shea Butter
Shea butter is also an emollient that helps lips retain moisture. In addition, it contains vitamin C, which is an antioxidant that can help keep lips looking young and healthy.
Beeswax or Carnauba Wax
Natural wax keeps this balm from being to soft and melty, while also adding a layer of protection for lips.
Essential Oils
You can use any essential oils of your choice in this recipe. However, I would stay away from oils that can cause photosensitivity, such as citrus oils and "hot" oils like cinnamon. Some of my favorites include: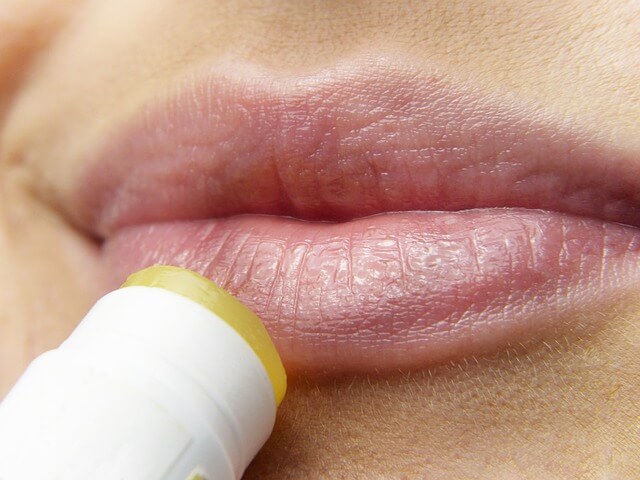 Moisturizing Lip Balm Recipe
This recipe makes a lot of lip balm. It is great for inexpensive gifts or if you want to stock up for the whole family. You can also halve the recipe if you just want to make a few tubes.
Ingredients
2 tablespoons beeswax pellets or carnauba wax if you prefer a vegan option
2 tablespoons organic shea butter
2 tablespoons organic coconut oil
8-12 drops of essential oils, your choice
A dozen lip balm tubes or jars
Instructions
In a small saucepan, melt beeswax or carnauba wax over medium-low heat. Then add shea butter and coconut oil just until melted.
Remove from heat and stir in desired essential oils.
Carefully pour balm into desired containers. Work quickly, because the mixture hardens as it cools. If you are using tubes, these tiny funnels make the job SO much easier and less messy. If it starts to solidify too soon, you can gently re-heat for a few seconds.
The mixture will shrink down a bit after it cools, so you may top off the tubes after a few minutes of cooling.
Allow to cool completely for a few hours before using.
More Pampering for Your Lips
Check out this simple Sugar Lip Scrub!
---
Want to learn more about essential oils and natural health and wellness? Come