Why Pumpkin?
Did you know that pumpkin is packed with fruit enzymes and alpha hydroxy acids that increase cell turnover, leaving the skin brighter and smoother? Or that pumpkin has vitamins A and C that soften and smooth the skin and may boost collagen production? Pumpkin has a small chemical structure that penetrates deep into the skin, bringing all of the benefits with it. This makes pumpkin the perfect ingredient for a face mask
Worried about acne? Pumpkin seeds are a delicious source of zinc, which regulates hormone levels and controls oil on the skin. They also contain vitamin E and essential fatty acids, which are necessary to maintain the skin barrier function and regulate oily output. That's why this pumpkin mask is a must this fall.
Trust me on this DIY. You have never had such buttery soft and smooth skin. Are you going to try it? Here's to fall, y'all!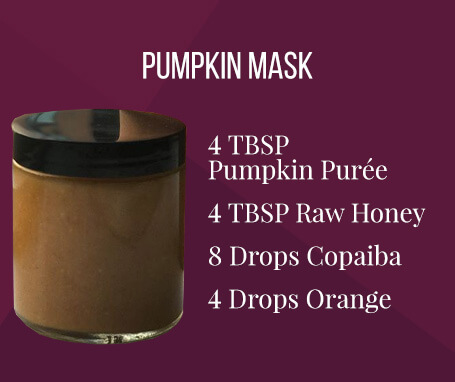 Ingredients
4 tablespoons pumpkin purée
4 tablespoons raw honey
8 drops copaiba essential oil
4 drops orange essential oil
Instructions
Whisk all ingredients together, and store in 4 oz. jar.
To use pumpkin mask, spread a small amount on face and neck. Allow to soak for 10 minutes before washing off.
---
For more information on the health benefits of pumpkin (plus a couple bonus recipes), go check out this post!
If you want more natural DIYs and essential oil information, be sure to