Your bundle of joy will be here soon. You can't wait for all the baby snuggles, feedings, family visits, and all the joy that comes with a newborn. But have you thought about the recovery process for mom? As you transition to taking care of a baby, your postpartum body needs time and attention to recuperate from the physical journey of pregnancy and childbirth. Read on to learn about some natural postpartum care solutions.
Pain Relief
It takes a minimum of 6 weeks for mom's body to heal after childbirth. For some, especially after a C-section, it may take even longer. In the beginning, afterbirth contractions continue for a few days to weeks, and at times can be extremely painful. You may also experience pain from perineal tearing or stretching, as well as stressed, sore muscles and pain from breastfeeding. Many women want to avoid prescription and over-the-counter pain relievers in favor of natural postpartum care options.
Homeopathic arnica tablets are safe for mom and baby if you are breastfeeding. They help alleviate bruising, pain, and inflammation from the birthing process.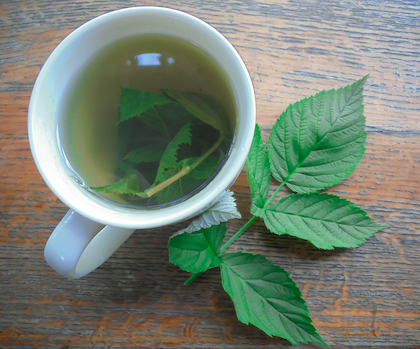 Raspberry leaf tea contains tannins, which may help tone the uterus after giving birth. The herb is a uterine tonic because it has a reputation for invigorating and strengthening the uterus. The sooner the uterus returns to its pre-pregnancy size, the sooner the postpartum contractions and bleeding will stop.
Soaking in a warm bath with Epsom salts will relieve achy muscles and speed healing. Plus, it supplies a dose of magnesium. You can even create your own relaxing therapeutic Sitz bath. Combine 1-2 cups of Epsom salts and 6-10 drops of your favorite essential oils in a warm bath.
Breast Care
If you choose to breastfeed, the first days or weeks can be painful. Treat sore nipples with this homemade Boobie Balm.
Nettle tea is a great restorative to help with postpartum fatigue and exhaustion. Another great benefit to drinking nettle tea is a boost in milk supply for breastfeeding mamas.
Care for Down There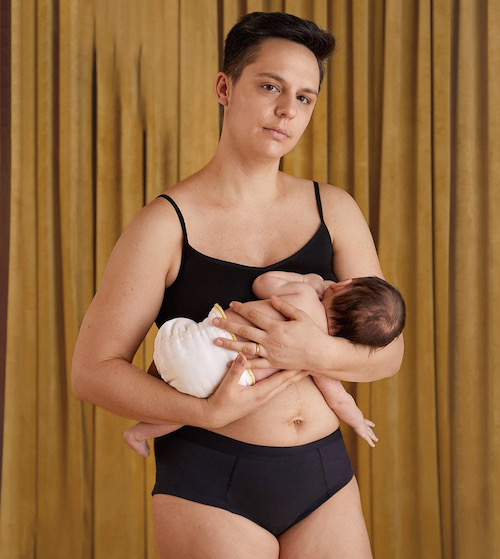 Perineal Cold Packs provide soothing, cooling relief to the tender, sore perineal area following childbirth. These can also be heated for moms who prefer a warm pack.
Going to the bathroom can be a painful experience in the days after childbirth. Use a peri bottle instead of wiping with toilet paper.
If the idea of wearing a bulky maxi pad for months after having a baby is not your ideal, check out Thinx instead. The absorbency technology means you can feel secure —and a lot more comfortable— than with a pad. With many styles to choose from, Thinx fits all body types, even after childbirth. The high-waisted panties are also perfect for holding your perineal cold/warm pack in place. Immediately following childbirth when bleeding is heaviest, you may need to use a pad, but Thinx can provide added protection. After the first few days, you can switch to just Thinx Speax or regular Thinx panties.
Great news! Thinx now has a set designed just for postpartum moms. Find it on the Thinx website under Saver Sets.
Nutrition
The better your diet following childbirth, the faster you'll recover. Be sure to include lots of fresh fruits and vegetables and whole grains in your diet. Constipation after childbirth is common. Avoid excessive pain on your traumatized perineal area by increasing your fiber intake.
You can boost your energy levels and help your body recover from excessive blood loss by taking a chlorophyll supplement. Check out my favorite chlorophyll supplement here.
Emotional Support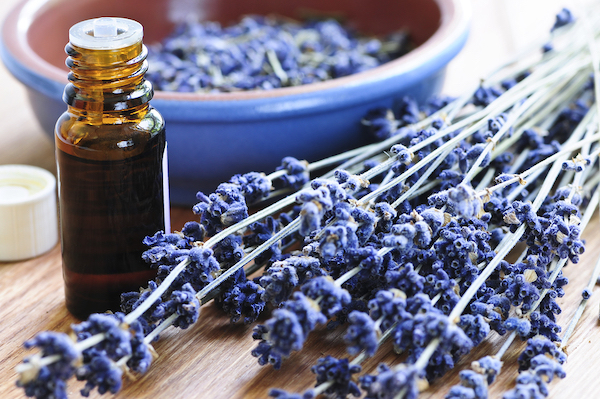 The rollercoaster of emotions that comes with a new baby can be difficult to cope with. Complete your natural postpartum care kit with essential oils to calm nerves, uplift, and promote a tranquil, restful environment. Some favorite essential oils of new mothers include:
Lavender – the gentle aroma is soothing to both mom and baby
Bergamot – relieve stress with the uplifting citrus aroma
Frankincense – uplifting and great for skin
Joy – promotes feelings of happiness and combats the baby blues
---
Looking for more DIYS for pregnancy and postpartum care? Check out this Pregnancy Leg Balm or these Pampered Mama DIY Recipes. And be sure to check out this post from my friend Lindsey Meehleis, Top 10 Tips for Every Expecting Mom.
Want to learn which essential oils and supplements are safe during pregnancy and while breastfeeding? Check this out.