Summer is almost here, and that means shorts, skirts, and swimsuit weather will be here soon. Pamper your legs and get them summer-ready with this nourishing cream!
Shea butter makes a great base for creams because it relieves dry skin, reduces the appearance of cellulite, improves elasticity, and even eases razor burn. Vitamin E is high in antioxidants also helps nourish skin, as well as decreases the appearance of scars, stretch marks, cuts, and other blemishes on legs.
The essential oils in this blend are great for beautifying the skin. While soothing irritated skin, they also promote circulation and reduce the appearance of cellulite. Use this cream daily to tone, tighten and add a healthy glow to your skin!
Summer-Ready Legs Cream Recipe
Ingredients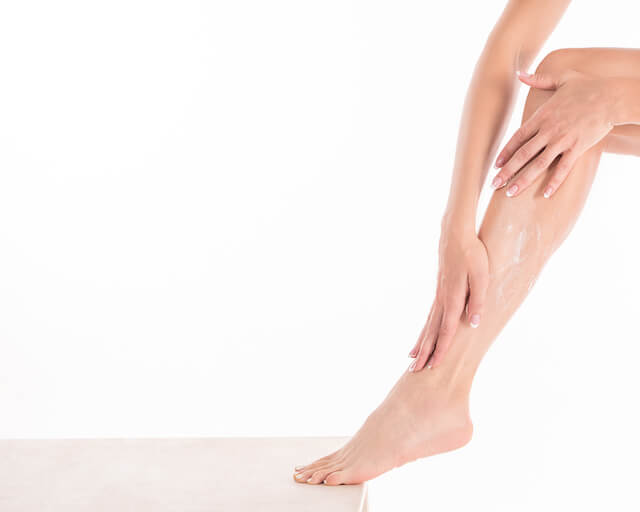 3/4 cup coconut oil
1/2 cup shea butter
1/2 teaspoon vitamin E oil
8 drops lavender essential oil
8 drops frankincense essential oil
7 drops juniper essential oil
7 drops grapefruit essential oil
6 drops cedarwood essential oil
5 drops carrot seed essential oil
Instructions
Combine coconut oil, shea butter, and vitamin E oil in the bowl of a stand mixer.
Mix on medium-high speed for several minutes, until light and fluffy.
Turn mixer off and add essential oils.
Mix just until essential oils are incorporated.
Transfer cream to a jar with lid.
To use
Apply this cream liberally to clean legs, preferably after a bath or shower. Works great to soothe and restore moisture balance after shaving or sun exposure. Stored in a cool place, this cream will keep for up to 6 months.
---
Made this recipe? Comment below and share your thoughts about this Summer-Ready Legs Cream!
Don't forget about your feet! Get them ready for summer with this Summertime Foot Scrub!
Want all the essential oil and natural health and wellness education? Come and