Is your hair dry and brittle? Or maybe you struggle with frizz or over-processed hair. Is it color treated and needing a little rejuvenation? No matter the cause, let me offer you one solution. This Restorative Hair Mask is loaded with nourishing oils to penetrate hair and bring it back to life.

About the Ingredients
Coconut oil is predominantly made of lauric acid, a medium-chain fatty acid. This gives coconut oil a long, straight structure and a low molecular weight. Because of these characteristics, coconut oil easily absorbs deeply into the hair shaft. Plus, studies show that coconut oil is superior for preventing protein loss in hair, which may promote healthier hair and prevent hair loss.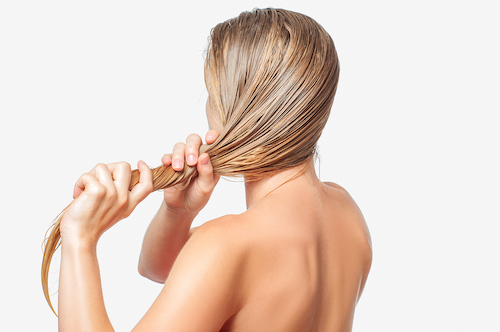 Ricinoleic acid in castor oil helps balance pH and improves blood circulation of the scalp. The antioxidant properties of castor oil support keratin in hair for a smoother look and added strength. Vitamin E is an antioxidant that helps prevent hair breakage and split ends. It also nourishes the skin of the scalp to promote hair growth.
Apple cider vinegar balances the pH of the scalp and hair as well as protects the hair and scalp from infections and bacteria that can lead to hair loss and dandruff. Citric acid in lemon juice promotes shine and helps keep oil under control.
Glycerin is a great moisturizer and emollient, which locks in moisture and protects hair from damage. It helps prevent drying, which in turn will reduce the occurrence of split ends, frizz and flyaways.
Ylang ylang essential oil not only adds a beautiful fragrance to this hair mask, it also helps balance the production of sebum, which restores moisture and may prevent hair loss. Tea tree essential oil purifies the hair and scalp and alleviates itching. Lavender may actually help strengthen hair at the root and encourage growth. Finally, rosemary essential oil benefits both dry, dull hair as well as overly oily hair and can help prevent split ends.
DIY Restorative Hair Mask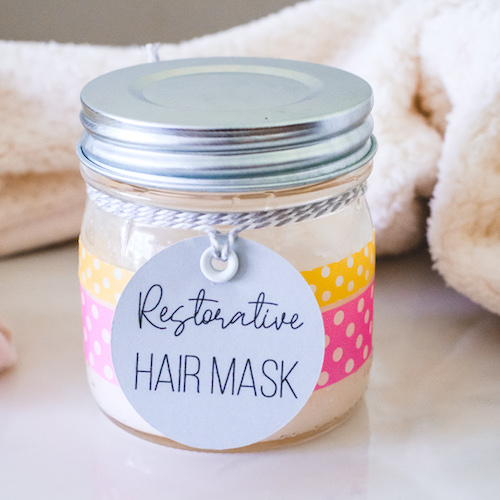 Ingredients
1/4 cup coconut oil
1 tablespoon vitamin E oil
2 tablespoons castor oil
1.5 tablespoons apple cider vinegar
1 tablespoon lemon juice
1 tablespoon glycerin
6 drops ylang ylang essential oil
5 drops tea tree essential oil
5 drops lavender essential oil
4 drops rosemary essential oil
Instructions
Combine coconut oil, vitamin E oil, and castor oil in a small bowl.
Add vinegar, lemon juice and glycerin. Stir until thoroughly combined.
To Use
Apply a thick coating of hair mask to damp hair. Comb through to incorporate thoroughly.

Wrap hair in a towel or shower cap, and allow hair mask to penetrate for 30 minutes to an hour.
Shampoo hair and style as usual.
Alternatively, you can apply the hair mask while showering or in a bath and allow to soak for several minutes before rinsing.
Store any leftover mask in a small jar.
---
You may also want to try this Peppermint CBD Revitalizing Scalp Treatment.
Want to learn more about choosing oils for your DIY projects? Check out A Guide to Choosing the Best Carrier Oil.
Love learning about natural wellness and the benefit of essential oils? Come